I know most of you keep asking yourself this question every day how can I improve my writing skills?
Even I used to ask myself the same question every single day. I found that the content I was writing those days had a lot of flaws, typos, and grammatical mistakes.
And, It's a sad truth!. The reason is, you are living in a world full of competition. Every day millions of bloggers, writers, and marketers are creating good content.
I don't know if you have heard this phrase or not that "Content marketing" is the King. So, To put its crown on your head, it's a must for you to create user-engaging content.
If you keep continuing, create content full of typos and grammatical flaws. Just stop thinking about sales. No one even will read your blog post. It's a fact!
Even, though I was not a good writer. But, someday, I get to know about Grammarly. I started writing on it. Then over time, I found my blogs getting huge attention from the users.
If you want to get a solid grip over your writing skills and aspiring your blogs to get huge user retention, I would recommend using Grammarly.
It's a highly advanced grammar checking and proofreading tool available for you.
You can start with its free browser extension version to fix grammatical and spelling mistakes in your writings. It is quite good even if you use the free version.
However, Grammarly has a premium version, too, and that's my prime focus in this review. It unlocks a lot more features that can be a great helping hand for you.
By the end of this Grammarly review, I am pretty sure you will not be left with the facts and features that Grammarly offers.
So, waiting for what? Let's jump into this to know what we gonna see in this deep-diving Grammarly Review.
What is Grammarly?
Grammarly is an enhanced grammar checking and proofreading tool famous among bloggers, writers, marketers, and anyone who loves writing.
It is one of the best proofreading tools with free browser extensions, applications for MAC and windows, mobile applications, and different other formats.
A free version of Grammarly is quite useful too. It identifies the flaws and grammatical errors in your writings far better than the typical other free checkers.
However, in the premium version, it's undoubtedly head and neck above the others. It identifies more and more grammatical flaws you have made in your writings. Additionally, it will give you writing tips and feedback on your texts.
Grammarly made writing easy by finding and correcting up to 10 times more mistakes than what your word processor used to do.
Grammarly guarantees to fix over 250 types of errors more instantly than what Microsoft Word or other software can't find.
It offers enhanced clarity and meaning. Let you find perfect words every time with the context-optimized synonyms suggestions
Every time you make mistakes it gives you suggestions to correct them. Obviously, you will learn from your mistakes and avoid doing it next time. Thereby, makes you a better writer
You will not have any restrictions in Grammarly, whether you are writing emails, essays, and social media posts. Grammarly is available on all platforms.
Grammarly
Grammarly is an enhanced grammar checking and proofreading tool famous among bloggers, writers, marketers, and anyone who loves writing. It is one of the best proofreading tools with free browser extensions, applications for MAC and windows, mobile applications, and different other formats.
Price: 12.00
Price Currency: USD
Operating System: Linux, Windows, Mac
Application Category: Web Application
To whom is Grammarly good?
Whether you are a native English writer, blogger, or student, Grammarly may be required for all. Errors that can not be captured easily by us, Grammarly easily captures those.
Suppose you are a new writer or a prolific one. Grammarly will act as a useful companion. Additionally, it offers different language settings including Canadian, English, American, British, and Australian English. So you can correct your writing errors in your native language as well.
If you are a blogger, then I would say that it is a must-have tool. Although your SEO ranking won't change overnight if you correct your blog posts using Grammarly, you will definitely see a user retention boost.
Technologies That Grammarly uses
Grammarly uses some advanced AI and Machine Learning-based technology to detect errors in your writing.
Machine learning
Natural language processing
Contextual Analysis
Machine learning
Grammarly uses machine learning algorithms to detect flaws, typos, and grammatical mistakes in your content. It makes use of machine learning to empower its artificial intelligence self-learning.
The AI self-learning means the more people use Grammarly, the more it will become better. It has a large customer base that gives accuracy in grammar checking. That is why it is a mighty name as far as the Grammar checker tools are concerned.
Natural language processing: NLP
Talking about Natural language Processing, it is a technology by which the machines can understand the natural language used by you and then use that natural language to correct errors in your writing
Contextual or semantic analysis
Contextual analysis analyze words based on the context where it is written. Accordingly, it gives suggestions to rectify it.
For example, texts in the context of historical, cultural, or social. The contextual analysis also takes care of textuality.
Semantic analysis analyzes the meaning of the text in terms of its textual content. It helps to understand the meaning of the entire text.
Grammarly uses both Contextual and Semantic Analysis to give suggestions in your writing.
How To Use Grammarly?
I know most of you are in a dilemma about how to use Grammarly to avail all its features. No Problem, you can use it in your web browser, Microsoft word, on your MacBook, etc. To make you better understand, let's see it in full detail.
Grammarly Browser Extension
Grammarly Portal
Grammarly Windows App
Grammarly For Mac
Grammarly add on for Microsoft Office
Grammarly Mobile Keyboard App
1. Grammarly Browser Extension
Grammarly Chrome Browser extension is impressive and available to you free of cost. It lets you check spelling errors, vocabulary errors, and other grammatical mistakes whenever you type anything in the browser.
Grammarly is available for Chrome, Edge, and Safari browser ( Mac). Grammarly will autodetect the browser and will suggest you install the extension.
For example, To install it for chrome, you need to search for Grammarly for chrome on any search engine. The interface I have pasted below will be presented to you.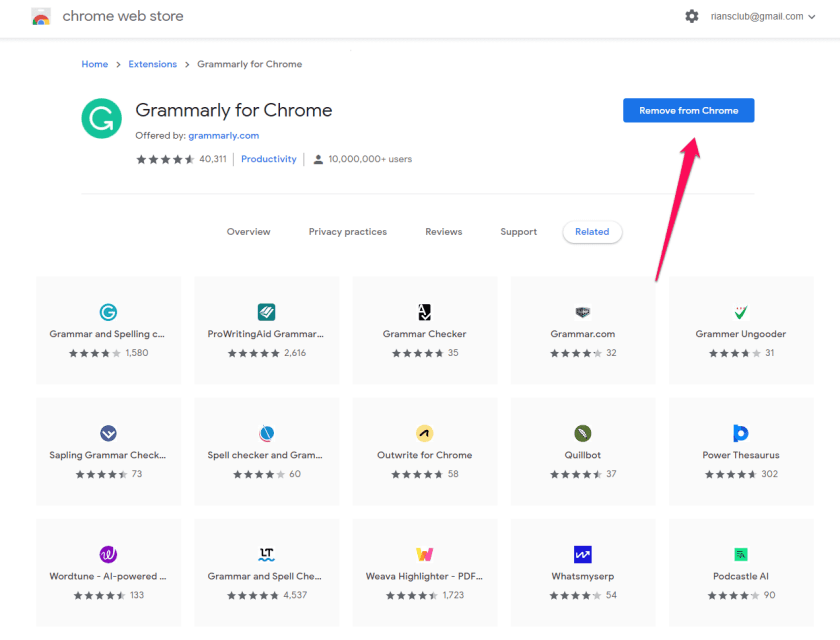 As you come upon the extension page, you will see Add To Chrome Button at the upper right corner of the window screen. All you need is to click on it. Once you click, it will take you to the Plugin Installation Page.
After Installation, you can set your preferred settings. With this extension, you can detect your grammatical mistakes.
Other than that, the language selection option is also there, you can select over four American English, British, Australian, and Canadian English.
2. Grammarly Portal
See, the browser extension is a very convenient option to use Grammarly. But if you prefer not to use any extension, you can simply log in to my account section of Grammarly and correct your writing errors. For that, you need to follow the below steps
Sign up for a free account or a premium plan
Access the "My Grammarly" page
Click on " New " and start writing or uploading a document to check for errors.
After writing the document in the online editor, you can save the document in the form of a word document, PDF, Html file, and many other forms.
3. Grammarly For Windows
Grammarly for Windows is a dedicated application that you can install and use for correcting writing errors.
The interface is the same as how you see when you access Grammarly on the web. However, the application has fewer options than what you see on the web.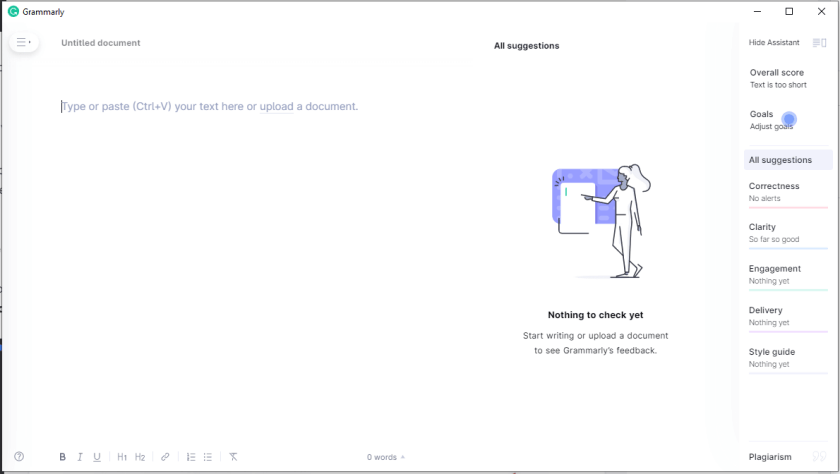 To download the application, go to the "App" section of the Grammarly web portal and click on Install Now under "Add Grammarly to Windows."
4. Grammarly For Mac
Grammarly for Mac is basically an extension for Safari. You can search for the Grammarly app in the app store and follow the on-screen instructions to install it. The interface is similar to other browser extensions.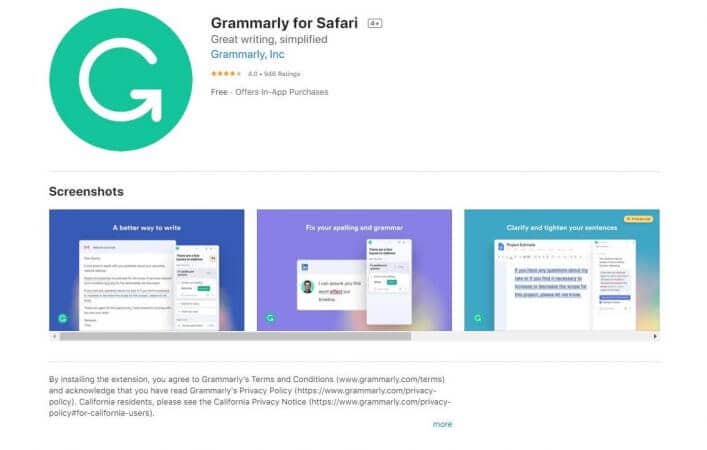 5. Grammarly For Microsoft Office
Suppose you are done with writing on the Grammarly app and want to write your blogpost on Microsoft word and send an email in Outlook. You just need to download the Grammarly Fee Office Add On.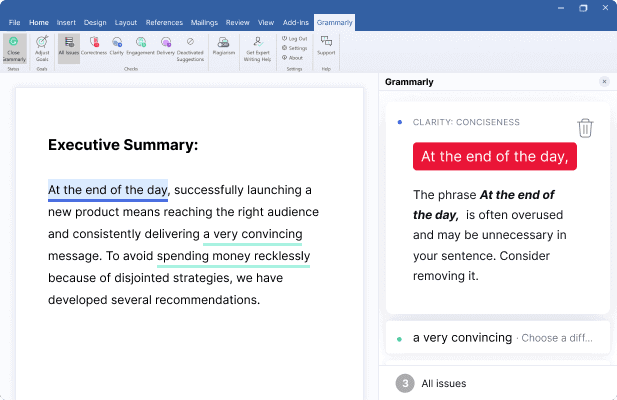 The only thing you need to do is install it on your PC as you download it. After a matter of time, Installation will be done.
You need to login on to your Grammarly account with your login credentials. As you fill it, it will take you to Microsoft word or outlook to use the add-on.
One thing to note is that the add-on is only available for Microsoft Windows. As of now, it is not available for the MAC version. However, there is a separate native Grammarly app available for MAC users.
6. Grammarly Mobile keyboard
The mobile keyboard is available for both Android and iOS platforms. You need to download the app based on your mobile operating system and select it as a default keyboard in your mobile keyboard setting.
Once you set the Grammarly keyboard as the default keyboard, Grammarly will automatically give you suggestions to correct writing errors while you write. A convenient feature, I would say.
How Accurately Grammarly Help To Improve Your Writing Skills?
I don't know if you are aware that Grammarly checks and analyzes the text for 10 times more mistakes than what your general word processors like MS Word do. In Grammarly, you can copy-paste any content to check whether it has grammatical errors or not.
It has over 250 rules inbuilt that check your writing for errors. With the help of AI and Machine learning algorithms, Grammarly easily detects spelling errors, conceptual errors, and vocabulary mistakes. If it has copied content, then plagiarism too. It works flawlessly on any online platform.
Whether you talk about Gmail, Tumbler, Facebook, Twitter, etc., Grammarly is compatible with all of the favorite sites you used to write. You will receive automatic writing suggestions while writing online content.
Grammarly Vs Human Proofreader
When it comes to deciding who gonna win the battle between Grammarly and a Human proofreader?.
I would give upper head to Human Editor than Grammarly. It is not a technically perfect grammar checker tool.
It is restricted to picking up basic errors and typos almost flawlessly. However, when things get frivolous, it lags, is unable to catch the errors, and throws up some confusing and incorrect suggestions.
However, This isn't astounding for me, you know the English language is full of weird Conventions and inconsistent rules, and sometimes grammar rules meant to be broken
That's why putting Grammarly above Human editor is not something good thing to see. It never replaces human proofreaders. However, it does a good job, so we can't take it out of the picture.
So, Should you use Grammarly?
Yes, I recommend you get associated with Grammarly Premium as it has many more customizable features that can improve your writing skills. But, human Proofreaders are still the most reliable editor for me
Grammarly Free Features
As I said in this article that even Grammarly free is having features that may be sufficient for your day-to-day writing. Here is a list of features that you will get in the Grammarly free version.
Spelling error
Grammatical errors
Punctuation
Conciseness
Spelling errors
This is something that Grammarly does its best. It corrects all spelling mistakes in your articles. Wherever there are spelling errors, Grammarly will show a red underline under that word. When you get your cursor over there, Grammarly will give suggestions for the correct spelling.
Grammatical Errors
Fixing grammatical errors is one of the key features of Grammarly and this feature is available in the free version as well.
Punctuation
We often overlook the punctuation error in our writing and that causes a huge problem when it comes to retaining your readers.
Fortunately, in the free version of Grammarly, you get the punctuation checker tool inbuilt.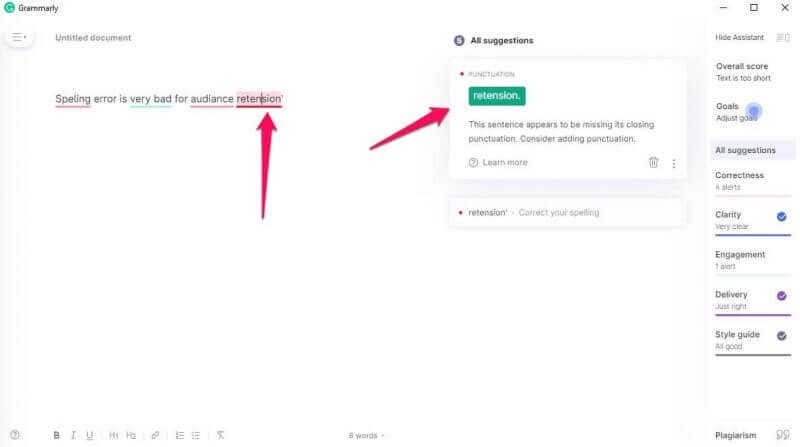 Conciseness
Sometimes your writing may need a better word selection to make it more readable and pleasant to readers.
Grammarly helps in that aspect too as it suggests different better words based on the context of the article.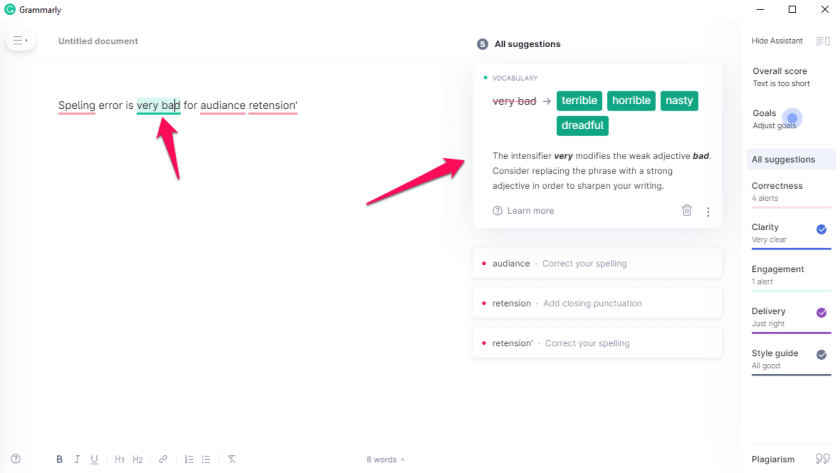 Grammarly Premium Features
Undoubtedly, the Grammarly premium version is something that you should have if you want to have full control of your writing.
Grammarly premium has features that the free version has and on top of that, it comes with the following additional features which are very useful.
Plagiarism Checker
Rephrase Sentence
Tone Adjustments
Better word choice
Word Formality
Word Fluency
Plagiarism Checker
Copied content is a big pain nowadays. Blogging is getting popular day by day, and thus the internet is getting full of copied content. Unfortunately, there is no manual way to check if any content is unique or not.
The only option is a plagiarism tool. Fortunately, Grammarly comes with a plagiarism tool inbuilt, and it is compelling too.
So you don't need to spend money on a separate plagiarism tool. It ensures your work is free from plagiarism by checking it against 16 million web pages.
To access the plagiarism tool, you can simply log in to your Grammarly account, create or upload a new document, click on the plagiarism option and Grammarly will show if the content is unique or not.
You can also install the Grammarly Application for Windows and follow the same process mentioned above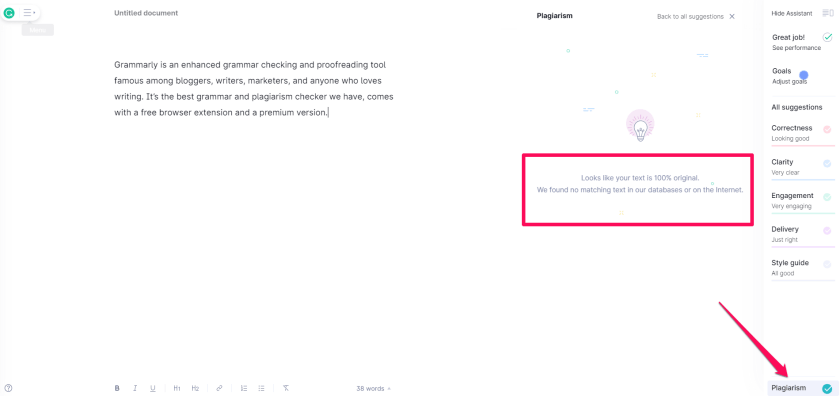 Rephrase Sentence
Do you know that Grammarly can even rephrase the whole sentence if it feels that the new sentence makes more sense in the context of the article? Definitely, those suggestions will make you a better writer.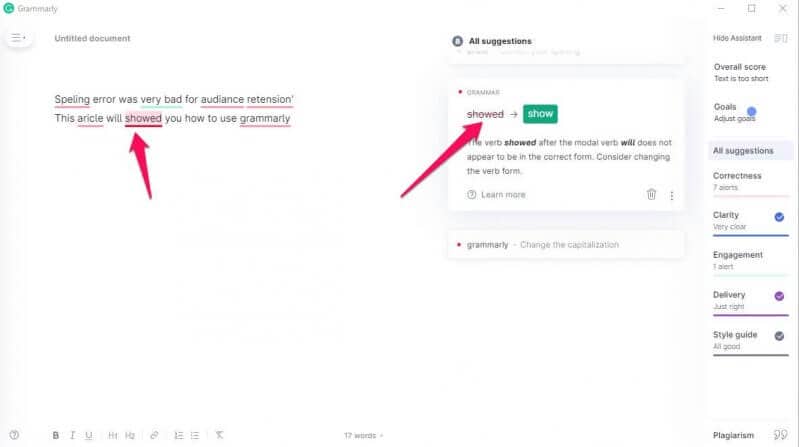 Tone Adjustment
Tone adjustment helps to choose better words that are more of soft nature than commanding, as commanding words create a bad impression among readers. Tone adjustment also helps in showing your confidence level.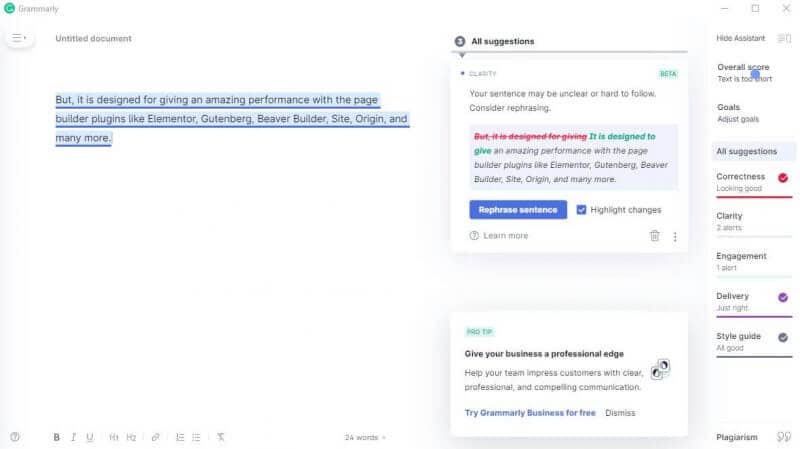 Better Word Choice
Although this feature is already available in the free version but in the pro version you will get more advanced word choices that will take your writing skill to the next level.
Word Formality
This kind of error we usually do when you type our cellphones. For example, we write " U" instead of "You".
Consider, that you are sending this kind of text to your business manager. Will it make sense? Grammarly fixes those kinds of errors also.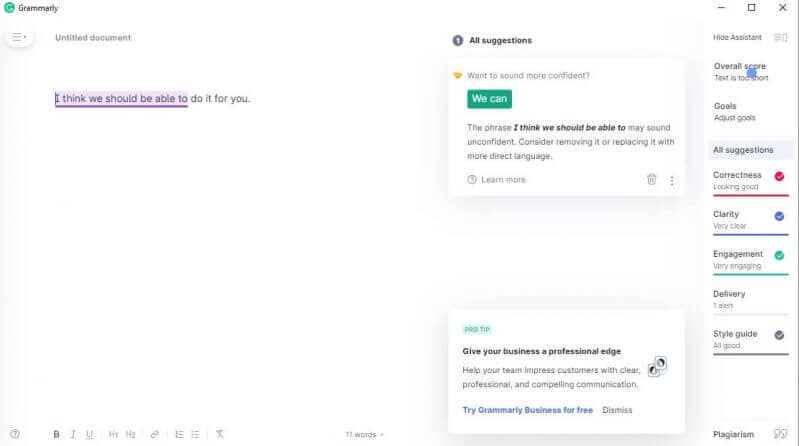 Word Fluency
Grammarly ensures that your word choice sounds natural and fluent in the context of the article. This is again like suggesting better words but keeping the focus on fluency.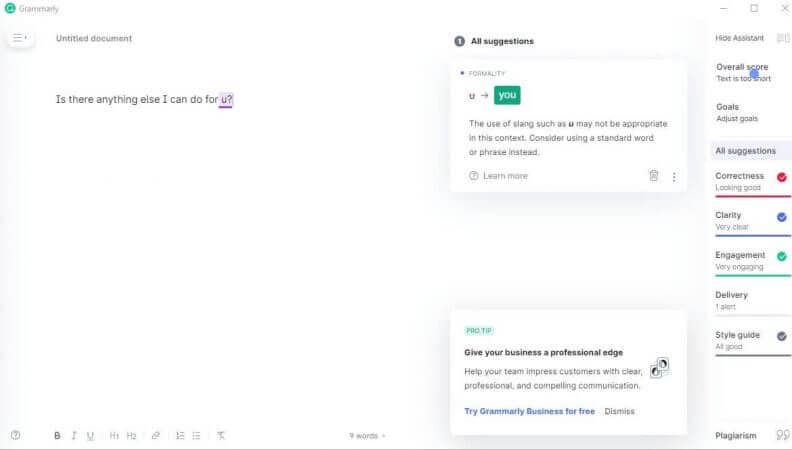 Is Grammarly Premium Worth It?
If you ask about my personal experience with Grammarly Premium, I would say 'YES" it is worth investing money in.
Although, the free version is quite tempting, and you can say it's far better than not having a second eye look over your writing.
It can detect far more grammatical errors and typos mistakes than what we have in typical free checkers.
However, something on which you are paying money must be good. Not good, but far better than their free options.
Grammarly premium identifies more writing mistakes than any other pro tool available in the market.
If you are serious about writing, then I would suggest you use Grammarly. Definitely, it will make you a far better writer than you are.
But a word of caution here, No grammar checker tool is perfect. Even Grammarly has its own share of flaws. So, don't always accept the suggestions offered by Grammarly.
See the suggestion, evaluate it and if it feels good, then only apply it. Human proofreading is always better.
Grammarly Free Vs Grammarly Premium
Which one is the better between Grammarly Premium and Free Version?. Is the premium version wins more points? Or the free version is enough for you?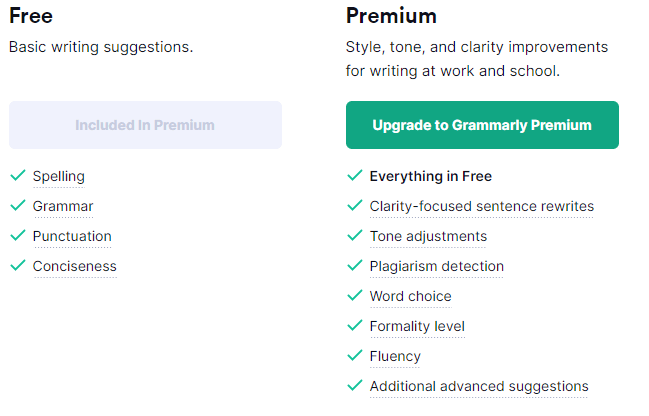 No problem, I am clarifying. I have used the Grammarly free version, and it was good. It went a long way to improve your writing skills, but it was restricted to detecting only grammatical mistakes, punctuations, and spelling errors.
But on the other hand Premium version offers a more customizable experience like clarity-focused sentence rewrites, tone adjustments, word choice, inclusive language, formality level, etc., to the writers like you at a very reasonable price.
No matter whether you are a beginner or an experienced writer, I believe Grammarly is useful for both. Yes. Upgrading to Grammarly Premium is a great step.
It gives you a high ROI when your clients and readers read your new and improved writing.
Additionally, you will be able to save time in doing human proofreading and save money in hiring human proofreaders.
Grammarly Premium Pricing
The pricing of Grammarly Premium is very competitive, and it offers more features than its price. All premium plans are available for a single user only.
For multi-users, you need to go for a business plan. Grammarly premium has the following three plans.
Grammarly Free plan
Grammarly premium plan
Grammarly business plan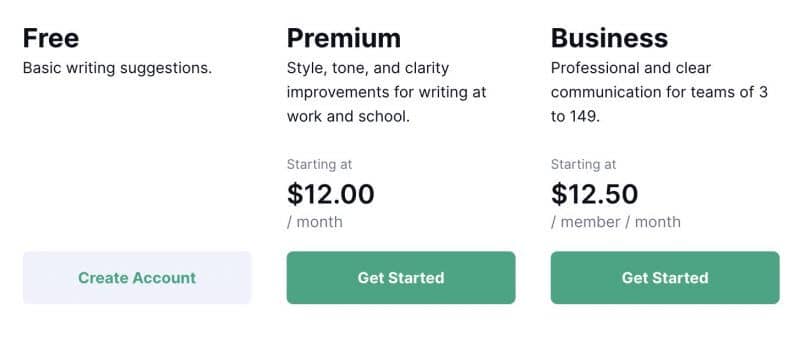 As you can see that in the case of an annual plan, you will be charged only $11.66/ month instead of $29.95/ month in the case of a monthly plan. So there is a saving of about 61% and that is why it is always better to go for the annual plan for maximum savings.
Conclusion: Grammarly Review
I hope this review made you clear everything about Grammarly. With a more than 4 million customer base, it is one of the famous Grammar checker tools for bloggers and writers.
Its free version is quite useful for newbie writers. However, the premium version gives you a lot more features than any other tools available in the market.
Overall, Grammarly is a good handy tool that you can use to hone your writing skills.
So, it's time to wrap up this review, and if you have any queries, feel free to share your queries in the comment section below. We are glad to hear your thoughts and feedback.
You may also like to read: 10 best essential plugins for WordPress
Best Alternatives To Grammarly
Yes, Grammarly is one of the highly potent Proofreading and grammar checker tools that every blogger and writer uses today.
But If you think this is the only grammar checker tool that can remove grammatical errors and typos, you may be wrong. There are many other Grammar & Plagiarism tools, too, present in the market.
Here are some of the tools that offer similar feature sets and can be considered serious alternatives to Grammarly.
But, How do they Give a tough fight to Grammarly? How effectively do they detect and improve Grammatical errors and flaws?
Let's find out
ProWritingAid
When it comes to talking about the best alternative to Grammarly, ProwritingAid ranks at the top position. Like, correcting spelling and grammar mistakes Grammarly used to do, Pro Writing Aid also focuses on strengthening your writing.
It Proofreads the sentence by checking for style issues like sentence structure, overused words, Inconsistency in writing, wordiness, and not enough variety in sentence length.
Pro Writing Aid provides a detailed report of your writing. This could be a great companion for you if you write longer content such essays and books.
Its premium version is available for $60 per year and the Premium + is for $ 70 per year which is very reasonable compared to Grammarly, which is $139.95 per year.
Drawbacks Of ProWritingAid
It trades simplicity for its comprehensiveness.
Though it is a pure spelling and grammar checker tool, it is not as advanced and user-friendly as Grammarly is.
Ginger
What makes Ginger the best alternative to Grammarly is its translator which Grammarly doesn't have. It can translate your text into over 60 languages.
A translator can be handy for someone willing to write in more languages than English. You can write in Spanish and translate it into English.
Ginger provides you with a personal directory, which lets you decide which word you don't want as a mistake. In the case of unusual characters, this is really useful.
Ginger costs you yearly $89.88 whereas Grammarly asks you to pay $139.95 which is huge compared to Ginger.
Drawbacks Of Ginger
Its interface is not as intuitive as Grammarly
The proofreading process is slow compared to Grammarly and Pro Writing Aid. You have to hover over the words for grammatical errors.
It doesn't include a Mac desktop app.
WhiteSmoke
White smoke is yet another alternative to Grammarly. It works on all major online platforms. Like Grammarly, It has its default Windows and macOS apps. It also has extensions available almost for all web browsers, including Google Chrome, Mozilla Firefox, Safari, Opera, etc.
If you have professional documents to compose, it is simply the best Grammar checker tool we have in our hands. From Thank you to Sorry notes, it provides useful templates for writing projects,
If we talk about its pricing, It lies around $79.99 per year which is less than compared to what we have in Grammarly i.e. $139.95.
Drawbacks Of WhiteSmoke
The minus I have found in this Grammar checker tool is not as advanced as Grammarly, ProWritingAid, and Ginger. Its interface is not good as we compared it to Grammarly.
Frequently Asked Questions (FAQ): Grammarly Review