To run an online business, a website is a must, and for gaining huge traffic on it, a good web host is required. Right now, I assume that you have your website and came here in search of a good web host. Right?
Selecting a web host itself can be a daunting task for most of you. The reason is a variety of Web hosting providers are present in the market today.
All of them are good in technical terms. However, we at RiansTech have done deep-diving research to uncover each web host provider's plus and minus and found Hostinger the right web host for you.
Through this deep dive Hostinger Review, we are trying to give you solid information about Hostinger Web hosting.
Be assured, this review gonna be the best experience for you. You will learn almost every aspect of the Hostinger and why it is a great choice for you.
So, Why to wait for?. Let's find out why the Hostinger web hosting is right for you.
Hostinger Overview
Hostinger is simply the best web host today in the technological market. It comes with the cheapest plans with blazing fast speed and supreme feature sets.
I know, you must be thinking about how it is possible that web hosting plans are available at such a low price.
On the performance front, this is the best web host that helps to load web pages in a matter of seconds. Their shared hosting, cloud hosting, and VPS hosting are quite appealing.
Their Entry-level plan starts at $0.99 per month. So, if you are starting and want to grow your business online. You must go with the Hostinger. This will be a great bargain for you.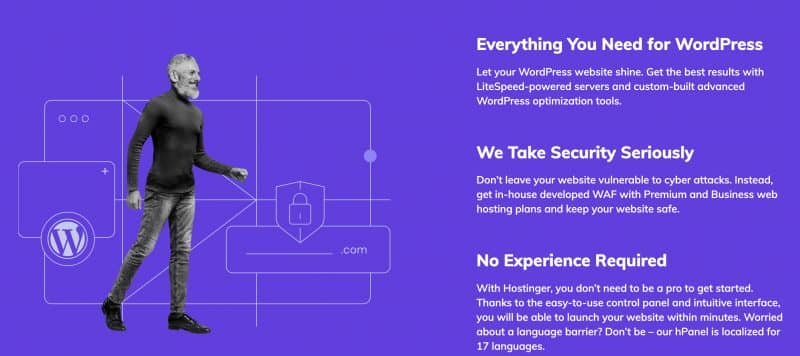 Hostinger is becoming an established name in the web hosting market day by day. Based out in Kaunas, Lithuania in 2004. It was then named Hosting media. Later on, in 2011 hosting media changed its name to what we know today as Hostinger.
With time Hostinger localized its services and the data centers around the globe. In recent years of its journey, it was using apache servers to boost its server performance but changed to LiteSpeed servers in 2019.
Recently in 2020, Hostinger has been linked up with the google cloud platform and ruling the web host industry.
Hostinger Hosting
Hostinger is one of the best and cheapest web hosting available in 2021. With an option of Lite Speed Server Hostinger is fast too. On top of that, they also offer a domain for the first year, which makes it a great buy
Price: 0.99
Price Currency: USD
Operating System: Linux
Application Category: Web Hosting
Hostinger Business Portfolio
Hostinger provides mainly three types of web hosting Shared Hosting, VPS Hosting, and Cloud Hosting.
Unlike these three, There are two other types of web hosting it provides. They are Minecraft Hosting and WordPress hosting.
They all are useful in scalability, traffic, security, and many more aspects it provides to our sites. Therefore, selecting the right one for your sites can be a daunting task.
Shared Hosting is Hostinger's best hosting plan in terms of pricing and feasibility for beginners.
If you are using a shared hosting plan, your site may get slow due to limited bandwidth or when the huge traffic is there.
If you are starting things, running your blogs, or do not have too much web development knowledge, Shared hosting is a great option for you.
It's a beginner-friendly hosting type—no need for technical expertise as such. However, the downside, your site is prone to slowish when there is high traffic, and it does not provide any dedicated resources.
Coming to VPS Hosting, If you are running your business online and have a plan to enhance it in the future or have a solid budget to invest in, then the VPS hosting of Hostinger is good enough for you.
It gives you direct access to your server; compared to shared hosting, it grants you more bandwidth, not much influenced by other sites' traffic.
So considering these aspects, it will be a great bargain for you. However, the minus point is, it comes at a slightly higher price, and you will need to have the technical expertise to use this hosting wisely.
For scalability and superior speed performance, cloud hosting from Hostinger can be a great option for you.
In Cloud Hosting, the special features of shared hosting and VPS Hosting combine and form an easy-one-in-use package.
Cloud hosting is somewhat similar to VPS Hosting. In VPS Hosting, you need technical expertise, whereas there is no need to have development knowledge as such because the backend operations and important updates are taken care of by cloud hosting.
WordPress hosting is another critical point of Hostinger, which comes with three, i.e., single, premium, and business hosting plans.
You may be thinking that these plans seem to be similar to what we have in shared plans with Hostinger, but the fact is they are identical in specs too.
Whether you are a newbie blogger or a professional one, WordPress hosts are something that you can invest in.
They are pretty good in terms of scalability and performance-wise. However, their entry-level single plan can be good enough.
Hostinger Web Hosting Features
Now, let's have a detailed look at what exciting features Hostinger web hosting offers us:
1. Great Uptime
Uptime is something that you can't ignore when having a good web host. Yes, Hostinger is a cheap web hosting service, but that is not something to describe web hosts' quality.
It's not a wise decision or worth going towards this way if your uptime is not up to the mark.
Hostinger has decent uptime rates. We are not saying it is the best in the market but not bad too.
Many great web hosts usually offer 99.9% uptime. However, in the case of the Hostinger, the picture is quite different.
It has a 99.8 % uptime range in some months, whereas a 99.04% range in some months is definitely something you don't want to see. However, in some months, it gives 100% uptime as well.
2. Lite Speed Server: Fast And Reliable
Hostinger is made for delivering blazing fast loading times, and it is a good thing to keep your website pages under Hostinger.
It is simply one of the best web host providers in the market, delivering fast loading time to your sites' pages.
You can think of if I am sacrificing quality because of low cost. I would say no. The reason is, that Hostinger has delighting shared hosting plans for WordPress. They are good and optimized, and known for delivering faster loading speeds.
Their Litespeed cache server is the major highlight. It offers great speed to load pages, enhances SEO, and helps in grabbing user retention and conversions, the reason why it is gaining huge popularity among website owners, especially small websites.
3. 24×7 Customer Support
Customer support is something of great importance when it comes to having a good web host.
You think it, suppose you are working on your site, and suddenly it faced some issues and crashes. Then, At that point, what will you need?.
Obviously, you will need someone to assist you. Don't worry, as Hostinger has made this possible for you. Their 24×7 customer support is amazing.
You will only need to get someone on call. In just a matter of seconds, someone will be there to resolve your queries.
It does provide live chat, which is really easy and fast. The whole Hostinger group of representatives is well professional. My personal experience was good as well.
When I called them, their language and terminology were impressive. Instructions were simple to apply.
However, if you are running your personal blog, you may not need to consider it on a priority list. But still, it's always better to get in touch with them.
4. Free Domain and Website Builder
Hostinger's plans are beneficial for those who have taken the first step in the world of making a website. It offers a free domain and website builder on its amazing plans.
If you are making your website from scratch, then the drag and drop builder feature can be a great partner for you.
I am not saying that Hostinger's plans are the best in the market but not the worst too. It offers a great template to start off things easily. Not best but suitable for a small website.
Hostinger has the ability to cope the things easily and effectively whether hosting or getting free domains and site builders.
The best and cheap web host provider capable of fulfilling an all-in-one solution.
Hostinger provides a great load time, uptime, and several features. Yet, it is not necessary that everyone would like it.
Therefore, Hostinger provides a 30-day money-back guarantee, which is awesome if we talk about it.
In case you are not happy with the services, you can get a refund of that within 30 days before you have logged on to it.
Its refund process is simple and easy. To cancel the account only, you will need to click 3 buttons.
As you clicked, the refund process will be initiated to the bank account whatever you provided there. It is not mandatory that you will get a 100% refund.
There may be some deductions in domain-related services. However, if we compare Hostinger with other web host providers, it offers an almost 100 percent refund, and that is what it is known for.
6. Intuitive Control Panel
Are you aware of how to manage your hosting environment? If not, then no problem. It's possible with the control panels. Control panels let you manage your hosting easily.
With it, you can do a lot of things. From managing your website domain names to installing applications to creating and managing email accounts, and many more.
I know most of you are thinking about why to use Cpanels when it is possible with the direct login to the server. But, do you know?.
That requires some development knowledge. That is the reason why web panels are a good option for you to use.
7. Automatic Backup
Now, No Need to backup manually; Hostinger comes with regular automatic backups. Daily and weekly back-ups are done as per the hosting plans you chose.
If you want to run your website with blazing fast speeds or avoid any data loss, the regular backup becomes mandatory.
I know you don't want to lose your data in any case, whether it has been hacked or broken hard drives or any unwanted accident happens.
Therefore, your website needs regular backups. Hostinger ensures your data is secure, and you don't need to start from scratch.
8. Free SSL Certificate
Every time you buy any web hosting plan, please make sure you should look for SSL certificates as well. Hostinger comes with an SSL certificate with almost all its plans. Why are SSL certificates creating such a big buzz?
The reason is, that SSL helps encrypt and to secure the visitor's data. You know today, data is everything.
At this time, you don't want to give intruders a chance to do such foul things to steal your useful data.
Therefore, to keep secure your data SSL certificates are a must. Not only you are risking your project but also your site ranking would get affected if your website does not have an SSL certificate
9. WordPress Acceleration
If you are starting your online business, Hostinger may be the best hosting for you. The reason is the cost to a large extent, but WordPress acceleration is something that makes it stand out among other web host options in the market.
It will be easy for you to start your website with WordPress.
The LiteSpeed cache for WordPress is the all-in-one plugin you can utilize for caching content, minifying codes, database management, etc.
Using it, you can optimize your websites with automatic page caching, and private caching for those who are already logged in.
Also, schedule automatic purges for specific URLs; SEO Friendly sitemap options are available in this plugin.
10. Budget-Friendly Price
When it comes to pricing, no other web host can beat Hostinger. The shared hosting plans start from just $ 0.99 per month.
Although that basic plan is of no use, even the topmost plans are not so costly. One suggestion is that if you plan to buy Hostinger plans, you should buy plans at least for 3 years duration to get the maximum savings.
Hostinger Web Hosting Plans and Pricing
Hostinger has made its name big in the industry not only because of its cheapest plans but also due to its user-friendly services.
Unlike other web hosts, their plans are cheap, but that does not mean the services are worst.
It has gained a huge customer interest over the years. It includes mainly: Shared Hosting, VPS Hosting, Cloud Hosting, and WordPress Hosting.
Here I have explained the pricing structure of hosting plans that Hostinger offers. I hope this will help you choose the right web hosting plans for your site.
Shared Web Hosting Plan And Pricing
Shared web hosting of Hostinger includes three plans: Single shared hosting, premium shared hosting, and business shared hosting plan. Let's talk about them in brief.
Single Shared Hosting
If you only have one website to host or are a beginner and just started things off, then a shared hosting plan is something that you should go for, as it is the cheapest one, and in starting, there is a chance of not getting traffic on site. Therefore, you should go for it.
Single Shared Hosting
Sample content
Premium Shared Hosting
The premium shared hosting plan is best for those who have more than 1 website, unlike, a single shared hosting plan that is suitable for 1 website.
However, this plan lets you have unlimited traffic on your websites, and you will get unlimited bandwidth and memory compared to what you get in a single shared plan.
Premium Shared Hosting
Sample content
Business Shared Hosting
If you are running an online business that is growing rapidly and want to get huge traffic, you will need this business plan from the shared hosting plans of Hostinger. This plan gives you four times as many allocated resources, which helps your website to load quickly.
Business Shared Hosting
Sample content
WordPress Web Hosting Plan
Now, It's time to see the WordPress Hosting plans. They are enlisted below:
Starter Plan
For small business owners, this plan is the best to go for. With this plan, you will be able to handle thousands of visitors every month.
Perfect for small business owners as it has 20 GB of disk space. But if you are thinking that I would upload a lot of content on it, then this plan may not be the best for you to invest in.
Starter Plan
Sample content
Pro Plan
Unlike the starter plan which allows 100 websites to host, this Pro plan of WordPress web hosting plan permits to hosting of around 300 websites.
This plan is equipped with 100 GB of disk space which means you have a lot of space to upload any media content.
Enterprise Plan
If the storage is your concern, then this plan is better to go. It provides 140 GB of disk space than what you get in the Pro plan, i.e.100 GB. Additionally, you will get a free jetpack premium subscription.
Enterprize Plan
Sample content
VPS Web Hosting Plans
Talking about Hostinger's VPS Hosting plans, they are simply the best. The price is also reasonable, not costing you too much. You will get unlimited bandwidth, memory, and CPU cores in these plans.
If you are planning for VPS plans, it's always better to start with the cheapest one. It costs you around $3.95 per month.
It provides 1 CPU core, 1 GB of RAM, 20 GB disk space, and 1 TB bandwidth. The best part of the VPS plans is that they can handle thousands of visitors every month.
Suppose you want to scale your business. All you need to do is just switch it to the higher plan. Higher plans offer more resources, and that helps your website to load quickly, and thereby, more visitors will reach your website.
VPS Hosting Plans
Sample content
Cloud Web Hosting Plans
Now, let's have a little glance at the cloud web hosting plans of Hostinger. See what they provide you to get the best use of your websites.
Startup plan
If we talk about the startup plan of Cloud hosting, this plan can handle thousands of users per month. I would suggest you can save a lot of money with a startup plan. You know what?
In the starting months of the journey, your website will not get a lot more traffic. Therefore, spending too much on the startup plan will be a bad bargain for you.
StartUp Plan
Sample content
Professional plan
If you are getting huge traffic on your website, then the cloud professional plan can be a great option for you. It has 6 GB Ram, 4 CPU cores, and 2x Speed Boost for your kind information.
You don't worry about getting into traffic. This plan is gonna handle around 200K Visitors per month.
As it comes with twice unlimited resources like unlimited bandwidth, memory, etc. This plan leads to a great level of computation.
Please make a note that you will get 140 GB of disk space in this plan.
Professional Plan
Sample content
Global plan
The cloud global plan is for those who don't have that much knowledge of web technologies, as it runs on a google cloud platform. Lemme tell you, this plan can handle millions of visitors every month, equipped with 16 GB RAM, 8 CPU Cores, and 4X speed Boost.
Global Plan
Sample content
Hostinger Review [ Performance & Test Result]
We have tested Hostinger Shared hosting with one of our demo sites and looking at the results, it did perform well in all those tests.
1. Speed Test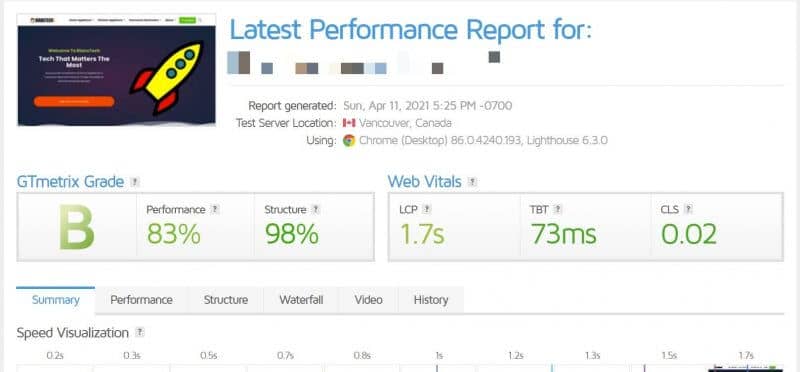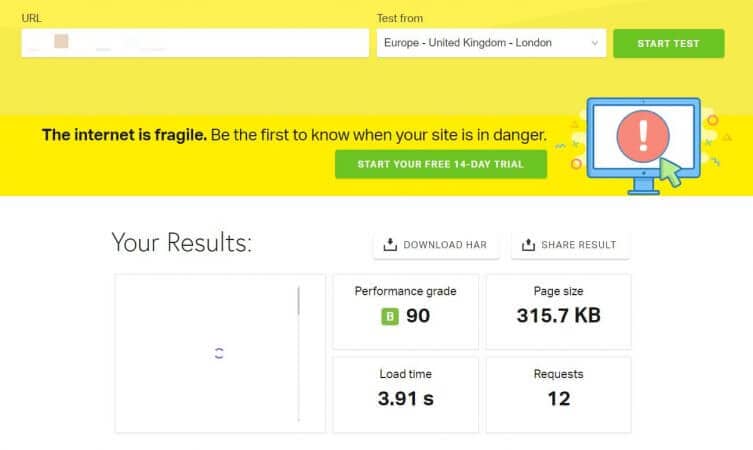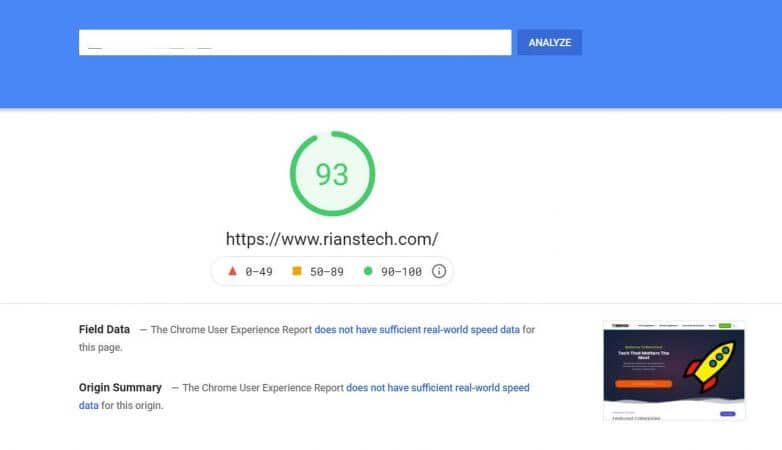 2. Server Speed Test
3. Time To First Byte Test (TTFB)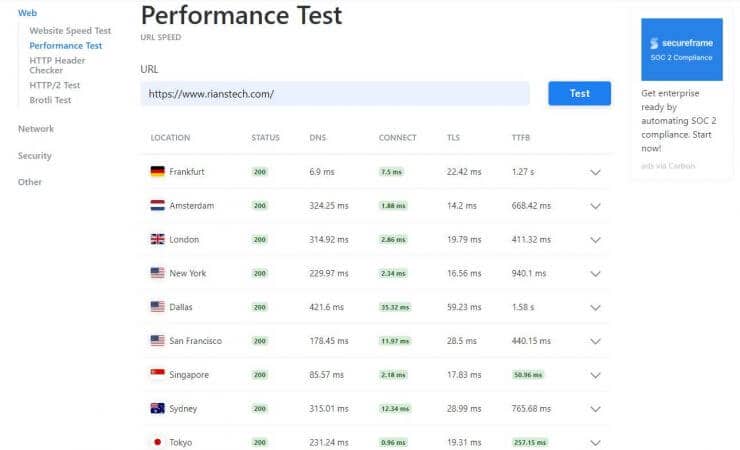 Hostinger Positives And Negatives
Option of lite speed server
Lite Speed cache

Free domain name for the first year

Free website transfer

Unlimited bandwidth

Free SSL

Daily backups

Server-level cache mechanism

Advanced security and firewall

Very cheap pricing

Wide range of hosting plans to choose from
Uptime could have been better

Not fast enough compared to other web hosts

Security is still a concern

Support is still a hit or miss
Conclusion: Hostinger Review
Do I recommend Hostinger to you?. Yes, I do. In this review, We have thoroughly discussed the salient features of Hostinger that can fulfill all your hosting needs. I hope you are now well-versed with it.
Again, we will tell you, that Hostinger is one of the best among other competitive web hosts today. The major highlight is its cheapest pricing, blazing fast speed, good uptime, and more importantly, its 24×7 customer support.
If you search for a web host for your sites and want to cut down your costs on web hosting, Hostinger is the best host you can go for. It's worth it whether you talk about time, energy, and resources.
Hostinger offers some great discounts during the Black Friday sale. So keep watching this space for Hostinger Black Friday deals and Hostinger Cyber Monday deals
The Hostinger services are appealing, and that proves its integrity of it. Although It has VPS and Cloud hosting plans yet we are pleased with its shared hosting plans. They are quite good, and that's what they are known for.
If you still have some queries. Please do comment on us. We will come back to resolve your concerns.
You may also like to read: 10 best WordPress hosting for bloggers in 2021