Are you wondering about how you can boost the loading speed of your websites, online stores, blogs, or publication houses?
If you are a newbie blogger and looking to run your business online, you must need blazing fast speed and cost-effective web hosting solutions. Because speed affects the SEO and the conversion.
That is why we have come up with a detailed A2 Hosting review so that you know what A2 Hosting offers and why it is one of the best web hosting solutions for your business
It's a premium web hosting provider, as it offers a blazing fast speed, reliable uptime, developer-friendly security features, and more importantly the money-back guarantee. You can cancel your account anytime to get a full refund.
A2 Hosting is considered to be one of the best hosting solutions for its cheapest plans, so if you are looking for a fine-tuned and fast hosting service at relatively cheaper rates, Go with A2 hosting that actually gives you everything that you will need to run a successful blog.
A2 Hosting Overview
A2 Hosting was founded by Bryan Muthig under the name of Iniquiniet, designed to handle a small number of clients.
But later on, it gained a lot more clients than anticipated. The name then changed A2 Hosting which is basically the initials of the location Ann Arbor
The company is based out of Michigan, USA. Data centers are spread well across the globe. They have a very skilled team of engineers who monitors 24X7 so that you can be confident about a host of your sites tuned by the A2 Hosting company.
A2 Hosting Review
A2 Hosting is one of the best hosting providers for shared hosting and VPS hosting. With excellent pricing and the lite speed server, A2 hosting is great for beginners to host their blogs.
Price: 2.99
Price Currency: USD
Operating System: Linux
Application Category: Web Hosting
A2 Hosting Business Portfolio
A2 Hosting has six different types of hosting: Shared, WordPress, VPS, Cloud, Dedicated, and last but not least Reseller hosting. All plans are good and it can be intimidating for you to choose among them for your site.
Shared hosting is the most affordable and the best one. If you are a new blogger, you can go with the shared hosting plans. Once your blog starts growing you may switch to other types of hosting.
Already grown-up blogs can either opt for their VPS plans or the dedicated server hosting. Both are cost-effective too compared to other hosts.
For scalability and flexibility, Cloud Hosting from A2 hosting is a great option that you can opt to manage your sites.
You know, the files and data of your websites are stored on multiple servers. To pull back the resources from a variety of places is an intimidating task. So on that, cloud hosting helps, making your site perfect if it experiences some hikes and dips.
I would suggest you try their Dedicated Hosting plans if you plan to run an eCommerce store. It's a bit expensive but makes your website scalable, powerful, and secure too.
Last is the reseller type of web hosting means that you have the ability to rent server resources from A2 hosting to start your own web hosting business. Is not that great?
You may also like to read: Types Of Web Hosting
A2 Hosting Features
As we already came to know that A2 hosting has a wide range of portfolios. The feature list varies based on what type of web hosting you choose.
But in this article, we will only list out the shared hosting features considering the fact that most of us go for shared hosting only for our blogs unless we have a very high traffic blog.
1. Blazing Fast Servers
Not even the dedicated server or the VPS hosting, but even the shared hosting servers are much faster than other web hosts in the same price range.
One of the reasons for that is the high resource allocation and fewer users per server. For moderate traffic blogs, A2 shared hosting is the best option
Its blazing speed is unmatchable for VPS and dedicated servers as well. So, if you are wishing to have a website where speed is the concern, then A2 Hosting is a great option for you to invest in.
2. Free Site Migration
In A2 hosting, If you want to move your existing websites, you won't be charged extra for migration, as they offer free migration.
A2 Hosting offers you to move a single existing website over to their servers without extra charge on all plans. In fact, the turbo plan allows unlimited website transfer free of cost.
Other hosts in the market usually charge $100 for this service. So, if you are using any other web hosting provider service, you can switch to A2 hosting services. You only need to contact their customer support for the transfer.
Please make a note that the number of free migrations depends on the plans that you have selected.
3. Unlimited SSD Storage
Except for the StartUp plan, all other plans come with unlimited SSD storage. Loading speeds of your sites matter a lot if you don't want to lose customer retention.
Generally, SSDs are 30% faster than regular hard disks. That's the reason why most web hosting provides SSD storage options.
Do you know that A2 Hosting uses NVMe SSD which is much faster than SATA SSD used by other hosts?
4. Superfast Turbo Servers
This is the real trump card that A2 hosting played with their shared hosting plans. They have two turbo plans that use Lite Speed Server coupled with Lite Speed Cache.
Lite speed server is one the fastest server available in the market today. Most of the other web host uses Apache web server which is free and very outdated.
The speed of your website gets multiplied by Lite Speed Cache. Basically, lite speed cache is a product by the same company that developed the Litespeed server to optimize its server speed.
Trust me, lite speed server with lite speed cache is a deadly combination for speed
5. Anytime Money Back guarantee
Most of the hosts offer a 30-day money-back guarantee. But, the money-back guarantees that you will be offered in A2 Hosting are impressive. It gives you a risk-free anytime money-back guarantee.
A2 hosting offers you to get a full refund within 30 days. And, in case you find some discrepancies in the host afterward, you can cancel your account anytime with A2 Hosting and receive a prorated amount back for the remaining time that you have prepaid.
6. 99.9 % Uptime commitment
Every web hosts nowadays claim that their server uptime is 99.99%, even A2 hosting does. What is the big deal? Here is the difference that A2 hosting offers compared to other web hosts.
You will be provided a service credit of 5 % from the amount paid per month for every hour your site goes down due to some hindrances in the networks. So it is almost assured that if they 99.99% uptime guarantee, they will stick to their claims
7. Guru Crew Support
The guru crew support is available 24X7. They are well trained and know how to solve problems. The support lead time varies depending upon the types of web hosting you have chosen.
For example, in the case of shared hosting, the wait time may be more compared to VPS hosting. The best way of getting quick support is through the support ticket system. They usually respond to support tickets in 24 hours.
8. Data centers at different location across the globe
I can understand that, in this CDN era, the data center location may not make a lot of difference. A2 Hosting has data centers in four strategically geographic locations.
In fact, they have one data center in Singapore as well to serve the Asian countries. So if you have your audience from India, then you can choose the Singapore location as your data center.
9. Content Management Systems (CMS)
A2 hosting offers a Softacolous content management system (CMS). It works seamlessly. With the A2 hosting. You can install a WordPress, OpenCart, Drupal, Joomla, or Magento site with just a few clicks.
A2 Hosting also has a performance-enhancing cache plugin that is installed by default when you install WordPress. They make the CMS work faster. In all plans, you will get a free Cloudflare CDN that helps the sites load faster.
10. Staging Area
In all plans of A2 Hosting, you will get the option of creating a staging area for your production website. This is useful to test different themes or plugins without affecting the production website.
Once you are happy with the outcome in the staging server, you can deploy the changes in the production server easily.
A2 Hosting plans and pricing
A2 hosting has different hosting plans in different types of hosting as explained below.
A2 Shared Hosting Plan
A2 Hosting offers under shared hosting plans are really impressive. The Startup and the drive plan are powered by the Apache server. I won't recommend these two plans.
The turbo and turbo max plans are powered by Lite Speed Server. These two plans offer the most value for money and I highly recommend these two plans
There are four Shared hosting plans that A2 hosting offers.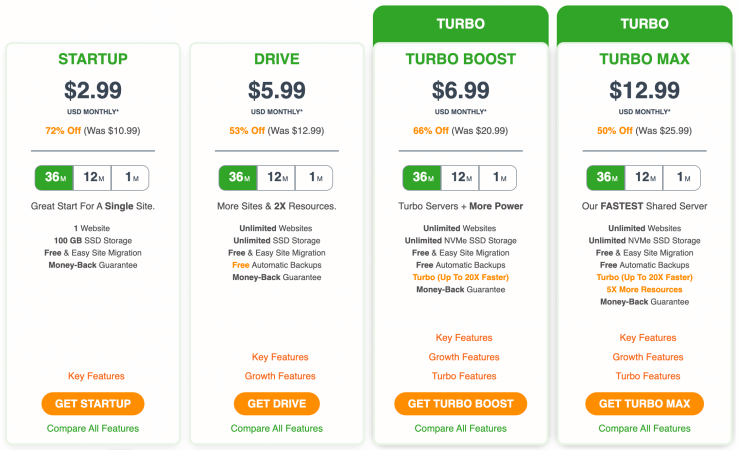 Start Up
If you are having a small website, you can opt for a start-up plan. It comes with a 100 GB SSD Storage, Free Site Migration, and Money back guarantee. But you can host only one website in the start-up plan.
A2 Hosting Start-Up Plan
Sample content
Drive
Those who have multiple websites and want to grow more traffic and get fast loading speed on their sites can go for the drive plan.
You can install unlimited websites and offers unlimited webspace. You will also get the automatic backup option.
A2 Hosting Drive Plan
Sample content
Turbo Boost
The most recommended plan is turbo boost. If you want a faster-shared hosting plan, you can go for it.
It offers a lite speed server with a lite speed cache which is great for speed. It also offers NVMe SSD storage which is about 30% faster than traditional SSDs.
A2 Hosting Turbo Boost Plan
Sample content
Turbo Max
This is the best plan in the shared hosting portfolio. It is the same as the turbo plan but offers five times more resources. So if you have a high-traffic website, then this is the plan for you.
A2 Hosting Turbo Max Plan
Sample content
A2 VPS Hosting Plans
If the shared hosting is not able to satisfy your website traffic needs, then the VPS hosting plans of A2 are a great option for you. It offers both managed and unmanaged VPS hosting plans.
Unmanaged VPS Hosting Plan
Unmanaged VPS hosting plans are suitable for experienced developers. The pricing is competitive and compatible with those who want full customization in their virtual servers.
An unmanaged VPS allows developers to select exactly how much RAM, storage, and other resources that they aspire to. So, do not worry about that, you will end up getting all you need.
A2 Hosting Unmanaged VPS
Sample content
Managed VPS plans
Managed VPS plans of A2 hosting give you a developer-friendly control panel. It is a 100 % worry-free host guard server management, highly suitable for the majority of websites.
A2 Hosting Managed VPS
Sample content
Reseller A2 hosting
Reseller A2 hosting might be a great option for developers, designers, and those who have their agencies.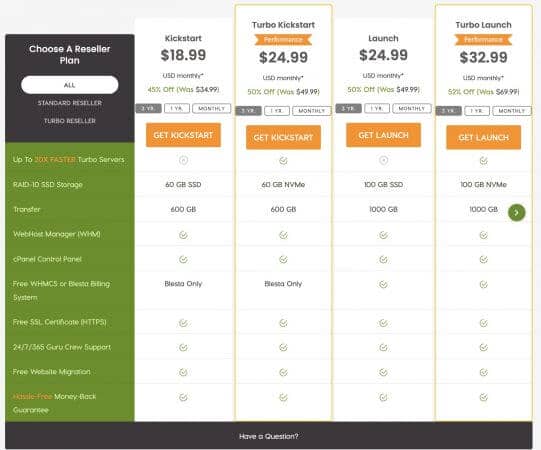 A2 Reseller Hosting
Sample content
Dedicated Servers
If you have a high-traffic website or an online store, then a dedicated server may be a good option. You can customize the resources the way you want.
There are two types of dedicated server options available. One is the unmanaged dedicated server and the other is the managed dedicated server.
Unmanaged dedicated servers are for the one who wants to have full control of their servers. In the case of managed dedicated servers, the A2 hosting technical team is responsible for managing the servers.
A2 Dedicated Server
Sample content
A2 Hosting Review [ Performance & Test Result]
Any review is incomplete unless we test the server and see how fast it is. We also have tested one of our demo sites that are hosted on A2 Hosting
Here is the test result of a demo website hosted on A2 Hosting, The result is very impressive considering the blog is not really speed optimized.
A2 Hosting Positives & Negatives
Choice of Lite Speed Server

Unlimited Website Installation

No Limit on Bandwidth

Fast NVMe SSD Storage

Numerous data center location

Free site migration

Anytime money-back guarantee

Daily backup option

Option of having a staging area

Excellent pricing
No free domain

Pricing is good only if you buy for 3 years

Lite speed server is not available in the start-up and drives plan
Conclusion: A2 Hosting Review
What do you think? Do we recommend you to have A2 hosting?. Absolutely Yes. The reason is simple. The A2 hosting is a well-known, highly scalable, and flexible hosting provider compared to other popular web hosts in the market.
No matter if you are a newbie developer, a startup owner, or running your agencies. A2 Hosting can help you with your hosting needs
What we really like about A2 Hosting is its "Anytime money-back guarantee" feature and endless features that can maven all the needs of developers.
Its developer-friendly hosting and blazing fast loading speed make it a stand-out option and a better host to invest in.
Best Alternative To A2 Hosting
We always prefer to suggest you some alternative options in case you don't feel good about A2 hosting.
Although finding an alternative to A2 Hosting is difficult considering their offerings, Siteground, Bluehost and Fastcomet are a few of the close contenders.
Siteground
If you are looking for the best alternative to A2 hosting, Siteground can be an ideal option for you. Siteground is also accommodated by WordPress. So you can be assured that their service is excellent
Their hosting plans are good in terms of flexibility, offer 24X7 customer support throughout the year and they are one of the most reliable web hosts in the market.
Fastcomet
Fast comet is another alternative to A2 hosting. It is a highly managed and advanced cloud-based web hosting platform. They offer free domain name or transfer, Cloudflare CDN, and many more exciting features.
Like, A2 hostings, the FastComet hosting offers a 24×7 customer support option. Also, it gives you a 100% money-back guarantee.
FastComet Hosting
Having a website is the best way to advertise your business, promote your services/products, drive traffic, and enjoy …

A2 Hosting Review [May 2022] : Best Alternate To Siteground