WordPress is one of the most popular blogging and CMS software. More than 80% of blogs run on WordPress. Although it's very easy to install and run, still many people struggle to install and set up WordPress.
People who use an automated script to install WordPress find it super easy but those who have no auto-installer in their hosting package face a tough time getting the WordPress work.
So in this article, we will talk about How to install WordPress which will be a guide for beginners to start their blogging journey.
Table of content
How To Install WordPress
Typically we can install WordPress using the below two methods. If you are using shared hosting you will have the opportunity to install WordPress using an auto-installer but for VPS and dedicated servers, the manual method is the only option.
Using auto-installer.
Using Manual methods
How To Install WordPress Using Auto Installer
Auto Installer is a script that automates the process of installing any web software. Usually, if you want to install any web software like WordPress, you need to create a database, connect the database to your WordPress installation, set backup options, and do many other tasks.
Auto Installer does everything for you with a single click. Thus fewer chances of making any error and any newbie also can install WordPress using auto-installer.
C Panel is the most popular and widely uses web control panel. It comes with an auto-installer. However many web hosting company which offers " WordPress Hosting" as a separate package, may come with their own installer package.
The procedure to install WordPress in this scenario will vary from host to host. You should check with individual hosting company help files to figure out how you can install WordPress.
In this article, we will just concentrate on how to install WordPress in C Panel or Plesk using an auto-installer.
How To Install WordPress Using C Panel
C panel is the default control panel for 99% of shared web hosting. It comes bundled with an auto-installer named " Softaculous".
Softaculous automates the process of installing WordPress and with a single click, you can install WordPress or any other web software.
The detailed procedure of installation is mentioned below.
How To Install WordPress Using C Panel
Here are the detailed guidelines about how to install WordPress using the C panel
When you buy shared hosting, the hosting provider will share with you the C panel login details and the C panel URL. You need to log in first with those credentials
Under Softaculous, Look For WordPress Option
Most of the C panel comes with a Softaculous auto-installer. In the C panel home, search for the WordPress option.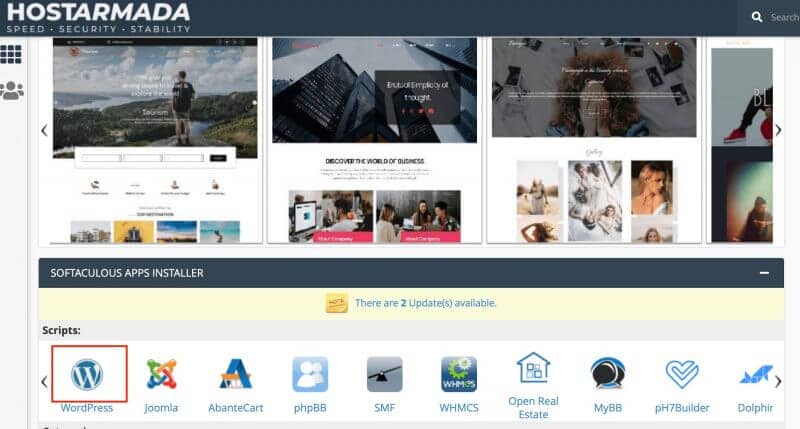 The next step is to click on " Install Now"
Enter all details on the installation page
Here you need to do the following activities
Choose the WordPress version that you want to install ( Prefer to install the latest version)
Choose the protocol, domain, and folder where you want to install WordPress. ( This cant be changed later)
Enter the site name and description under Site Settings ( Those details can be changed later)
Enter information for the admin account
If you want to install WordPress in a different language other than English, select the desired language from the drop-down menu.
You can select to install two important plugins.
Under the Advanced option, you can change the database, upgrade, and backup options. (Don't change anything unless you are sure what you are doing)
Select the theme. ( This can be changed later)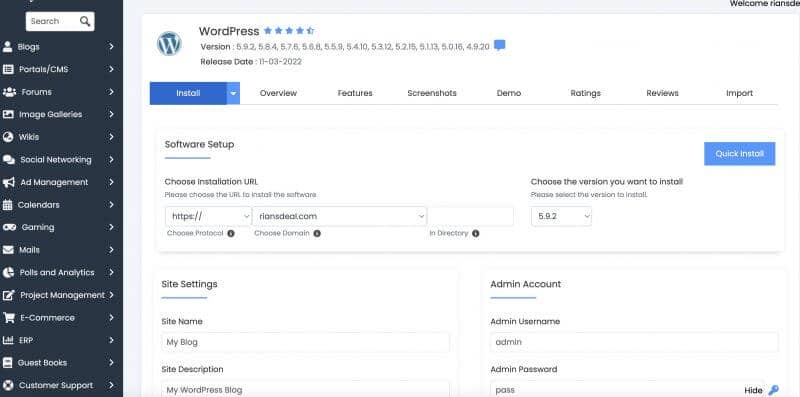 Click Install and That's it
When you have entered all details, finally you need to click on " Install" and it will install WordPress for you.
It will take about a minute to install WordPress and at the end, you will be shown two different links like below.
http://127.0.0.1/riansblog
( This is your website link. I took
Blogbyts.com
as an example)
http://127.0.0.1/riansblog/wp-admin
( This is the admin link)
How To Install WordPress Using Manual Method
You need to install WordPress using the manual method in the case of VPS and Dedicated servers where generally the C panel option is not provided.
Even if they provide a C panel, the cost is very high and many people do not opt for that.
How To Install WordPress Using Manual Method
Please follow the below steps to install WordPress if you are using a control panel other than the C panel. I am using the CentOS web control panel for this article.
1. Download the WordPress package to your local computer from
http://wordpress.org/download/
2. Unzip the downloaded file to a folder on your local computer.
Upload WordPress to Hosting Account
There are two available options for uploading WordPress to a hosting account.
Upload via FTP You can use FileZilla software for FTP
Create MySQL Database and User
WordPress stores its information in a database. Therefore, a database will need to be created.

Login to your account (http://your-server-ip:2030) using root details (User: root password: you_know_it_better).

Navigate to SQL Service ?> MySQL Manager and there on top, you will see the option Create Database and User.

New Database for user: For which website this database will be used?

Database Name: Enter the database name.

Confirm New Password: Password for a database.

Click Create Database and your database is ready to use
Browse http://domain.com/ (replace domain.com with your actual domain name here). First, select the language of WordPress installation:
The first thing you will notice is a message, telling you that you don't have a wp-config.php file and you should create one. Just click on the Create a Configuration File button to proceed.
On this page you will see a message, asking you to prepare the necessary information for the installation. Since we already have this information, simply press the Go! button.
Enter the details for your newly created MySQL database and press the Submit button
WordPress will now check if your settings are correct. If you have entered all the necessary information, you will see a confirmation screen. Press the Run the Install button to proceed.
On the next screen, you will have to enter the information about your administrative username and the title of your new site.

In addition, you can specify whether you'd want search engines to index your site or not. Once you fill in that information, press the Install WordPress button.

Bear in mind, however, that you should specify a real email address. It can be later used in case you forget your password.

Finally, the installation is completed and you can log in to WordPress using 'DOMAINNAME.com/wp-admin'
Conclusion: How To Install WordPress
There are many ways to install WordPress. These two methods are the most common methods that people follow.
I am sure if you follow these two methods as per your type of hosting, there would be no issue with your WordPress installation.
That's all I have in this article. Hopefully, you got some useful information from this article. If you have any questions, then do write in the comment section and I will be happy to answer you.