Having a website is the best way to advertise your business, promote your services/products, drive traffic, and enjoy high conversions.
To attract new visitors and gain more clients, a blog or website should always stay online. This is why you need a suitable web hosting provider.
Of course, finding the best hosting provider is a big challenge. Every web host has its own drawbacks, especially if you think you need to choose according to your needs.
Fastcommet is a web hosting that provides excellent service and always exceeded customer expectations.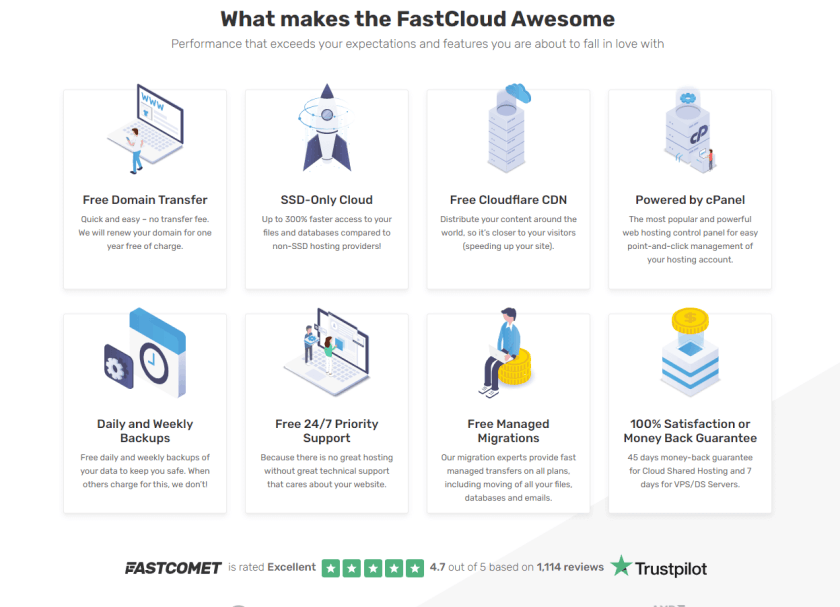 Let's have a comprehensive FastComet review in this article and see why it is among the best web hosting companies. We will also run some performance tests to see if Fastcommet is really fast enough to exceed our expectations.
Article Synopsis
FastComet Overview
FastComet is one of the first-class shared hosting companies out there. Versatile and friendly, it is a company that constantly strives to grow and grow, adopting new technologies and expanding its expertise.
FastComet is a web hosting company headquartered in California, San Francisco; founded in 2010, FastComet initially provided hosting and system administration exclusively for corporate clients.
Four years after its inception, in 2014, the company launched a cloud hosting solution, which opens up to private customers and small business owners.
To reach its customers worldwide, the hosting company has eight server locations in the top cities, including Chicago, San Francisco, Amsterdam, Singapore, London, Mumbai, Dallas, Frankfurt, and Tokyo.
FastComet offers attractive, feature-rich hosting plans with cPanel access and 1-click WordPress installations. Some of the plans also come with premium SSL, which is really a plus.
FastComet Hosting
FastComet is one of the best and reputed Cloud Hosting service providers that use an ALL SSD cloud infrastructure to offer shared hosting, VPS hosting, and Dedicated server hosting. Fastcomet provides a free domain name with all shared hosting plans. You will also get premium SSL for free in the top most shared hosting plan.
Price: 3.95
Price Currency: USD
Operating System: Linux
Application Category: Web Hosting
FastComet Business Portfolio
FastComet hosting provides different hosting services that include SSD cloud shared hosting, fully managed cloud VPS hosting, and dedicated CPU servers.
FastComet uses SSDs in all its hosting plans. The SSD cloud shared hosting is good hosting for small businesses and individuals.
The fully-managed cloud VPS hosting that combines the best bits of shared and dedicated CPU servers is a perfect solution for bigger businesses with high demanding hosting requirements.
Fastcommet also has dedicated server hosting that is suitable for eCommerce stores and big corporates. All in all, fast comment has a wide range of hosting services in its portfolio.
FastCommet Hosting Features
Enough of the introduction, let us see some of the key features that Fastcommet offers in their hosting plans. Here we are talking about only shared hosting features.
1. All SSD cloud
FastComet uses SSDs in all the hosting plans, offering up to 300% faster speed than standard HDDs at read-write operations.
With the help of SSDs, your website can run faster. Since there are no mechanical moving parts in SSDs, there are fewer mechanical failure chances.
2. Guaranteed Resources
Shared hosting means that all resources are shared. That is a problem because often, your site will experience speed issues even though you are not using that many resources.
With Fastcomet, you will be allocated dedicated resources so that until you reach the limit of resources, your site won't be slow.
3. Free Domain for life
Fastcomet is one of the very few hosting providers that offer free domain names till you are hosted with them. Even the domain renewal is also free.
If you want to move an existing domain to Fastcomet, that will also be free till you have business with FastComet. Please make a note that you can only get one domain name for free.
4. Free Global Sign premium SSL for free
Nowadays, every other host gives free SSL certificates. As it's free, not a big deal. Right? Fastcomet provides Global Sign Premium SSL for free, which is a big plus.
Especially for an eCommerce store, if you use a premium SSL, that makes some sense. You can use this premium SSL only for one website.
5. Hacked Website Recovery
I don't feel in the recent past, any web host offered this kind of service for free. Fastcomet is different, and they offer hacked website recovery for free. This is a real relief for many who does not know how to protect their websites.
6. Spam Free Email
Spammers are constantly finding new ways to exclude email filters, making traditional rule-based filters less effective over time.
SpamExperts is an email filter that scans and filters your incoming email for spam, viruses, phishing, and different electronic mail-associated attacks with 99.98 accuracies with the aid of using botnets and spammers.
It is designed to avoid fake positives and is continuously gaining knowledge of and developing to shield you from new spamming strategies and threats.
7. Excellent Security Measures
Security is one of the most important aspects of any Web Hosting. Fastcomet has different security measures in place to safeguard your website from the possible threats
Web Application Firewall: Web Application Firewall allows you to protect your website from malicious attacks like SQL injection, Cross-site Scripting (XSS), Local File Include, Remote File Include, XML-RPC DDoS attacks, etc.
Malware Scan and Virus Scan: Provide scanning for Malware and Viruses
BitNinja Server Security: BitNinja provides protection against XSS, DDoS, malware, script injection, enumeration, brute force, and other automated attacks – on all major protocols.
Account Isolation: This enhances your data security and adds an extra layer of protection to the hosting environment.
8. Server Level cache Mechanism
Fastcomet uses the following server-level cache or speed optimization mechanism to increase the load time of your websites.
Varnish
Optimum cache
APC
Memcached
9. 45 Days Money Back Guarantee
Most web host gives 30-day money-back guarantee. But Fastcomet gives 45 days question-asked money-back guarantee. You are free to test their service for 45 days, and in case you are not happy, you will get a full refund.
10. Technical support
No matter how good the web host is unless you provide good customer support, all are in vain. Fastcomet offers three modes of customer support: direct call, emails, or chat.
I find instant chat is the best way to get technical support from Fastcomet. They usually respond to the chat within minutes which is really great. Even the industry leader, Siteground, takes a couple of minutes to respond.
FastComet Hosting Plans & Pricing
Fastcomet offer three types of hosting services as shown below.
Cloud Shared Hosting
Cloud VPS Hosting
Dedicated Server Hosting
FastComet Cloud Hosting Plans
Please make a note all plans under cloud shared hosting comes with Free SSL, Free website transfer, Free domain registration/ transfer, C Panel, and 45 day money-back guarantee.
FastCloud
This is the basic plan that allows you to host one website with 15 GB of SSD space. This plan is suitable for handling up to 25000 traffic.
However, the bandwidth is unlimited. You will be allocated dedicated 2 CPU cores and 2 GB of RAM
Fast Cloud Plan
Sample content
FastCloud Plus
This plan can host unlimited websites with 25 GB of SSD space. Can handle up to 50000 traffic, and unlimited website transfer is included. You will be getting 4 CPU cores and 3 GB of RAM.
Fast Cloud Plus
Sample content
FastCloud Extra
This is the best plan under cloud shared hosting. With 6 CPU cores and 6 GB of RAM, it can easily handle high-traffic websites. Although fast comet has put a cap of 100000 visits. You will be getting 35 GB of SSD space.
Fast Cloud Extra
Sample content
Fastcomet VPS hosting Plans
FastComet VPS hosting can give you the perfect solution for growing new businesses. All VPS hosting plans are available in a fully managed platform, but the hosting provider also gives you the liberty to get root access for handling all administrative tasks.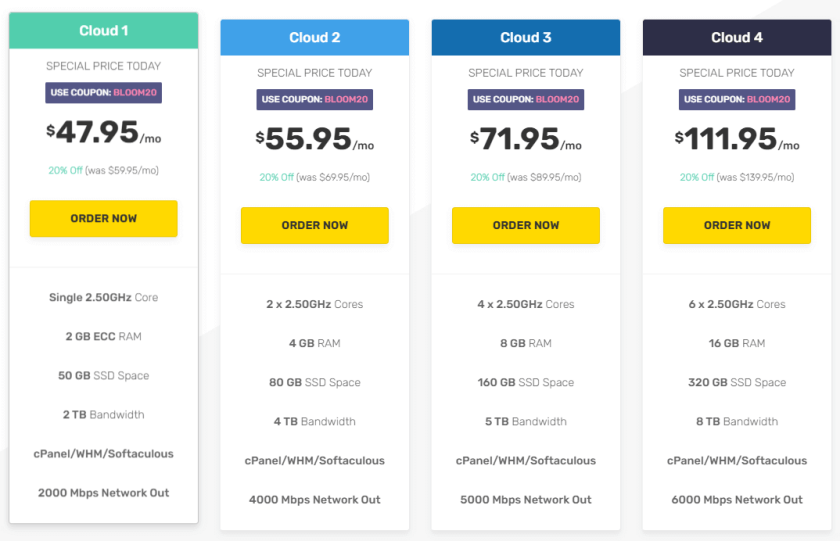 There are four VPS plans to choose from:
Cloud 1 — In this plan, the hosting provider offers you 1 x 2.50GHz core, 2GB ECC RAM, 50GB SSD space, 2TB bandwidth, and 2,000 Mbps Network Out
Cloud 2 — In this plan, the hosting provider offers you 2 x 2.50GHz cores, 4GB RAM, 80GB SSD space, 4TB bandwidth, and 4,000 Mbps Network Out
Cloud 3 — In this plan, the hosting provider offers you 4 x 2.50GHz cores, 8GB RAM, 160GB SSD space, 5TB bandwidth, and 5,000 Mbps Network Out
Cloud 4 — In this plan, the hosting provider offers you 6 x 2.50GHz cores, 16GB RAM, 320GB SSD space, 8TB bandwidth, and 6,000 Mbps Network Out
Fastcomet Review [ Performance & Test Results]
We have tested a sample website with WP Rocket and about 10 Essential Plugins, and the result is very impressive. However, the result may vary based on how well you have optimized your website
1. Speed test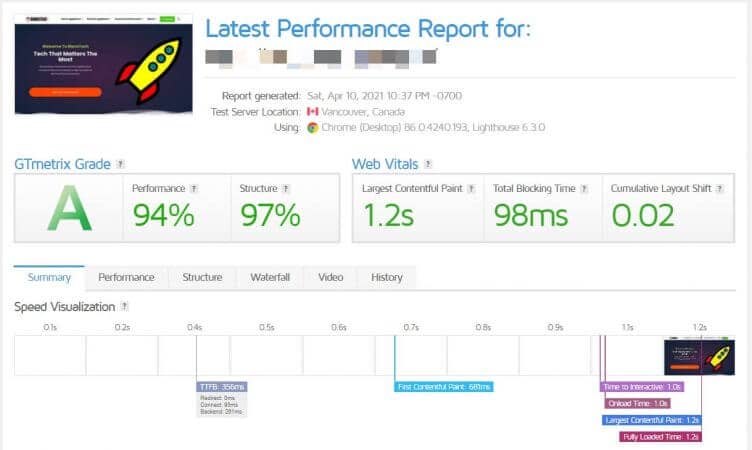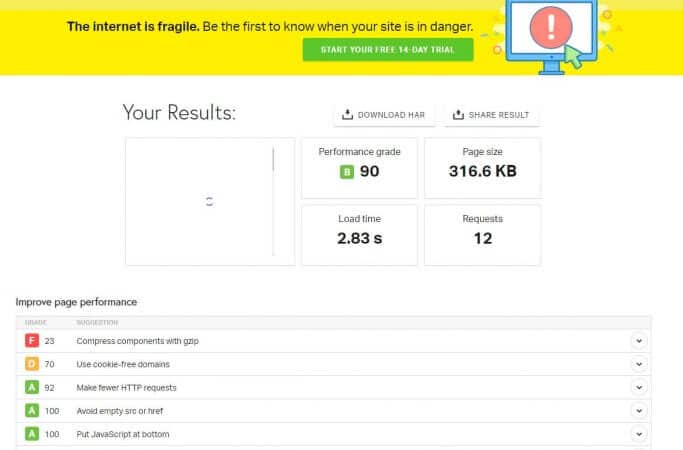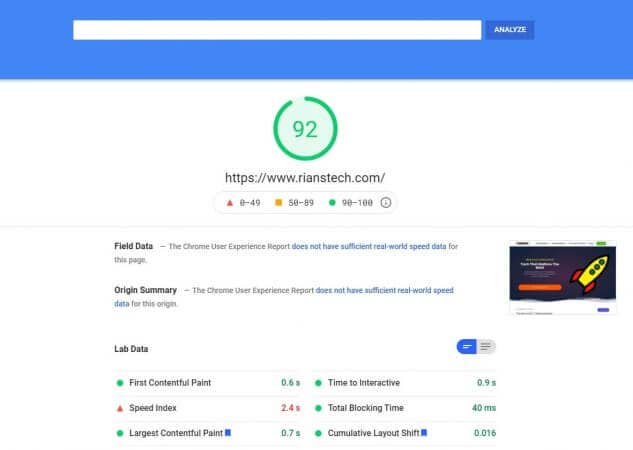 2. Server Speed Test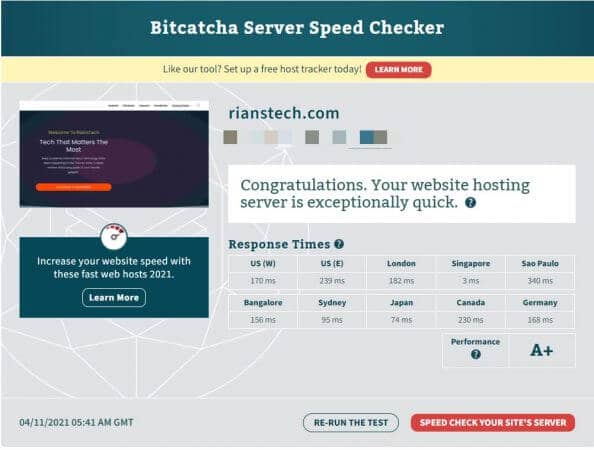 3. Time To First Byte test ( TTFB)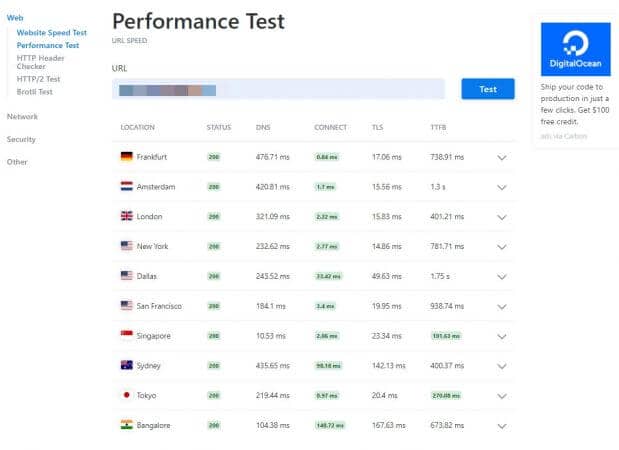 Fastcomet Positives And Negatives
Dedicated resources

Free domain registration/ transfer and renewal

Superfast servers with Varnish cache

Reverse proxy

Email hosting

Free website transfer

Hacked website recovery

Bit Ninja server security

Account isolation

Daily backups

45 days money-back guarantee
In our test, could not match the speed of other similar web hosts

No option for Lite Speed server

No custom dashboard. Still uses C panel

The basic plan only offers one website installation
Conclusion : FastCommet Review
I hope you got an idea about how good Fastcomet hosting is. Frankly speaking, a fast comet performs really well when you have 2-3 websites, although they allow unlimited websites.
The guaranteed resources are a very good thing but it is my suggestion not to install more than three websites even in their topmost plan. Otherwise, you may see a speed issue.
If you have any questions or want to know more about fast comet as I have some sites hosted on fast comet, please do write in the comment section and I will be happy to assist you.
FastCloud Alternatives
Here are some of the alternatives that you can consider if you don't like FastComet
SiteGround
Siteground does not need any introduction. They are the best and they could able to retain this place for quite some time. With excellent hosting infrastructures, innovative initiatives, and great customer support, you just can't beat SiteGround in the near future.
No, The pricing is not similar to FastComet. In fact, the pricing is a bit high. But trust me, every cent that you would spend on Siteground it is worth. I am hosting them for the last couple of years, and I am very satisfied.
HostArmada
They started very late during the summer of 2020 but went far ahead in a very short period of time. How did they achieve this? It's because of their excellent hosting plans, aggressive pricing, lite speed server, and great customer support.
The pricing of Hostarmada hosting plans is almost similar to FastComet. So in case you are not happy with FastComet, HostArmada can be a serious alternative.
Hostarmada Hosting
Web hosting plays the most important role in speeding up your website load time. Website load time affects your search …