Visitor retention on sites has become a universal problem for everyone today. Unfortunately, there is no rocket science from getting over it.
In this scenario having a good web host is something that plays a vital role. A good web host improves the loading time of your sites.
Traffic will not be a concern if you use a good web host that offers great speed, scalability, security, and feasibility.
But how to find a good web host when you have so many options around you. Isn't it a hectic job?. I would say "YES". Therefore, we are here with a review of a great web host named " GreenGeeks" which is one of the best web hosts out there.
So in this comprehensive GreenGeeks review, we will try to find out various features of GreenGeeks hosting and why it is the best hosting for you.

GreenGeeks is there in the market for over a decade. And over the years, it became one of the best and most reputed web hosts in the market.
If you are a new blogger or an experienced one and if you are looking for a good web host, then GreenGeeks can be considered a great contender.
Table of content
Green Geeks Overview
GreenGeeks was seeded in 2006 by Trey Gardener, focusing on delivering environmentally-friendly services without compromising on the must-have features.
It is based out in Los Angeles, California, and has several data centers around the globe. Data centers in the US, Canada, and the Netherlands are strategically located.
Greengeeks is powering over millions of websites with close to 50K customers. Has an Offset of 300% renewable energy commitment which makes it the stand-out option that I could find.
Just because it is an EPA Green Power Partner, I would rate it one of the cleanest hosting providers.
GreenGeeks Hosting
Greengeeks is one of the few hosting providers that use Lite speed server in all their shared hosting plans including the basic plan. The Lite speed server with the Lite speed cache is the perfect combination for getting enhanced website speed. Excellent server infrastructure coupled with great pricing makes Greengeeks a perfect choice for your hosting needs.
Price: 2.49
Price Currency: USD
Operating System: Linux
Application Category: Web Hosting
Green Geeks Business Portfolio
GreenGeeks provides different types of hosting options that include Shared Hosting, WordPress Hosting, VPS Hosting, and Reseller Hosting.
Greengeeks shared hosting plans are very popular due to aggressive pricing and excellent features. All shared hosting plans are powered by Lite speed servers which is a plus.
WordPress hosting is also quite tempting but those are just an alternative way of marketing its shared hosting plans. The pricing and plans are similar to its shared hosting counterpart.
If your blog has grown up and you don't find shared hosting compatible enough or want root access or a better grip over computational resources. Then, it is always better to switch to its VPS plans.
If you are planning to start your own hosting business, then GreenGeeks reseller hosting can be an option for you. Compare to other competitors, Greengeeks reseller's hosting pricing is very aggressive.
GreenGeeks Hosting Features
Here are a couple of features that make GreenGeeks one of the best web hosts in the market
1. Lite Speed Server With LSCache
I have to emphasize this point as this is making a difference. GreenGeeks is one of the few hosts that use Lite Speed Servers in all their hosting plans, even in the basic plan.
Generally, other companies reserve the Lite speed servers only for the most premium plans. But with green geeks, every plan has a lite speed server.
To enhance the next level's speed, they use LSCache, which is again a perfect combination along with lite speed servers. Trust me, Lite speed servers and LSCache is the best combination for website speed.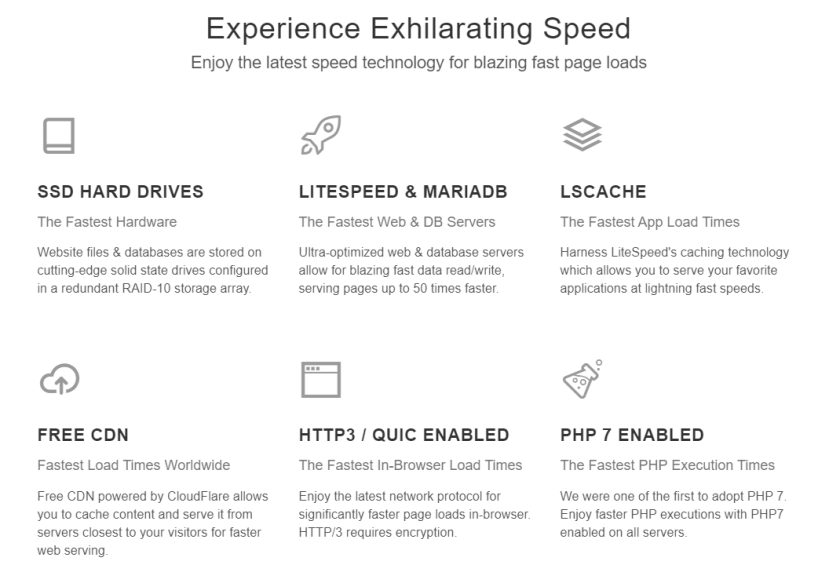 2. Decent Uptime
Uptime is a vital aspect when it comes to having a good web host. However, that's not a big problem with Green Geeks host.
It offers 99.9 % uptime. The company is quite confident in providing consistent uptime. In fact, we did our testing for a month and found the same, But the long time testing is still pending. We will update this post as and when we have more data.
3. SSD Web Space
Compared to traditional hard disks, SSD makes your site load ten times faster. Fortunately, GreenGeeks use SSD in all its hosting plans. Their Raid-10 SSD storage offers maximum speed with minimum redundancy
4. Free Domain Name & Website Migration
You will get a Domain name and website migration free of cost in Green Geeks Hosting. They are free services as long as you are having business with them.
Please make a note that the Domain name is free only for one year. In the upcoming years, you will have to pay the renewal price which may start from $13.95 per year for .com, .net, and .org domains.
5. Environment-Friendly Web Host
Unlike other web hosts, GreenGeeks is popular due to its environment-friendly initiatives. Why so?. GreenGeeks matches 3 times the amount of energy we consume from the grid in the form of renewable energy credits. They replace 61500 kWh units of power each year.
Other than that, GreenGeeks Host is also a Green Power Partner with EPA(the United States Environmental Protection Agency)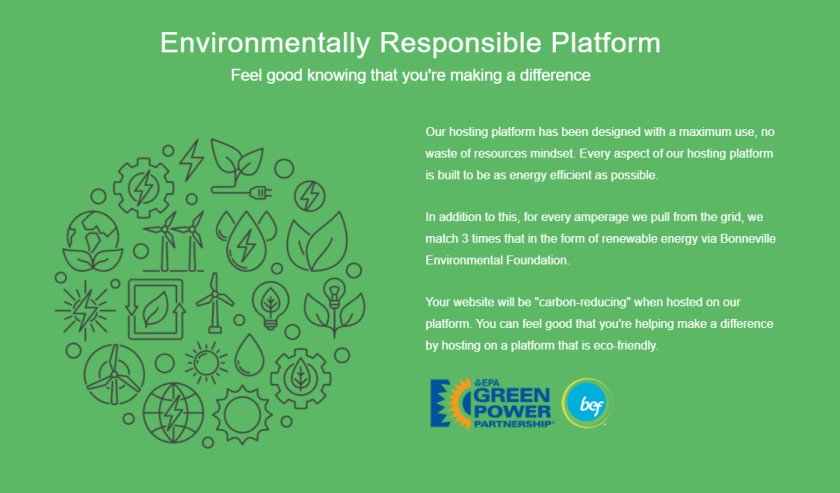 6. Strategic Data Centers Locations
All the data centers are equipped with a raised floor, climate control facility, fire Suppression systems, water detection systems, and many other security measures.
It has multiple strategic data centers around the globe in Chicago(US), Phoenix,(US), Montreal(CA), and Amsterdam(NL).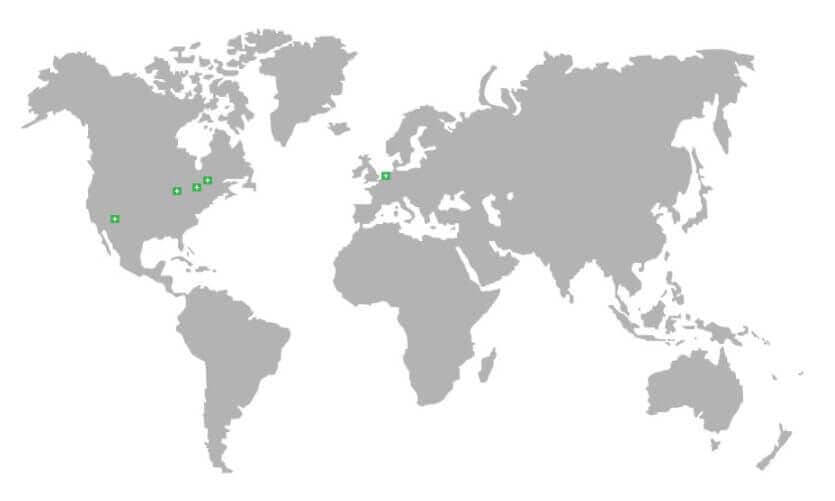 All its servers use the latest generation processors for network switching/ routing. Please make a note that their high-quality processors are generally from Intel, Juniper, and Cisco.
Therefore, choosing the right server location can enhance the great optimization of your websites.
The closer the sever locations to you, the more visitors retention on your sites. Overall, with Greengeeks hosting, you can be assured about your valuable data is safe and secure and stored in its high-quality servers.
7. Free CDN
All GreenGeeks plans come with free Cloudflare integration. When you connect your site to Cloudflare, you will see an immediate improvement in site speed.
The reason is that Cloudflare cache static contents, minifies code, use HTTP/3 protocol and there are many useful features in Cloudflare.
8. Enhanced Security System
Security is somewhat everyone's concern especially nowadays when cybercrime is growing day by day.
Web Hosting With Greengeeks is fast, reliable, safe, and secure. It is actually one of the most secure web hosts in the market. It protects all your useful data hosted on their servers.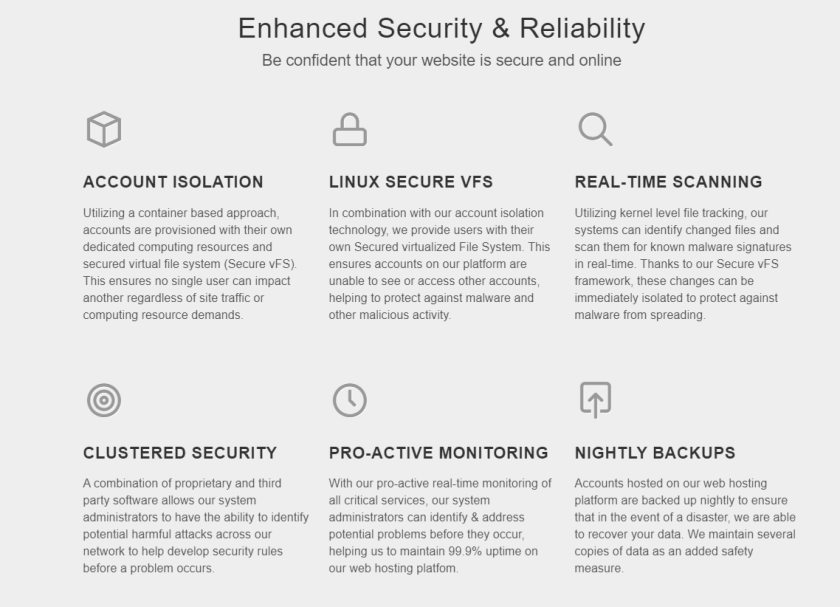 You know what?. All of its servers are monitored 24X7 by experienced engineers. They protect against hacking attempts, Brute force as well as DDoS attacks.
To keep your account secure, they isolate each account even in the shared hosting. So even if any users bring some malware, it is not going to affect other users on the same servers.
They also use Spam protection tools with SPF and DKIM support for spam-free email delivery.
9. Free Softaculous License
You will get a premium Softaculous license free of cost in its shared hosting plans. It is a great automated tool for website installations.
You can use different applications on your sites without spending too much time on their installation. Softaculous Offers more than 430 application scripts to install with just a few clicks.
10. Free SSL Certifications
Using your websites without an SSL certificate is Insecure. Today, SSL certificates are the most necessary thing, especially when you are running an eCommerce website.
Do you know that Google discourages sites that do not have an SSL certificate on their websites?
Whether you are doing any financial transitions or want to grab more traffic on your sites, SSL certificates are much needed. But don't worry, as Green Geeks Hosting offers free SSL certificates on all its hosting plans. Your data is safe and secure with Green Geeks.
Greengeeks Customer Support
Even if you have the best servers, and best infrastructures, if the customer support is not good, you can not grow. But that's not really a big issue with GreenGeeks Host as such. GreenGeeks support is very decent
I won't say that they are the best or similar to Siteground, but you won't complain about their support. You can get support through emails, direct calls, or instant chat. Out of that, chat is the best medium to interact as they reply instantly over chat.
How to start a blog using GreenGeeks
You can start a blog using GreenGeeks in a matter of a couple of minutes. The detailed process is explained below so that you have a roadmap on How To Start A Blog Using GreenGeeks.
First of all, you need to buy a hosting plan, For that, you can click on this
link
that will take you to the
GreenGeeks
Portal.
You can select the
Web hosting
option under the
Hosting
menu assuming that you want to buy a shared hosting plan.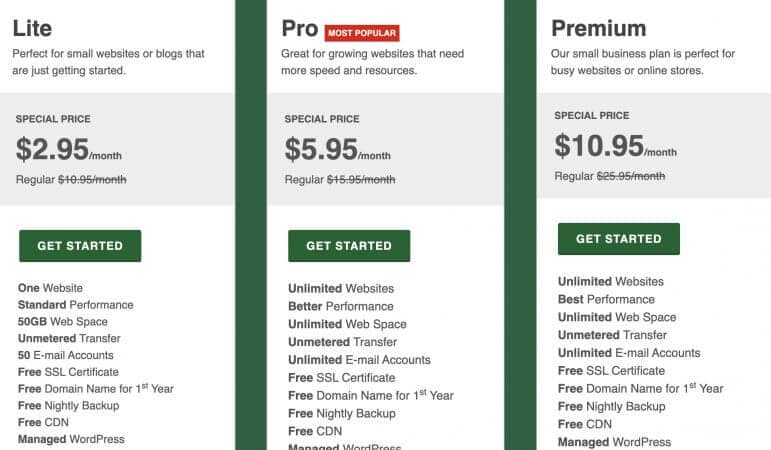 When you click on Get started, it will take you to the following screen where you have to enter the domain name ( If you bought it already), otherwise, you can also buy a domain name on the fly.
Add Payment Information And Check Out
Enter all the information and click on "
Create account
".
Make sure you choose your plan for three years to get the maximum savings
.
Login To GreenGeeks Dashboard
Once you buy a plan and log in to your account, you will be presented with the following screen where you can start a website, migrate a website, create a starter website, or simply a blank website.
For our demo purpose, we will create a brand new website and it will be built on WordPress.
For that, you will have to select "
Start New Website
" and then select "
WordPress
"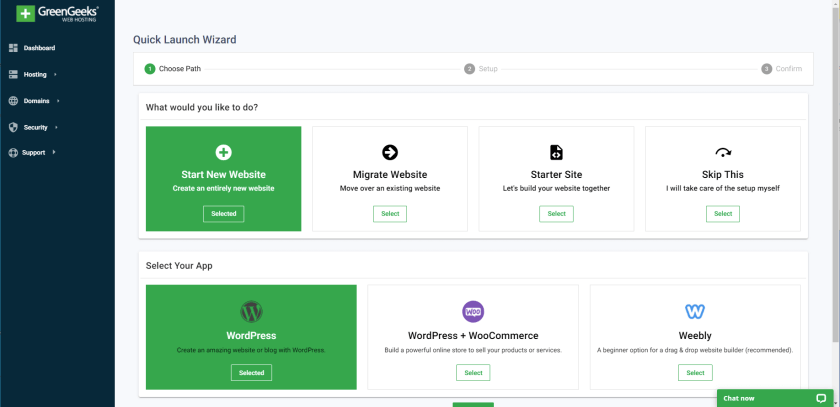 Next, you have to select the
theme
and
plugin
. You can change the theme and plugins later on.
That's it. You are good to go. Once you change the name server of your domain, your site will be live.
Enjoy!
GreenGeeks Hosting Plans And Pricing
Greengeeks offers the following types of hosting services.
Shared Hosting
WordPress Hosting
VPS Hosting
Reseller Hosting
Shared Hosting Plans
The below image shows their shared hosting plans. Apart from the lite plan, all other plans come with unlimited website installation, unlimited web space, unlimited data transfer, and a free domain name for one year.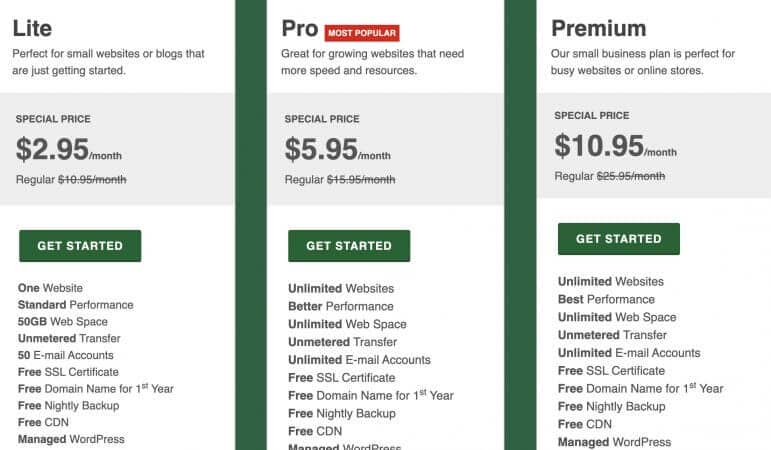 Lite Plan
The lite plan allows only one website and has 50 GB of web space but the data transfer is unlimited. You will get the lite server in this plan also which is simply awesome.
Because lite speed is usually reserved for premium plans but you are getting that in the basic plan.
GreenGeeks Lite Plan
Sample content
Pro Plan
The Pro plan allows unlimited websites, unlimited web space, unlimited data transfer, and in fact everything is unlimited in this plan.
You will also get a free domain for one year. Best plan for newbie bloggers who wants to host multiple websites.
GreenGeeks Pro Plan
Sample content
Premium Plan
If you are running an online store or you have a high-traffic site, then this premium shared hosting plan from Greengeeks is the best plan for you. It has all the features the pro plan has but comes with a dedicated IP.
GreenGeeks Premium Plan
Sample content
WordPress Hosting Plans
As we mentioned earlier, WordPress hosting plans are just A different way of advertising the shared hosting plans.
The plans, features, pricing, everything is the same as the shared hosting plans. Though we did not test their WordPress hosting plans, we assume that these plans are optimized for WordPress and have dedicated WordPress support.
VPS Hosting Plans
Here are the details of the VPS hosting plan that GreenGeeks offers
2 GB Plan
The 2GB plan comes with 2 GB of RAM, 50 GB SSD Space, 4 core CPUs,s and 10 TB of data transfer. Resources are enough to host a couple of websites.
On top of that, it comes with free Cpanel and softaculous auto-installer. So installing applications would be a breeze.
GreenGeeks 2GB Plan
Sample content
4 GB Plan
The only difference between this plan and the 2 GB plan is that this plan offers 4 GB of RAM and 75 GB of SS Space. All other features remain the same.
GreenGeeks 4GB Plan
Sample content
8 GB Plan
Unlike other plans, this plan comes with 8 GB of RAM, 6 CPU cores, and 150 GB of SSD space. All other features remain the same.
GreenGeeks 8GB Plan
Sample content
Reseller Hosting Plans
Here are the details about GreenGeeks reseller hosting plans.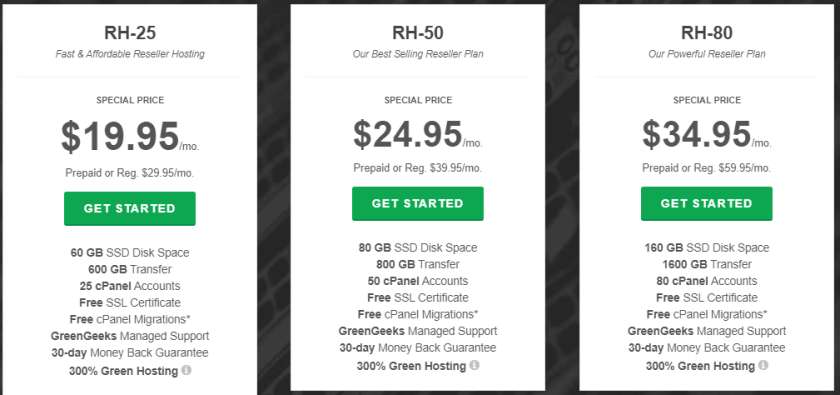 RH-25
This reseller hosting plan is for those who want to start their own companies. This plan offers free cPanel and SSL certificates.
Other than that, you will get 60 GB of SSD disk space, 25 cPanel accounts, and 600 GB of transfer. For this plan, you will be asked to pay $ 19.95 per month, which is not costly as far as I think.
GreenGeeks RH25 Plan
Sample content
RH-50
Unlike the 60 GB of SSD disk space, you get in the previous plan, you will be offered an 80 GB of SSD Disk space and 800 GB of Transfer in this plan. In this Plan.
You will get 50 cPanel accounts with the GreenGeeks managed support. It costs you $24.95 per month, and that is also not so expensive compared to other reseller hosting plans.

GreenGeeks RH 50 Plan
Sample content
RH- 80
RH-80 is the best reseller hosting plan that GreenGeeks offers. With 160 GB of SSD disk space, 1600 GB transfer, and 80 cPanel accounts, this is the best plan to go for if you want to start your hosting business.
GreenGeeks RH 80 Plan
Sample content
GreenGeeks Review [ Performance & Test Result]
We have tested this blog using GreenGeeks hosting to see how it really performs with GreenGeeks and the result is very impressive.
Of course, the result may vary based on how you have optimized your blog, what kind of cache plugin you are using, or how many plugins you are using.
We have executed the following tests during our testing
Speed test on GTMetrix, Pingdom Tools, and Google Page Insights
Server Speed test on Bitcacha
TTFB test on KeyCDN
1. Speed Test
In all the speed tests, GreenGeeks performed fairly well with a loading time of less than a second and the score is nearly close to 100.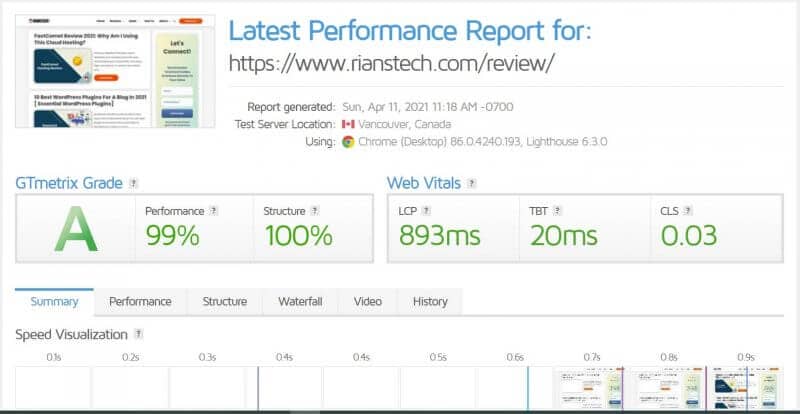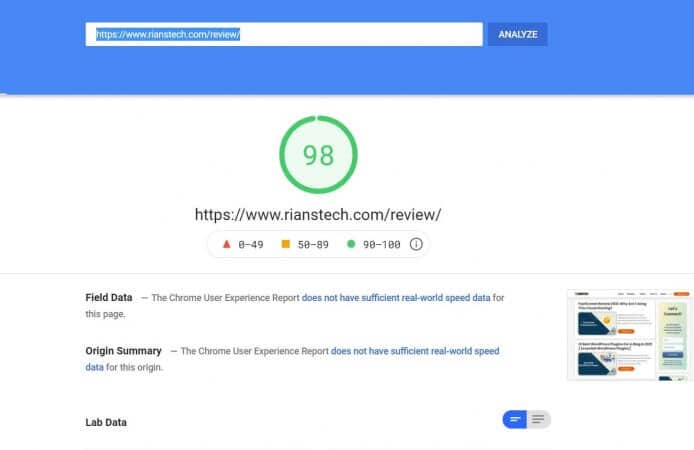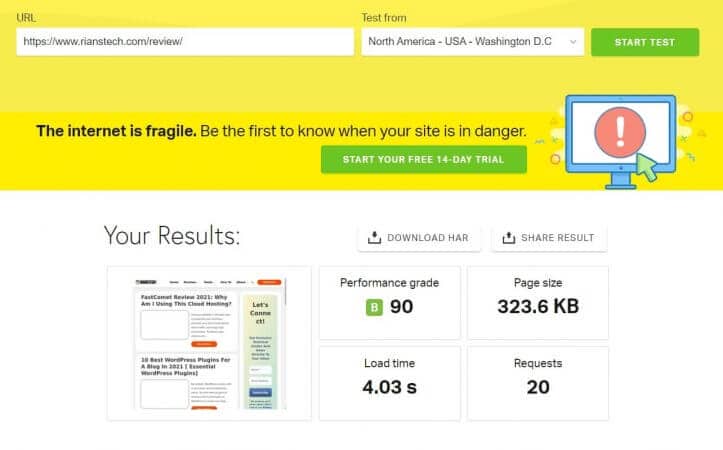 2. Server Speed test
The server speed test shows a rating of A+ which is the best rating that a server can get. Just look at the response time. It is very fast indeed. Thanks to the LiteSpeed server and LiteSpeed cache combination. Both did the wonder.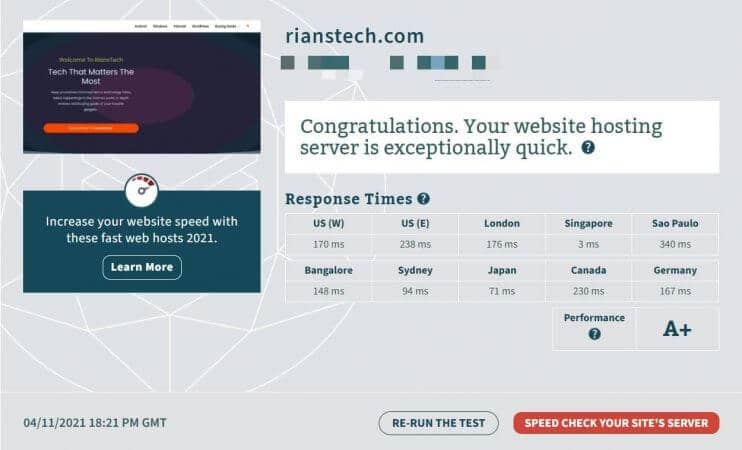 3. Time To First Byte Test (TTFB)
The time to first-byte test shows a mixed result. Some location shows very impressive result whereas some location shows TTFB as more than a second which is poor. This could be due to the CDN POP's issue.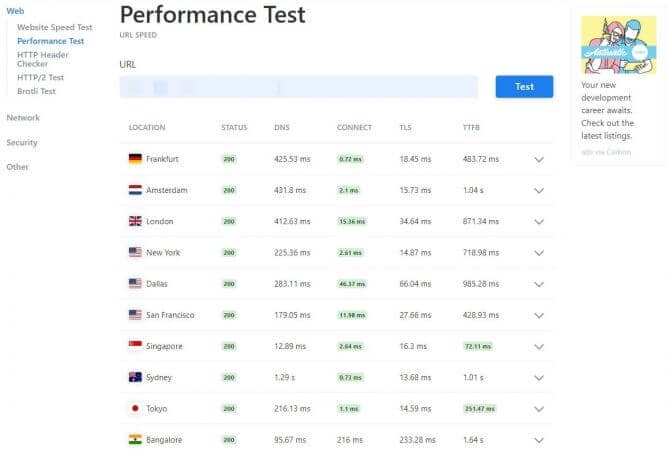 GreenGeeks Hosting Positives And Negatives
Litespeed server in all hosting plans

Advanced security and firewall

Spam-free email hosting

Free domain and website transfer

30 days money-back guarantee

Daily backups

Excellent pricing

Use of renewable green energy

Wide range of hosting types

Litespeed cache for speed improvement
There is no intuitive control panel like Siteground

No in house cache plugins like SG Optimizer

Yearly shared hosting plans are expensive.

VPS hosting plans are very expensive
GreenGeeks Customer Reviews
As you can see that Greengeeks is loved by people with a great 4.1 rating score and 85% of people rated their service as "Excellent"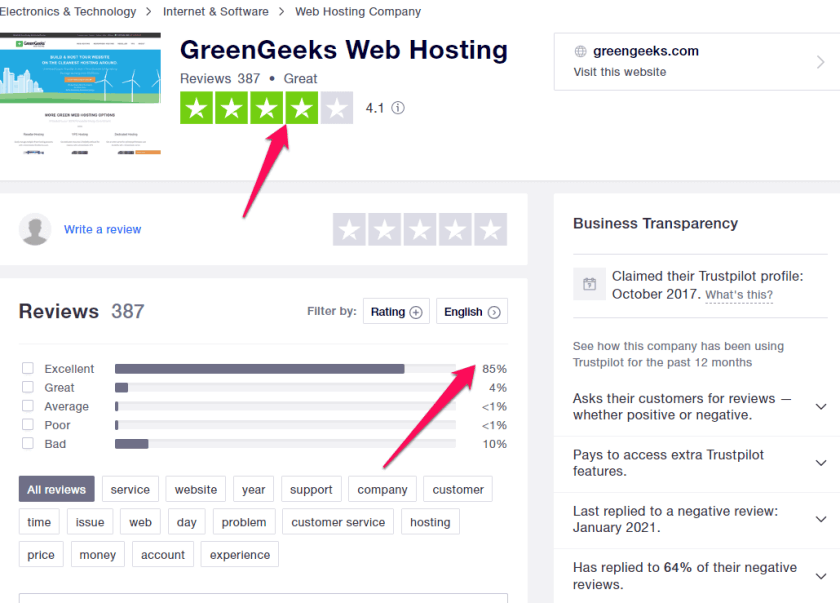 Conclusion: GreenGeeks Hosting Review
Finally, I would only say, if you are too bothered about environmental impact, then Hosting from the GreenGeeks is indeed a great choice for you.
Other than that, If you want a host that costs less with a robust feature set and provides a sustainable performance, GreenGeeks Hosting is the best for you to go.
Greengeeks Offer huge discounts on all their hosting plans at the time of black Friday and Cyber Monday.
So, keep visiting this page to avail more discounts during GreenGeeks Black Friday Deals and GreenGeeks Cyber Monday Deals.
For now, I'm just wrapping up this GreenGeeks review. If you have any queries regarding anything about GreenGeeks Hosting features, Plans, and Pricing, you are welcome to write your thoughts in the comment box given below.
We will be happy to hear your valuable comments and feedback.
Best Alternative To GreenGeeks Hosting
No web host is perfect. Green geeks have some robust features. But on the other hand, it may have some negative points too.
It's always better to consider those negative points because nobody wants to end up at a loss at the end of the day.
Therefore, I have picked up two of the best alternatives to Green Geeks based on my personal experience. . Let's see how they outshine the GreenGeeks web host.
Site Ground
Siteground is the best alternative to Greengeeks, I would say. Although GreenGeeks can not match the offering of Siteground, it is a very close call.
Talking about the speed and uptime, both the web host providers are simply the best in delivering blazing fast speed and performances to our websites. But Siteground has a bit of edge here
Both Green Geeks and Siteground come with great features. In GreenGeeks you have to upgrade to higher plans if you want to host unlimited websites however, that is not the case with Siteground.
Unlike GreenGeeks, Siteground has some additional features like Git integration and an easy Staging Tool, that gives an edge to Siteground to win this battle.
In terms of customer support, Both the web host providers offer good support. But Siteground has a very well-experienced WordPress support team who knows how to solve WordPress-related problems. So again, its a win for Siteground
Siteground Hosting Offers
It's not a hidden fact that web hosting plays an important role in blogging success. In fact, hosting is one of the …
A2 hosting
Both A2 Hosting and Green Geeks are very popular web host providers in the market today. They both are known for their high-quality web services and appealing feature sets. The battle is pretty close between the two.

A2 and Green Geeks have quite similar hosting plans with great feature sets. But, I found the WordPress plans of A2 hosting are more tailored than what we have in GreenGeeks.

However, the Pricing of A2 WordPress plans is slightly higher than the GreenGeeks WordPress hosting.

Both A2 and GreenGeeks have solid uptime of 99.99 %, and come with a free CDN, Free SSL certificates, and Site Migrations. So, on the performance front, It's a tie for me.

A2 provides security with kernel care whereas Green Geeks prevent your websites only from DDoS attacks, brute force, etc. A2 uses cloud Linux OS which is more sustainable than the hosting account isolation that Green Geeks hosting uses.

However, the customer support of Green Geeks hosting is quite better than A2 hosting. So, if you have a little budget, Green Geeks hosting is the best choice.

However, if you want a well-managed WordPress hosting experience, A2 is a great option to go with.

No posts for this criteria.