Two of the key element that makes web hosting great is the speed and customer support. Scala Hosting delivers both and it is one of the most underrated hostings I have experienced.
Let's explore more about Scala Hosting and a detailed Scala hosting review in this article.
I personally hosted a staging website on Scala hosting and this review is based on my experience with them for over a month.
I always believe and I always test web hosting before I try to pin down an article for their service.
Table of content
Scala Hosting Overview
For many of us, Scala Hosting may be an unknown name, but Scala hosting is not a new entrant in the web hosting portfolio.
In fact, they are there in the business for q quite a long time. Why they are not in the league of top web hosting providers is a different ball game and this article is not about diagnosing those reasons.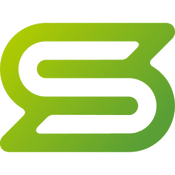 Back in 2007, Scala hosting was started in Dallas, Texas on a mission to serve cheaper shared/ VPS hosting services.
VPS hosting was out of reach for new bloggers in 2007 due to the excessive cost. Scala hosting was launched to mitigate the fear.
The name " Scala" was conceived from the concept of a scalable web hosting solution.
Over the years they have added more than 50K customers with more than 700K websites online currently. This is a promising number. Is not it?
Scala Hosting
If you want to have a superior shared hosting experience at a relatively cheaper price then you choose scala hosting. With superior server infrastructure, all SSD drives, server-level cache, and excellent support, scala hosting offerings are hard to beat.
Price: 3.99
Price Currency: USD
Operating System: Linux
Application Category: Web Hosting
Scala Hosting Features
Scala Hosting feature sets are rich and cater to solving web hosting requirements for newbies as well as dominant players.
Below are a couple of key features that make Scala Hosting distinguished from others in the race.
I am not going to list out common features like Free SSL Certificate, Unlimited space, etc as those are quite common nowadays across all web hosts.
The below feature list only shows features that are unique to Scala Hosting
1. Scalable Resource Allocation
One of the key elements that I experience in scala hosting scalable resources. They offer a couple of plans under shared hosting.
Shared hosting is good for newbies and medium-scale businesses. Except for the WP-Mini Plan, all other plans look very promising. I hosted a website in WP-Advanced and I never felt like my website is going out of resources.
If you see your traffic going up, they have VPS plans which can easily satisfy your resource needs. In fact, there is no limit on resources that you can have in the VPS plan.
On top of that, VPS plans are managed. So you need to worry about setting up a server and running it afterward.
All will be taken care of by the Scala hosting experts. Unlike shared hosting, in VPS you will enjoy a dedicated allocation of CPU power, RAM, and storage. Use as much as you want till you exhaust your resources.
2. World-Class Security
Off late, blogging got more competitive and thus the security of blogs became very essential. Many established player have yet to understand this risk and does not offer enough security measures.
That's not true with Scala Hosting. With a list of security tools, my blogs feel much safe with Scala Hosting.
Scala Hosting offers SShield cyber protection, which is always to track for any web attacks in real-time and clock those unwanted moves if any. They have an in-build spam protection facility to save you from getting spammed.
So your inbox will be more clutter-free with Scala. On top of this Scala, hosting runs daily malware scans to safeguard your website which is a plus. On a lighter note, Even Siteground does not offer malware scans in their basic plans.
Scala Hosting is one of the few web hosts which has a dedicated firewall. In fact, even the basic plan offers a dedicated firewall.
Many of us may not know how to install and set up a firewall. Scala hosting support team do that for you are free of charge.

3. Free website migration
No matter how many websites you want to transfer, Scala Hosting will welcome you with open hands.
Even the basic plan offers unlimited website migration which is a big plus. I hardly noticed any other web host that offers unlimited website migration in basic plans.
Also, make a note that you will hardly encounter any downtime during the transfer process to Scala Hosting
4. White label hosting
Those who are running an agency and want to use Scala hosting for their client would be happy to know that, they offer white label hosting.
What that means is that your client will never know that their website is hosted in scala hosting. This gives a brand uniqueness to their business.
White label hosting is hardly offered by any hosting providers at the price range that scala hosting offers.
5. Automatic Backups
This feature is also very unique considering the price range of their hosting service. The basic plan offer 7 days of automatic backup and the topmost plan offers daily backups.
So no hassle of losing the data anymore as scala hosting experienced support team is always ready to revert back to your website in case of any issue.
6. Strategic Data center location and CDN
Scala Hosting has a data center in two locations, the US and UK. Though the number of locations is less and I would be happy if there was any location in Asia but considering they offer free CDN, I don't see any issue.
Even if you host your website on a USA server, if you connect to Cloudflare CDN, you won't see any issue with the speed. But I experienced that if you are accessing your website from North America, you have the greatest speed.
7. Intuitive SPanel Control Panel for VPS
Although shared hosting plans offer a non-modified C panel interface, all VPS plans offer SPanel control panel which is a custom modified version of the C Panel.
SPanel is customized as per the Scala hosting environment. So you won't see any cluttered environment of the C panel in SPanel.
I am using Siteground for a couple of years. So when I compare Scala hosting interface with Siteground, I personally believe scala hosting needs to do more work.
Having said that the SPanel interface does its job and does it brilliantly.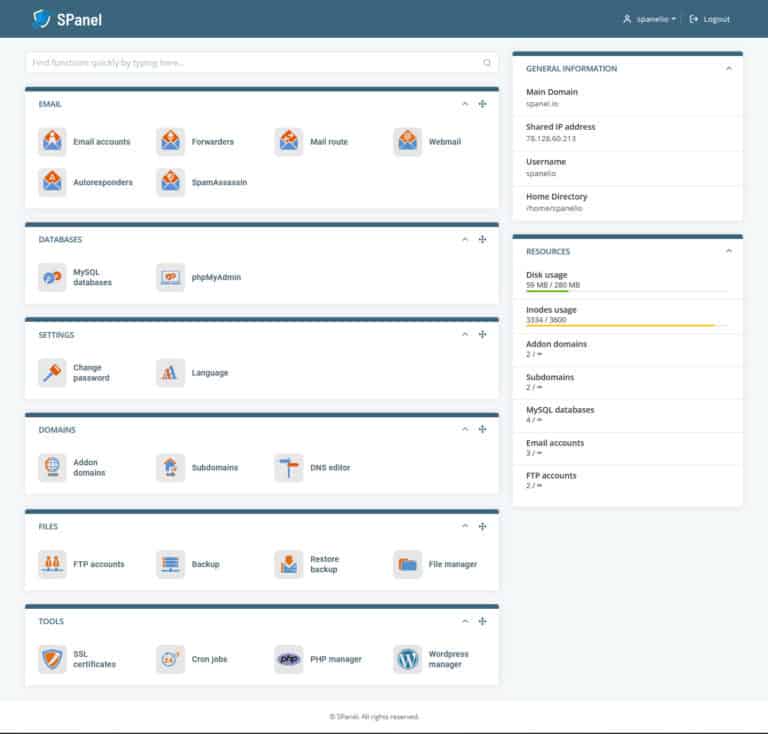 8. Free Domain Name for life
If you are buying any shared hosting plan for one year, you will get a free domain name for life. You will get a .com domain name free of cost.
if you renew your service on time and pay for the whole year, your domain name will also get renewed free of cost every year. This is something that surprised me as usually reputed web host does not offer this service.
9. Excellent Support Team
Though I did not get a chance to test the support team experience extensively, whenever I contacted them, I got a good response,
At times I found their technical knowledge to be a bit shallow than expected, but considering the price point, they offer excellent support.
Scala Hosting Plans And Pricing
Scala Hosting has two different types of plans. One is the shared hosting service and the other one is VPS hosting.
There is no option for dedicated servers or enterprise solutions. In fact, I noticed that they have something called " WordPress hosting" but that is the same as the traditional shared hosting, unlike other hosting providers who customize the hosting environment as per WordPress needs.
Scala Hosting Shared Hosting Plans
Shared hosting has three plans under the bucket as shown below. I said that their WordPress hosting and traditional shared hosting are the same. Only the difference is the name.
1. WP Mini Shared hosting plan
This plan is strictly for beginners. You can host only one website with 50 GB of storage. The server resources are also very limited.
Most of the key security features are also missing from the WP Mini plan. If you are just landing in the blogging environment, then then you can try the basic plan.
There is no limit on bandwidth or the number of databases that you can create. This plan is good for 30000 visits per month.
WP Mini Plan
Sample content
2. WP Start Shared Hosting Plan
In this plan you will get unlimited storage, unlimited website hosting and double server resource compared to the WP Mini plan.
On top of that, you will get SShiled Protection protection for your websites. This plan is good for 60000 visits per month.
WP Start Plan
Sample content
3. WP Advanced Shared hosting plan
This is the topmost shared hosting plan and offers 4X server resources compare to the WP-Mini plan. This plan is good for about 120000 visitors per month.
This is the best plan with everything unlimited. Apart from all the security features that it offers, you will also get priority support.
WP Advanced Plan
Sample content
Scala Hosting VPS hosting plans
As you all might know VPS offers you the freedom to own a virtual private server. Those who cannot afford a dedicated server due to high cost can try VPS which is kind of a compromise between a shared hosting and a dedicated server.
VPS offers dedicated resources like a dedicated server. Scala Hosting offers four VPS hosting solutions. All features of shared hosting are available in VPS plans except the fact that VPS plans offer dedicated server resources a dedicated IP
1. Scala Hosting Start VPS Plan
With just $9.95 per month, the start plan looks very promising. But with merely 1 CPU core and 1 GB of RAM, I won't recommend this plan to any bloggers. I will go with a shared hosting plan rather than this start VPS plan. Although you will get guaranteed resources, still this plan has a lot of drawbacks.
2. Scala Hosting Advanced VPS Plan
This plan offers dedicated 2 CPU cores, 4 GB of Ram, and 30 GB of SSD space. If you want to add an optional HDD space. Other features remain the same as the starter plan.
Advanced VPS
Sample content
3. Scala Hosting Business Plan
The only difference that this plan offers compared to the Advanced plan is that it offers 4 CPU cores, 6 GB of Ram, and 50 GB of webspace.
Business VPS
Sample content
4. Scala Hosting Enterprise Plan
This is the topmost VPS plan. Don't get confused by the word " Enterprise" as it is nothing sort of any customized enterprise plan.
It is just a VPS plan with more dedicated resources. This plan offers 6 CPU cores, 8 GB of Ram, and 80 GB of SSD space. All features remain the same as other VPS plans.
Enterprise VPS
Sample content
Scala Hosting Review [ Performance & Test Result]
I tested the WP-Advanced plan with one of my websites and the results are simply outstanding. I can't believe that shared hosting can be that much faster. Below are those results which show that Scala hosting is really fast.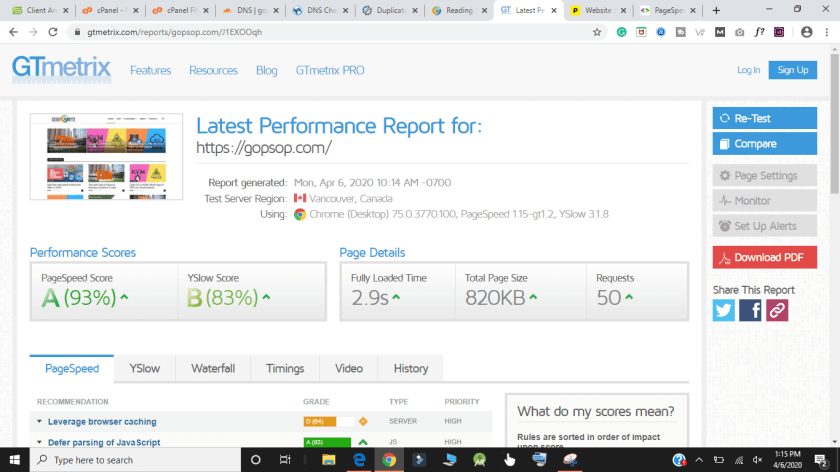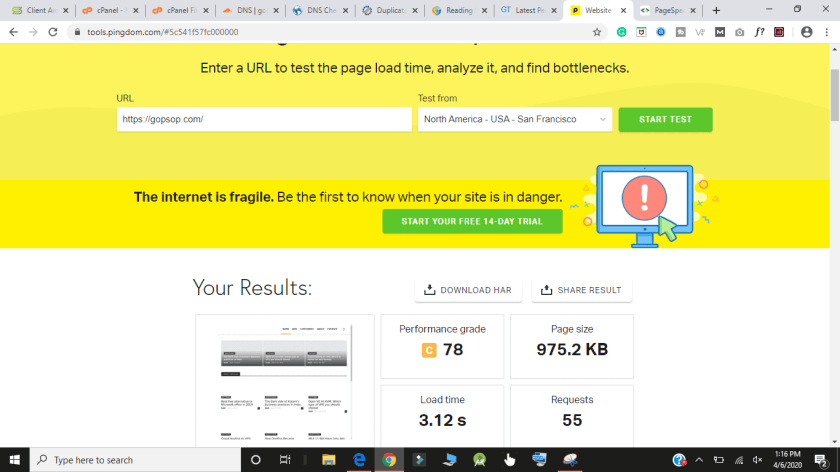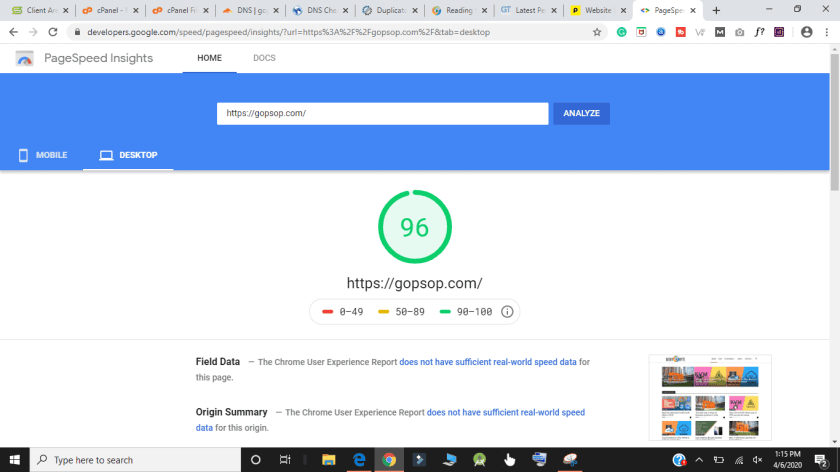 Scala Hosting Positives And Negatives
Lifetime free domain
White label hosting

World-class security features

Attractive VPS hosting pricing

Spam-free email hosting

Free SSL

Intuitive customized control panel

Excellent support

Competitive price range

Unlimited site migration

Exceptionally fast webserver
The number of data center locations is very limited

No lite speed server option

The basic plan is very basic even for beginners

Pricing is a bit high compared to the other similar range web hosting services.
Conclusion: Scala Hosting Review
No doubt, Scala hosting is fast and in fact faster than a couple of reputed web hosts. I tested their service and found their service to be exceptionally good.
In fact, the shared hosting plans are very good which really surprised me. No doubt, if you choose their VPS plans you might get a far better speed than their shared hosting plan.
So if you are a beginner in the blogging field, you can opt for scala hosting which is great for every penny that you will spend.
It is one of the finest hosting companies that I experienced. If you do have any questions or queries, their support team is always ready to help you out.