It's not a hidden fact that web hosting plays an important role in blogging success. In fact, hosting is one of the main reasons that restrict your blog potential.
I believe in "first time right". But I made a mistake when I started my blogging journey with a cheap VPS hosting. That turned out to be a big mistake. I switched to Siteground. And…Voila. It is just amazing.
I have hosted a couple of main blogs including this blog on SiteGround for the last couple of years and I am extremely happy with it. SiteGround web hosting is just amazing in every aspect.
So let's discuss in this article why did I move to Siteground along with a comprehensive Siteground hosting review. You will know the reason why I call it the Best WordPress Hosting at the end of this article.
Siteground Hosting Overview
Siteground was founded by a couple of University students back in 2004. It started its operation with an office in Sofia ( Bulgaria) and later expanded to most parts of the world.
Currently, Siteground has offices in the USA, the UK, and Spain in addition to Bulgaria. However, they have data centers in a couple of other countries too.
Currently Siteground hosts over 2000000 websites. SiteGround is one of the most prominent and highly ranked web hosts in 2021.
Although all plans are a bit costly people don't mind for the best. So if you are a new blogger or you have a grown-up blog, you should switch to SiteGround.
Siteground Hosting
Siteground is one of the best and most reputed web hosts offering Managed WordPress Hosting and Cloud Hosting. Sitegournd is ranked the "No 1 " web host by many of the reputed agencies in recent years
Price: 3.99
Price Currency: USD
Operating System: Linux
Application Category: WordPress Hosting
SiteGround Business Portfolio
Siteground is very popular for its Shared Hosting / WordPress Hosting. Although both shared hosting and WordPress hosting is marketed as two different offerings, basically both are the same. The name is different just for marketing purposes.
SiteGround also deals in Cloud Hosting for high-traffic websites. SiteGround cloud hosting is similar to VPS hosting where you will dedicated resources.
Siteground also provides domain registration or transfer services. So if you want to buy a new domain or you want to transfer your old domain, you can do it with SiteGround itself.
One of the best things about SiteGround is that they have a very limited plan and they don't offer a wide array of services.
Due to that, they can concentrate more on a single product to improve it and deliver the best.
Siteground Hosting Features
There are many exciting features that Siteground offers that make it one of the best web hosting for bloggers. Let's discuss in detail all those features.
1. Google Cloud Platform
The Siteground web hosting infrastructure is placed on the Google Cloud Platform. Google Cloud is known for its speed and security.
This is the same platform where Gmail, Google Drive, YouTube, or other Google Products are hosted. So you can imagine the kind of speed that you may get.
On top of that, since SiteGround WordPress hosting is cloud hosting, there is very little chance of downtime.
We all know that in cloud hosting, your website files will be stored at multiple cloud servers. So in case of any physical server breakdown, the content can be served from any other cloud server location
2. NVM e SSD storage
When you buy hosting from Siteground, all your files will be stored in NVMe SSD storage which is much faster than SATA SSD that other hosting company offers. SSD storage is almost 10 times faster than regular hard drive storage.
On top of that, there is very little chance of mechanical failure as SSDs do not have any mechanical moving parts. So you can expect very little downtime or server failure
3. Ultra Fast Servers With NGNIX Reverse Proxy
SiteGround uses a specially configured Linux container with Apache as a Web Server NGNIX as a reverse proxy.
The NGNIX reverse proxy is known as NGNIX Content Delivery or NGNIX Caching in SiteGround
The benefit of NGNIX caching is that for repeated visitors, files are served by NGNIX instead of Apache. So less load on the webserver. This leads to faster response times for repeat visitors.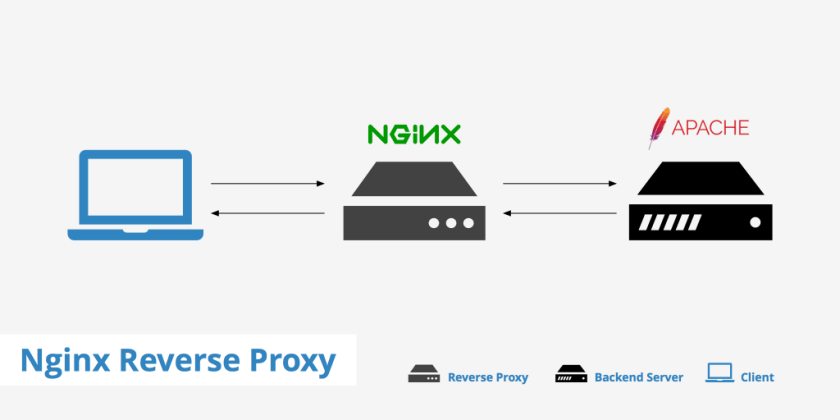 All Siteground servers are HTTP/3 (QUIC) enabled, and have Memcached and PHP optimization through the OPCache extension.
HTTP/3 is the fastest internet protocol that is available now and SiteGround is one of the first web hosts to offer support for HTTP/3 (QUIC)
4. SG Optimizer: Siteground's own free cache plugin
SG Optimizer is the real trump card for SiteGround. SiteGround is one of the few hosts that has its own in-house cache plugin.
SP Optimizer enhances the speed to the next level. Since SG-Optimizer is developed and maintained by SiteGround, they can tweak it the way they want to give users the optimum speed.
SG Optimizer has all the features that other reputed cache plugins like WP Rocket have. I have a few sites where I choose to use SG Optimizer and not WP rocket.
It perfectly blends with NG direct delivery, has a code optimization option, Image optimization, WebP image conversion, and the list just goes on. Here is the list of key features that SG optimizer offers.
WordPress heartbeat optimization
DNS prefetch for external domain
Minify Javascript, CSS, and HTML codes
Defer Render blocking Javascript
Remove query strings from static resources
New or existing  image optimization
WEB-P format image delivery support
Cloudflare full page caching
5. Built-In Security
Website security is the prime concern for many hosts. But with Siteground you can have complete peace of mind.
Siteground is considered one the most secure host. Here are security mechanism is in place if you decide to host in Siteground.
Advanced Captcha for Bot Protection
Web application firewall (WAF)
Real-time scan every 0.5 seconds
Let's Encrypt SSL integration
Regular malware scanning
24X7 administrative team
6. WordPress Migrator Plugin
Siteground is the only company that provides a dedicated tool to migrate your website from other hosts to Sieground.
Traditionally, you need to raise a ticket to transfer your website or do it yourself by using the Duplicator plugin.
With Siteground, you just need to install the SiteGround Migrator plugin in WordPress while you are still with the old host and follow the simple instruction.
Within 30 minutes, your website will be transferred without any ticket or any other tools. That shows that SiteGround is constantly developing new tools so that customers are more satisfied.
7. Free SSL certificate
Free SSL certificate is common across all web hosting companies. But the pain is in the implementation. Often people face the issue of SSL certificate implementation in their websites.
With Siteground, SSL certificate implementation is just one click away. Yes, you heard it right. If the name servers are pointing to siteground, then with one click you can install the let's encrypt SSL certificate for your website. Is it not cool?
8. Managed WordPress
This feature is very useful for new bloggers who do not have much knowledge about how to manage WordPress.
Trust me, go to any web host in the same price range, and ask them about any WordPress-related question.
They will simply deny giving any support for WordPress. With Siteground, they are eager to support and I showed the proof below.
Personally, there are many settings that I choose siteground to manage. Because no matter how experienced we are,
A WordPress expert knows better. Also to get the best out of WordPress you need someone who knows in and out of it. Siteground is your that kind of friend. Trust me.
9. Highly Intuitive website management dashboard
Bored with the same CPanel dashboard everywhere? It's time to get rid of this boring interface and switch to Siteground to get an eye-candy interface.
Siteground website management dashboard is based on C Panel but they redesigned the interface completely to make it look much better.
Unlike the C panel where all options are scattered, siteground interface has everything laid out perfectly.
All options can be navigated from the sidebar and those are easily customizable. SiteGround dashboard is one of the best web hosting dashboards that I have seen recently.
10. Email Management system
You might be wondering why I mentioned an email management system as a key feature here when every host offers a free email management system.
Well, there is a trick. All web hosts offer email management but hardly anyone offers email security and spam filter. Spamming and security are the biggest threat to email management.
Siteground has an inbuilt spam protection mechanism so that your emails go to your inbox and not to the SPAM folder.
The best part is that you don't need to do anything. The spam filter is pre-activated for all accounts.
I still remember, that with my old host I had to raise many requests for SPF and the DKIM value of my email server.
Even they were not sure what does that mean. With Siteground, those values are already integrated into the DNS zone editor.
11. Cloudflare CDN
Again, you might be asking why I included Cloudflare CDN here when it is offered by all the hosts. The reason I added it here is that, with Siteground, Cloudflare CDN is managed into the Siteground dashboard itself.
You don't need to go to cloudflare.com and manage your settings. Most of the settings of Cloudflare can be managed in the Siteground dashboard itself.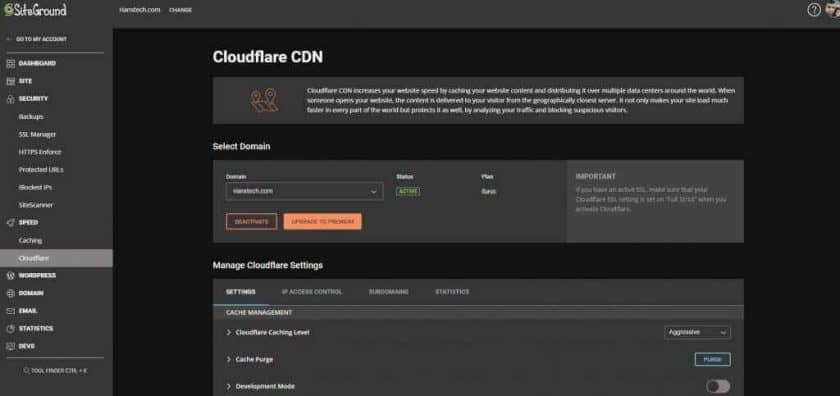 Siteground also offers Railgun as a free feature for all their customers but in the case of the Cloudflare free plan, Railgun is not a free feature.
So with Siteground, you are getting a premium Cloudflare feature for free.
12. Staging Tool
This feature is useful when you try to do a lot of experiments with your website and don't want your website to go down because of that.
For example, you want to install any plugin to check if that works. For that, you can copy your website into the staging environment and try the new plugin.
If you are ok with the outcome of the staging website, then you can deploy the changes in the production environment.
SiteGround has an inbuilt staging area where you can do this activity. However, this feature is not available in the starter plan.
13. Ultra Fast PHP
Siteground is the only web host that deploys the latest PHP versions on its servers. As of December 2020, when other web hosts did not even move to PHP 7, Siteground has already moved to PHP 8.
Not only that, Siteground is offering a feature called Ultrafast PHP which is the tweaked version of PHP 8 to suit SiteGround servers. Hats off to Siteground for this feature.
14. Daily Back-Up & One-Click Restore
Siteground offers daily backups of all your websites. In case of any issues, you can always restore your website.
On top of that the backup and restore interface is very easy to use and intuitive. You no longer need any support to restore your website. However, Siteground support is always ready to help.
15. World-Class Support
Yes, you heard it right. World-class support! Siteground support is the best. No matter what problem you have, either small or big but siteground customer support is always ready to assist.
They have ticket-based support and chat support also. Unlike other web hostings, chat support is always available. Even they reply to your email within 4 hours.
On top of that Sitegrund has many helpful articles in their blog that you can refer to solve your problem. Even they are very active in the WordPress community.
Siteground Hosting Plans And Pricing
Now we have a broad idea about what features Siteground web hosting offers, let us focus on what plans Siteground has in its bucket.
Let me tell you that Siteground has a very basic shared hosting to enterprise-level hosting. Now it's up to you which one to choose based on your business requirement.
1. Siteground StartUp plan
If you just have one website then this plan is for you. With $6.99 per month, you will be able to host only 1 website.
You will consume 10 GB of SSD space and this plan is good for handling up to 10000 traffic per month. Free CDN, Free SSL, and unlimited database are common across all plans.
Since this plan can only host one website and this plan is only good for 10000 traffic, personally, I won't recommend this to anyone unless they are a beginner and running short of funds.
Siteground StartUp Plan
Sample content
2. Siteground GrowBig Plan
This is the plan that I use for this blog. With just $3 extra per month compares to the startup plan, you will be able to host unlimited websites, and 20 GB of SSD space and this plan is good for up to 25000 traffic per month.
This is an ideal plan for beginners as well as experienced bloggers.
This plan also offers daily backup, on-demand backup, a staging environment, and most importantly the speed booster caching mechanism.
The resources like CPU cores and RAM are also doubled in this plan compared to the startup plan.
Siteground GrowBig Plan
Sample content
3. Siteground GoGeek Plan
This plan is good for pro bloggers as it is good for handling up to 100000 visitors per month. You will have access to 40 GB SSD space and all other features of the GrowBig plan.
On top of that, it also offers collaboration tools, while label client option( If you are making a website for clients), and double resources compare to the GrowBig plan.
Siteground GoGeek Plan
Sample content
Siteground Review [ Performance & Test Results]
I do not recommend any hosting unless I personally used it or experienced it before. I am hosting this blog on Siteground and I am going to show how it performs with Siteground.
1. Speed Test
I tested one of my blogs that are hosted on Siteground and the result I got is very impressive. Here is the speed test that was performed on GTMetrix, Pingdom tools, and Google page insights.
Speed Test of this blog using Pingdom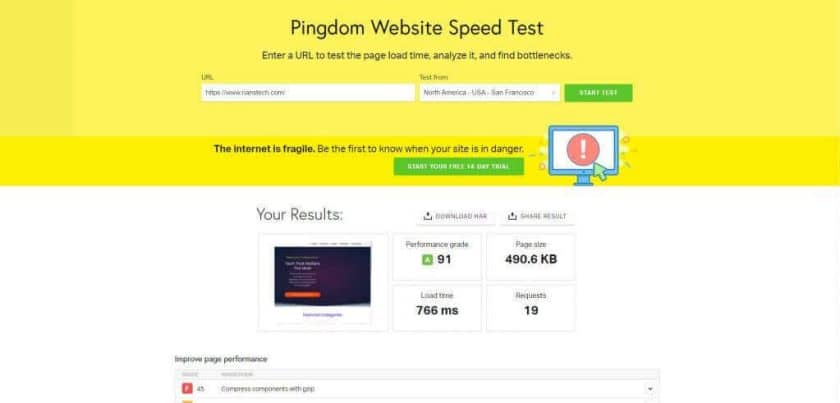 2. Server Speed Test
We tested our site on BitCacha to check the server response time and the response was very good as shown.
So you can see that with Siteground I am getting an exceptional speed and server response time is also great.
3. Uptime Test
It is really great that you will get almost 100% uptime with site ground. Below is the proof for one of my blogs which shows 100% uptime in august.
Here is the historic uptime data for the last 8 months of Hosting facts.
4. Time To First Byte Test ( TTFB)
Here is the time to first byte data all across the world for Siteground
How To Host A Blog On SiteGround
Here are the steps that you should follow to host a blog on siteground.
How to host a blog on siteground
Hosting a website on Siteground is a very straightforward task. First of all, you need to click on the 
Exclusive link
to go to the Siteground portal to buy a plan as per your requirements.
Once you click on the above link, you are redirected to Siteground page. From there go to the WordPress hosting / shared hosting page and pick a plan.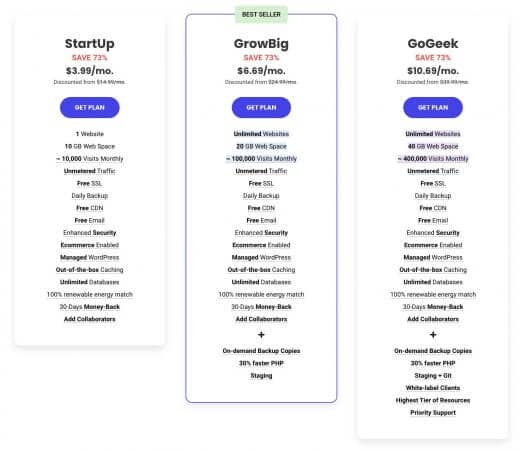 Next, you have to choose a domain name. In case you already have a domain name , you need to select "I already have a domain"
After that, it will take you to the checkout page where you need to fill in all the required information and make the payment. Within a minute, you will get the login information to your email ID.
Once you have the login information, please log in to your dashboard and the dashboard will look like this. You need to click on " 
Website
" to install a website. You can also explore other options as all options are self-explanatory.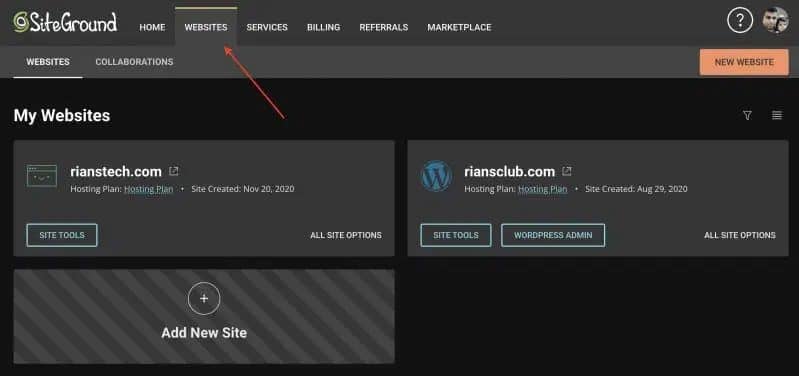 On the "My Website" page, click on the "
New Website
" symbol to create a new site.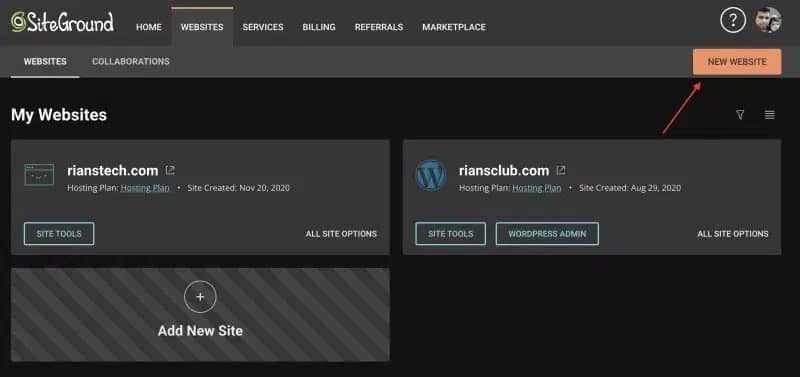 Here you have to select whether you want to buy a new domain or want to use your existing domain. Since I am going to use my existing domain, so I selected the "
Existing Domain
" option.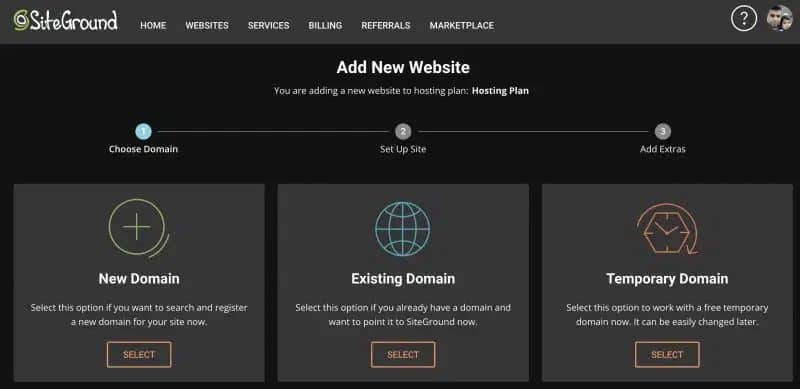 In this window, you will get three options. You need to choose how you want to set up your website.
Start New website
: It will create a website having WordPress pre-installed
Migrate Website
: This will give an authorization code that you need to enter in the migrator plugin for transfer when you are still with the old host.
Skip and create an empty site
: This will just create an empty site without WordPress. you need to dump your file later.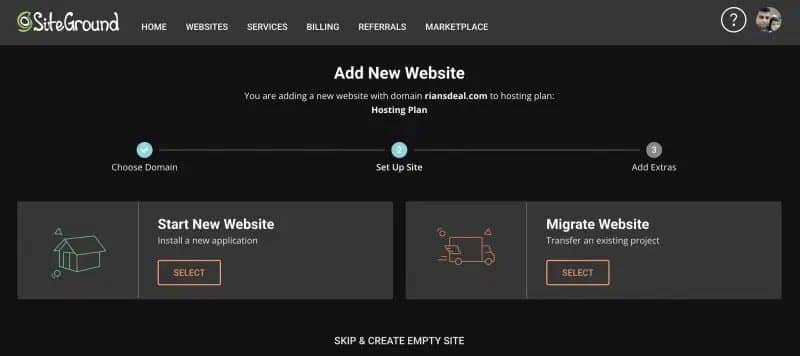 Once you select either " Start New Website" or " Skip & Create Empty site", it will create a site for you. You need to click the "
Set Up
" option to go to the site setting.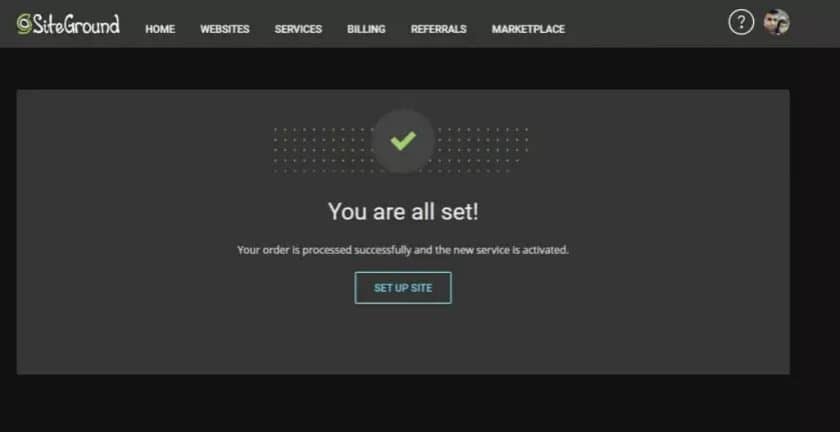 Welcome to Siteground Dashboard
In this window, you can find many options on the left side and there is some option pinned that you can use to quickly go to that specified setting.
For example, creating a new email ID. or going to File Manager, or Connecting to Cloudflare. Once you do these basic activities and change the nameserver to Siteground, your site will be live.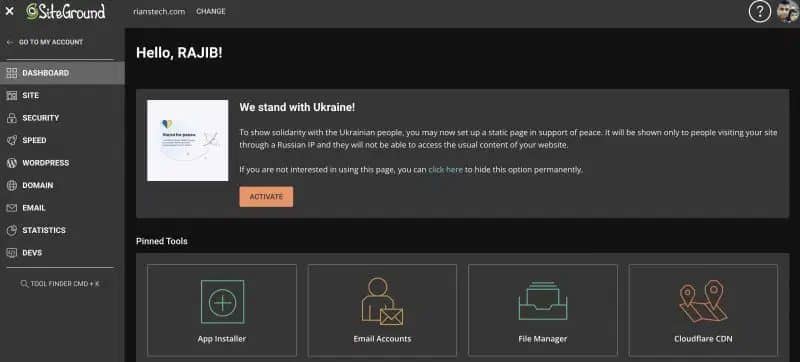 Siteground Hosting Positives And Negatives
Apache Server with NGNIX reverse proxy

Server level dynamic catching

SG Optimizer on page speed optimization

Less number of clients per server

User account isolation

SSD Storage in all plans

Fully managed intuitive user control panel

Siteground Migrator plugin

Spam-free email hosting with Spam Expert

Free Lets Encrypt SSL

Multiple layers of security

Free CDN with RailGun

30 days daily backup

30 days money-back guarantee

Excellent customer support
High renewal cost

No free domain

Limited storage

Limited bandwidth

Costly for new bloggers

Very basic startup plan
Key Facts About Siteground
SiteGround Is Recommended By Experts
Here is a screenshot of what industry experts are saying about siteground.
Excellent Customer Reviews
Here is the customer review about Siteground on TrustPilot
Siteground is recommended by WordPress
Siteground is one of the few web hosts recommended by WordPress. So you can imagine the kind of services siteground offers.
Conclusion: SiteGround Review
So here is the deal. If you are concerned about speed and security then go ahead with SiteGround.
Trust me, Siteground won't disappoint you. But if you are concerned about money, I would say Siteground plans are not cheap.
If you are a new blogger and have a long-term commitment to growing your blog then Siteground is the best option. In fact, I also bought the three years plan and I am really happy with my decision.
If you get more offers on Siteground, Then you need to look for SiteGround Black Friday Deals or SiteGround Cyber Monday Deals when they give an exclusive discount of up to 80%.
I hope I could able to give you a fair and unbiased review of Siteground hosting. If you have questions or issues then you can write to me in the comment section and I will be happy to assist.
Siteground alternatives
If you feel that the negatives of SiteGround hosting are bothering you, then you may look for the below web hosts. Those are more or less similar to Siteground and even the pricing is almost the same.
1. A2 hosting
Plans of A2 hosting are similar to Siteground with the basic plans starting from just $2.99. Also, the basic plan has many more features than Siteground.

If you buy the topmost plan of A2 hosting, then you have the option of a Litespeed server that is very fast compared to the Apache server that Siteground offers.

No posts for this criteria.
3. HostArmada
HostArmada started its business in 2019 but due to aggressive pricing and excellent offering, already they are giving tough competition to Siteground.
All their shared hosting plans are powered by the NGNIX server and the topmost Speed Reaper plan is powered by the lite speed server.
The speed reaper plan is far better than the Siteground GoGeek Plan. Pricing is also way less than Siteground.
Hostarmada Hosting
Web hosting plays the most important role in speeding up your website load time. Website load time affects your search …
Frequently Asked Questions (FAQ) On Siteground Review