Do you know, a theme does much more than just change the look of your blog? A theme can even decide the fortune of your blog.
Blogging is now a business. Many will disagree but that's a fact. All business needs investment to grow.
The same goes true with blogging. Buying a good theme is the best investment for your blogging career.
I started blogging in 2018 and I was in no mood to spend money on premium themes. I assumed that themes are just to change the look of your website. That's it.
I was wrong. Themes do much more than just change the look. When I learned about SEO I discovered that themes play a big role in SEO.
Off-late speed becomes a crucial factor in ranking. A good theme contributes broadly to the speed of a website. Having a fast and SEO-friendly theme is a must if you are serious about blogging.
There are thousands of themes available in the market. Choosing the best is a troublesome job. We took that pain and compiled the list of Best WordPress Themes here in this article.
This article shows the list of Best WordPress Themes which are suitable for blogs. If you plan to use these themes for WooCoomerce, then these themes may not be perfect.
What is a theme?
Like how an operating system acts as the backbone of a computer, a theme is the backbone of a website.
Almost all the functions and features of your website are controlled by the theme.
Starting from styling and function, it dominates the way other plugin works. It also creates a platform for plugins to communicate between your web browser and web server
A theme is a collection of templates, stylesheets, and functions. They can be changed or added very easily from the WordPress dashboard.
Why do we need premium themes?
In this world, nothing comes for free. If you use a free WordPress theme and feel that you have done a great job, then you are wrong.
All free themes come with their own set of limitations and issues. That's why we should always choose a premium theme.
Below are a few reasons why you should consider a premium theme.
Clean and Standard coding
All premium theme usually comes with clean coding and follow the standards set by different regularities.
Also due to the stiff completion, all theme vendors follow the best possible practice to differentiate their theme from others.
Security
Security is a concern for free themes. Since it's free, no developers put effort to add security features in free themes.
Premium themes have a different story as they have to have security features. Else no one will buy that theme.
SEO & Speed
This is one of the key reasons we should always choose a premium theme. No matter how good a free theme is but it can not match the SEO features of a premium theme. The same applies to speed also.
Features to look for in a premium theme
Now that we have discovered that premium themes are the way to go, we have to have some criteria on how to choose a good premium theme.
The premium theme market is overflowing and we need to decide the best based on certain criteria as mentioned below.
Lightweight and Fast
A lightweight and Fast theme is a key parameter for blogging success. A lightweight theme contributes to low bandwidth use. A fast theme decreases the bounce rate and thus helps in ranking.
SEO friendly
Gone are those days when you can rank your articles without doing proper SEO. In 2023 you can not rank your blog without a good SEO-friendly theme.
With Google coming up with many ranking factors, it is evident that a premium SEO-friendly theme is a must.
Responsiveness
No wonder more than 50% of traffic nowadays comes through mobile. A responsive theme squeezes the blog layout into a mobile screen which in turn helps in good user interaction. So choose a theme that has a responsive version.
Clean Coding
Clean coding has many benefits. It helps in making your website fast and SEO-friendly. Themes with too many JavaScripts, comments in between codes, and multiple loops in codes should be avoided.
Although, as a casual user it's hard to check codes, it is always recommended to buy themes from reputed companies.
Schema Enabled
Schema is very important for SEO. It's for the search engine to understand what your post content is all about.
Schema helps you to be in Feature Snippets and offers rich snippets in search results. Unfortunately, only reputed vendors are offering schema-enabled themes.
AMP Compatibility
AMP is the latest standard for Google to serve content on a mobile device at lightning-fast speed.
AMP framework removes all java scripts and other things which hinder the rendering of websites on mobile devices.
Of course, it is not a must to have AMP, but it's better to be future-ready with AMP-enabled themes.
Future Updates
Go for a theme that offers unlimited future updates. With WordPress getting updated every now and then, it's a good choice to choose a theme that offers unlimited future updates.
Don't go for a theme that charges for future updates.
Now that we know, why should we use a premium theme and what should we look into before buying a theme, let's find out the 10 Best WordPress Themes For Bloggers And Affiliate Marketers
#1. GeneratePress [ Fastest And Lightweight]
GeneratePress is the fastest theme available in the market A fresh install of GeneratePress is just under 30 KB and loads in less than half a second.
With vanilla JavaScript coding and schema enabled it's the best bet to start a WordPress blog with this theme.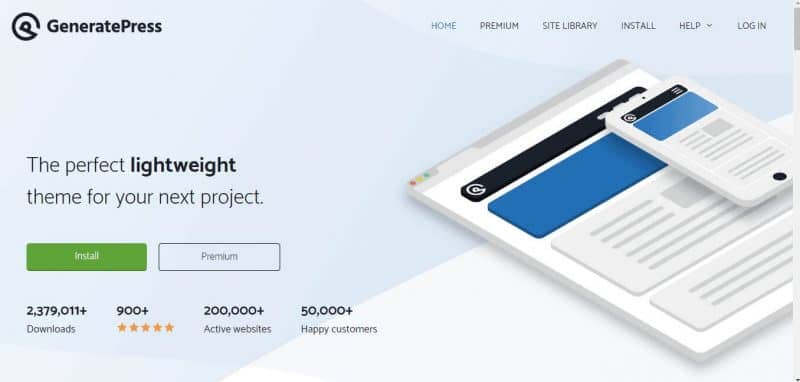 Forum-driven support is always available to help you in case of a need. GeneratePress works great with a page builder like Thrive Architect or Elementor
When GeneratePress is coupled with a good quality hosting like A2 Hosting, it's the fastest WordPress theme to use.
Superfast. Loads in under half a second ( Clean Install)

SEO Friendly and Schema enabled.

Uses Vanilla Javascript instead of jquery.

Page builder friendly

An excellent forum-based support
The developer is a one-man army unlike a company

Lacks many trending features
GeneratePress Price
GeneratePress has a free version that is good to use if you want to explore its capabilities. But the free version is very basic.
So you have to buy the Pro-Version to have a look and the features of a professional blog. The Pro version costs $ 59 for the first year.
You need to renew every year to get updates and support. They offer a 40% renewal discount for renewal. They also offer a lifetime license for $249.
They offer a great discount during the Black Friday sale. Watch this space for getting an exciting offer on GeneratePress
A theme is something that you can not take for granted, especially when you are building a blog or website. If you …
#2. Astra [ Great For Profissional Websites]
Astra Theme is a feature-rich and extremely fast WordPress theme. When you load a website with Astra theme clean installed, its home page size is about 50 KB only. It loads in less than half a second.
Like Generatepress, Astra also dumped traditional Jquery and instead uses Vanilla JavaScript. The theme is packed with SEO features and comes inbuilt with schema markups.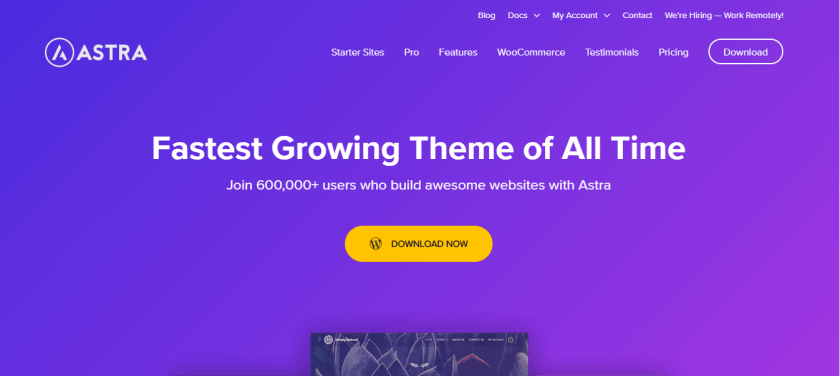 Astra has more than 100 pre-build starter sites, which you can simply copy and edit as per your requirement. So you can create a professional website with Astra in less than 30 minutes.
The theme can be used with page builders like Thrive Architect or Elementor and in fact, Astra + Elementor is a brilliant combination to create an attractive and professional website.
Feature-rich WordPress theme compared to other competitors

WooCommerce integrated to create an online store

Loads in less than half a second with a clean install

Page size is less than 50 KB with only WordPress installed

SEO friendly and inbuilt schema
Pricing is high compared to the competition.

Support is a hit or miss sometimes

A couple of Astra free plugins are not bug-free
Astra Pro Price
Astra Pro comes at a price tag of $ 59 for the first year with a renewal discount of 20%. Astra has yearly and lifetime plans. A lifetime purchase of Astra pro costs $249 one-time charge. Astra Pro comes with an unlimited website license in any plan
Astra offers up to a 40% discount during the Black Friday sale. Watch out for this space for Astra Pro offers.
Are you looking for a WordPress theme that loads faster is equipped with most of the designing features, and is …
#3. Rehub Theme [ The All In One Theme]
If you need an All In One theme that you want to use to create a blog, an online store, or an affiliate website, just go for the Rehub theme.
Rehub is one of the best intuitive allrounder themes I have ever come across. Speed is also a phenomenon. In fact, this blog is also built on the Rehub theme.
Do you know that the Rehub theme is also honored by WordPress as one of the best themes for WordPress?
The Rehub theme is only available on Themeforest and you can buy directly from there. You just need to pay one time and use it forever.
Rehub theme has many plugins like Content Egg, and Affiliate Egg which help to create a professional and intuitive affiliate blog.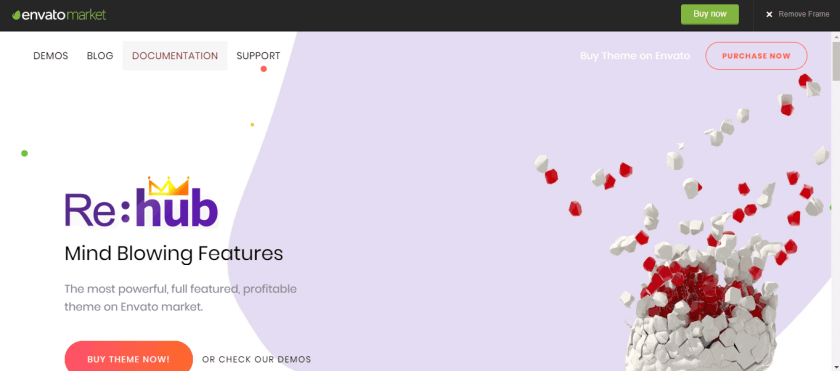 To get the best out of the Rehub theme, you can use it with the Amazon Associate plugin and you will see the conversion rates growing high.
Rehub theme is also SEO friendly and schema enabled. They also followed the best coding practice. Overall, it's a very nice theme to use for any kind of website, store, or blog.
Best and Intuitive Affiliates theme

SEO optimized and Schema built-in

Loads super fast and clean coding

Recommended by Amazon

Plenty of useful plugins for free

Lots of demo websites

Frequent updates
Customization is not easy for a newbie

Too many features may confuse you

One licence can be used for only one website
Rehub Theme Price
The Rehub theme is available for $59 at Themeforest. You need to buy Content Egg and Affiliate Egg separately if you need to. Personally, I would recommend buying both plugins to create an amazing affiliate store.
#4. Newspaper
No wonder, why Newspaper is the most underrated theme for WordPress. You may not see this theme is ever mentioned by any blogger as one of the best WordPress themes.
It was known for its magazine/news-style blog. But with the latest version, you can create any type of blog with this theme.
It comes bundled with its own page builder called tagDiv composer, so no need to buy any other page builder. Extremely fast if you know how to optimize it.
The newspaper theme is optimized for AMP and comes packed with SEO features. If your monetization strategy is Google AdSense, then this theme is very good to get the best out of ads.
Many themes use hooks to add Google Adsense codes, but Newspaper theme has inbuilt hooks to use those codes.
The feature-rich theme for the magazine /news blog

Loads very fast if optimized properly

Optimized for earning through Google AdSense

AMP ready and optimized for SEO

More than 100 sample websites to build from
The default TD Composer has tons of bugs

Support team response is slow

Can be used on One website per license
Newspaper Theme Price
Newspaper themes can be bought from Themeforest at $ 59. It can be used only on one website per license.
#5. Authority Pro
Authority Pro is one more brilliant theme from Studiopress. Super fast, lightweight and well SEO optimized. It is built on Genesis Framework and works out of the box. No need for any page builder as the theme is optimized for Gutenberg.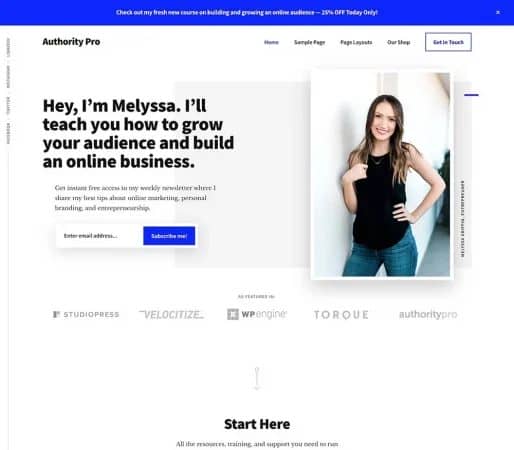 Since it is built on Genesis Framework, security is at its best in the Authority pro theme. Although you will notice that it is not the best-looking theme out there, if your preference is the functionality rather than the website's looks, then this theme is for you.
Built on Genesis Framework

Class-leading security at its core

Superfast and SEO friendly.

No page builder is needed.

One license for unlimited websites
Not intuitive compared to other premium themes

Customization is a bit hard if you don't know to code

Support is in the grey zone
Authority Pro Price
The price of Authority pro with Genesis Framework is $ 129.95. It's a one-time fee and the license can be used for unlimited websites.
If you are running a web development business, you can try their Pro-Plus plan which offers all Studiopress themes at $499.
#6. Kadence Theme
Kadence theme is known for its endless customization. If you buy the Kadence bundle package, it will come with Kadence Block that basically replaces any other page builders.
But if you want you can use any other third party page builder like elementor or Beaver builder. The theme supports all the page builders.
If you want to create a sales funnel, the package also comes with " Kadence Conversion"
If you want you can also buy the Kadence theme, Kadence block and the sales funnel plugin separately.
Kadence loads really fast. Codes are clean written. Its is SEO friendly and schema optimized. Overall a good theme for any kinds of websites.
All in one theme package available

Kadence blocks

Sales funnel plugin

SEO Friendly and Schema optimized

Fast loading and lightweight
Lifetime licence is way too costly

Support is a hit or miss
Kadence Theme Pricing
You can buy kadence Pro for $59 that allows you to install it in unlimited websites. The lifetime bundle costs $649 that comes with all the plugins and tools available in the Kadence bundle package.
#7. Schema ( My Theme Shop)
If you are looking for the best SEO-optimized theme then look no other than Schema Theme from My Theme Shop.
Apart from being well SEO optimized, it is also very fast and packed with many useful features that a premium theme should have.
Many users have even reported that the Schema theme loads faster than Generatepress. Schema theme offers a free version called schema lite which you can try before making a purchase.
Best SEO optimized theme

Loads really fast

Plenty of features

Support is extremely good

Very cheap compared to other premium themes
Best suited for Magazine type of blogs

Integrating with page builders in a problem

Not as intuitive as other premium themes
Schema Theme Price
The price of a schema theme is $39 for one site and one year of support. If you choose the membership then it is $199 for unlimited websites.
#8. OceanWP
No wonder why OceanWP is very popular among new bloggers. It is one of the best and most popular WordPress themes available.
With support for page builders like Elementor and Beaver Builder, you can create any type of website with Ocean WP.
It also supports woo commerce integration, so in case you want to venture into the eCommerce business, Ocean WP can be a choice.
It has a free theme that you can try before you purchase the pro plan.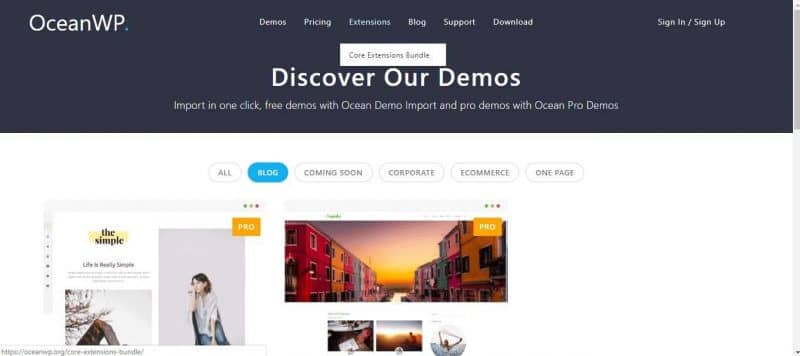 The free version has plenty of features

Seamless Woo-commerce integration

Fast and SEO optimized

Supports third-party page builders

License for a single website is cheap
Lacks the fluidity of Astra and Generatepress

Support is a painful affair

The lifetime license is costly
OceanWP Price
Ocean WP costs $ 35 per year for three websites, $49 for six sites and the agency bundle costs $79 for 50 sites.
#9. Divi Theme
Divi is one of the most popular and widely used themes for WordPress. The theme comes packed with its own page builder called Divi Builder.
It also packed with a social share plugin called Monarch and Bloom for conversion leads. Unlike Astra and Generatepress where you need to buy page builders and conversion lead plugins, Divi theme offers everything for the price of a theme.
Though it does not load as fast as Astra and Generatepress, it is not bad either.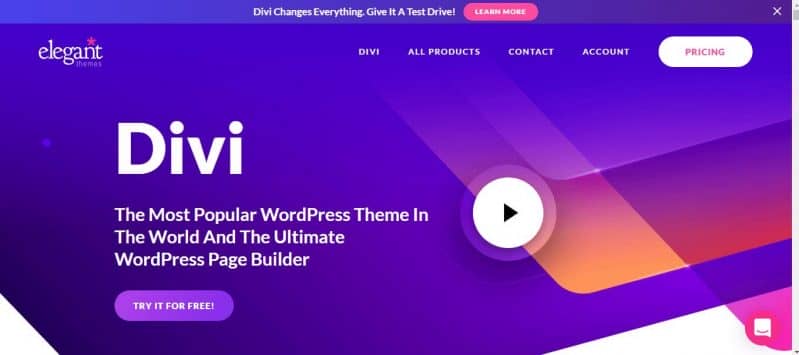 Divi has plenty of starter sites that you can copy and modify as per your needs. Although Divi has a bad reputation for bad support and customizations are really tough, but it's a good theme if you know a little bit of coding.
Comes with its own page builder

Feature-rich and SEO friendly

All useful plugins are inbuilt

Plenty of starter sites to copy from

Loads comparatively fast if optimized
Support is bad. Takes a couple of days to reply

Customization is a real pain

Out of the box, Divi loads very slow
Divi Theme Price
The price of Divi with all its modules is $ 89 per year and if you plan to buy a lifetime plan, it about $ 249.
A single license can be used for unlimited websites. Divi also offer a 30 days trial, so if you are not happy you can back off from the plan.
#10. Buddyboss Theme [ Best Theme For Social Networking Sites]
Do you have a plan for creating a social networking group or forum using WordPress? If yes then this theme is for you.
Plenty of features for creating social networking sites, forums, online courses, Online memberships, Subscription-based programs, and many more.
BuddyBoss also supports creating an online store using WooCommerce. It can also integrate with learn dash which is useful for creating online training materials.
You can create forums, social networking sites with ease

Integrating with Woocommerce is a breeze

Customized plans to suit your needs

Prompt and helpful support

Plenty of monetization options
Customization is a bit tricky

Not as fast as other themes

All plans are super pricy with no lifetime license option
Buddyboss Price
The starting price for Buddyboss is $228 per year one site which goes up to $388 per year for 10 sites. The basic plan is for only one website and no renewal discount available.
Conclusion: Best WordPress Theme
Themes are the backbone of a blog. Don't make compromises on choosing a theme. It's a very difficult and painful task if you decide to choose a different theme after your blog is running for a couple of years. So choosing a theme is to be the first time best.
There is nothing called the best theme for WordPress. Every theme has its positives and negatives and choosing the best theme is as per your requirement.
However, you have to look for certain basic and essential features before choosing a theme. Try to choose a theme that offers a lifetime license for unlimited websites because that saves a lot of money if you want to launch many micro niche blogs.
Out of all those 10 themes, my pick would be either GeneratePress or Astra if I plan to run a blog.
If you know to code, then Academy Pro is a great choice. For a news website, I would suggest blindly go for a Newspaper theme.
If your plan is to run an affiliate website, then the Rehub theme is the best.
That's all I have in my bucket for this article. Did I miss anything? Pen down in the comment section with the name of the theme and I will be happy to include that in the list.