If you are serious about blogging then a Paid theme is the way you have to go. But do you know even a few free WordPress themes can give tough competition to paid themes?
Let's discuss in this article about 5 best free WordPress themes for bloggers.
This is a common practice to use free themes when we ventured into blogging. In fact, every blogger started their journey from Blogspot which is a free blogging platform.
There is nothing wrong with using a free blogging platform or using a free blogging theme. In fact, there are many free themes that are as good as a paid theme.
Benefits of Free WordPress Themes
Except "free themes are available for free" I don't see any benefits in using a free theme. However, few free themes offer SEO features, Schema Markups, and clean coding, and our article will be all about those free themes.
Drawbacks Of Free WordPress Themes
Most of the free themes do not ship with good SEO features nor with proper schema markups. Both are very essential for getting ranked.
Clean coding is also a daydream in a free theme. All these things contribute to the slow loading of your blog. Slow loading means a high bounce rate and low ranking.
Support is also non-existent in a free theme. Updates are not very frequent and if you end up in trouble with the theme you have no one to ask apart from getting help from forums. Though those forums are highly active you won't get any personalized help.
Must Read: 10 best WordPress Theme ( Paid version)
Table of content
5 Best Free WordPress Themes
1. GeneratePress
No wonder why GeneratePress is at the number 1 spot. The theme is extremely lightweight ( Just weighs under 30 KB ) and loads in under a second with a default setup. No bloatware, no unwanted plugin.
The free version is downloaded by over 200000 bloggers and mostly they rated 5 stars on this theme.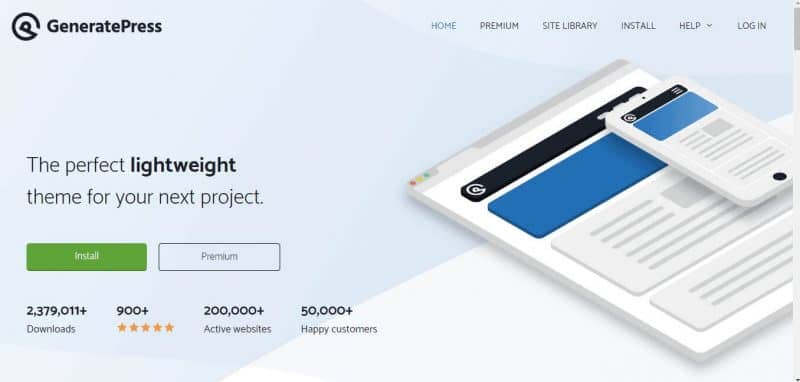 The support for the free version is through the WordPress.org support portal. GeneratePress is also compatible with page builders like Elementor & Thrive Architect.
GeneratePress Free Features
Extremely lightweight ( Just under 30 KB)
Exceptionally Fast ( Loads under a second in default setup)
Mobile-Friendly ( Responsive)
Typography and font editing
A couple of pro modules
GeneratePress Pro version features
GeneratePress Pro Version Features
Site Library ( You can copy any of those and edit as per your need)
Colors ( You can change the color as per your need)
Elements, hooks, and section ( All are essential to building an attractive blog)
Customized header and footers
Different backgrounds in posts and page
2. Astra
Astra blends the speed with features. If you need a super-fast theme, go ahead with Generatepress. But if you need speed and more features, then you should check Astra. BlogByts is built on Astra ( paid Version).
Astra Pro is schema integrated and SEO optimized. The free version is just under 50 KB in size and loads in less than a second in the default setup.
Astra also supports WooCoomerce integration which is great if you want to launch an eCommerce store. Major page builders can be integrated with the Astra theme.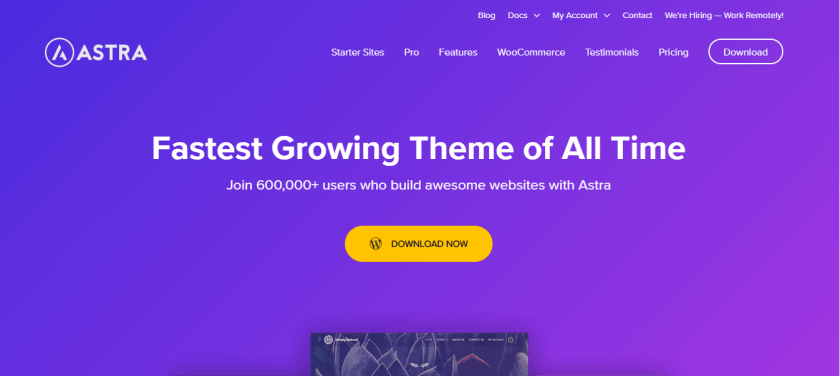 Astra Free Features
Schema Enabled
SEO optimized
Extremely fast
Lightweight and clean coding
Responsive design
Astra Pro Features
Astra Pro Version Features
Header and footer customization
Better typography and color option
Support custom layouts and hooks
Lifter LMS and learn dash integration
WooCommerce checkout option
Better one to one support
3. OceanWP
OceanWP is one of the best free WordPress themes loved by many bloggers. Although it is not as fast as Astra and Generatepress still bloggers love this theme due to its many customization options and WooCommerce integration.
It offers minimal SEO features bundled with clean coding for building faster websites. The theme is responsive and supports integration with different page builders like Elementor and Thrive architect.
OceanWP free features
Fast and SEO friendly
WooCommerce ready
Support page builders integration
Responsive
RTL support
OcenWP Premium features
OceanWP Pro Version Features
Customized header, footer, and sidebar
Multiple demo websites to copy
Hook support which is essential for AdSense codes
Elementor widgets integrated
Integrated Portfolio features
4. Schema Lite
Schema Lite is a free WordPress theme from MyThemeShop, the company that developed RankMath. You may know that RankMath is the number one SEO plugin currently for WordPress.
So no wonder Schema Lite is a better SEO-optimized theme than any other free theme. In fact, it is one of the best SEO-friendly themes rated by many Pro-Bloggers.
Schema Lite is also fast, and lightweight and the most important fact is that the support is just awesome.
So if you are looking for an SEO-friendly theme with better support, Schema lite can be a choice.
Schema Lite Features
Better SEO functionality
Customized headers and footers
Fast and lightweight
Customized blog layout
Better customer support
Schema ( Paid version features)
Schema Pro Version Features
Much faster than the free version
Social media options integrated
Compatible with most of the cache plugin
Hello Theme
Hello theme is from the number one page builder for WordPress called "Elementor" It is the fastest WordPress theme available to date.
This is one theme that comes with minimum vanilla JavaScript coding and less CSS. This is useful if you want a barebone website that loads very fast.
The theme is SEO optimized and Schema ready. Hello theme is also very lightweight and when used Elementor page builder, it is the best setup that you can have for your blog.
One of the most important facts about the Hello theme is that it is completely free and there is no pro version. So you can enjoy all the features for free.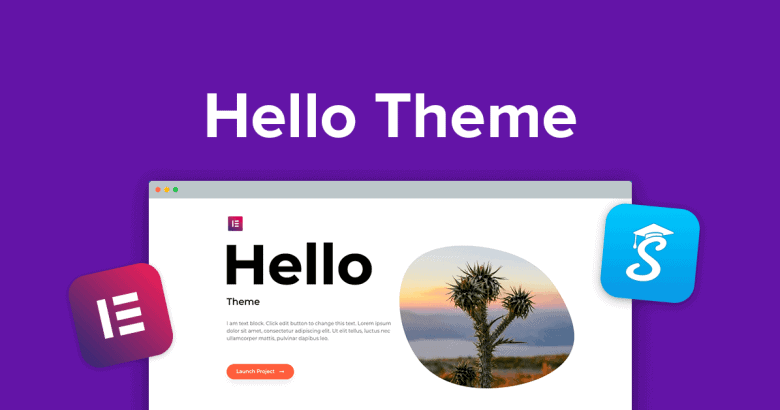 Hello theme features
Fast and lightweight
Perfect for landing pages
No extra java scripts or CSS styling
Best theme to use with Elementor ( No. 1 Page Builder for WordPress)
Free for Forever ( No paid version, so all features are free to use)
Conclusion: Best Free WordPress Themes
As I said at the beginning of this article the free theme is not the one that you should choose if are serious about blogging.
No matter what features a free theme offers, but still, it will lack the offering of a paid theme. Probably if you are just a beginner, you can try a free theme to learn about WordPress or how themes really work.
But once your blog grows up, better to shift to a premium theme.
If I am in your position and I am asked to choose a free theme, then I would go for the Astra theme followed by GeneratePress.
For me, features are equally important like speed. If speed is the only consideration then no theme can beat GeneratePress.
But Astra free offers more features than GeneratePress along with great speed. So my pick would be Astra.
Did I miss any good themes here? Do let me know if you feel that there are better free themes available and I will be happy to include them in the list.