PDF stands for Portable Document Format. These documents are the main type of files that are present on the internet. On the internet, files such as eBooks, manuals, information, etc., are available in PDF format.
These documents can only be read through a PDF reader, which should be present on your computer, mobile, etc.
There are a lot of PDF readers. Some are costly too, which can cost you $1000 per year. There are many best PDF readers available on the internet, and you
can download them for free.
Let us find out the 6 Best Online PDF Converters in this article and figure out which one is the best
PDF services are quite useful. This software's are used in schools, offices, etc. There will be many situations where you need PDF service, e.g., arranging all PDF files into one single PDF file.
Following are the best PDF readers which you can use to view, edit, merge and secure any type of PDF file.
Table of content
2pdf.com
2pdf.com is a very popular PDF converter tool. It's a free online converter that gives you many options.
You can easily convert PDF files, compress PDF files, etc. 2Pdf.com is an online converter used to merge many PDF files into a single file.
2pdf.com is free. It won't charge you for the services. It's very safe and has a high rating in terms of security. 2pdf.com will delete your newly converted files in less than 24 hours.
Accessing 2pdf.com is very easy. You just need to open their website through the internet, and you can convert any pdf file you want.
This online converter is easy to use; you just need to select the PDF files and then select the pages you want to convert on the adjust page. After this, click on Merge, and your PDF file will be merged and ready to be downloaded.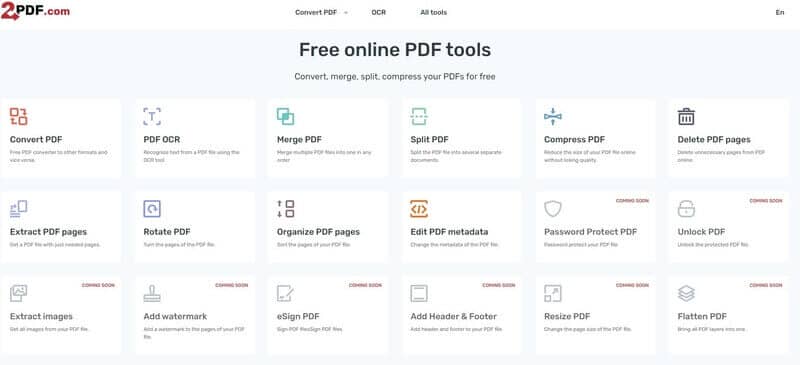 2pdf.com can easily run on any browser; you can easily use this free online converter to convert, merge, and split PDF files without downloading any program.
You can also convert pictures, documents, etc., to PDF. The good thing about 2pdf.com is that it can be used anywhere with internet access.
Soda PDF
Soda Pdf is also a good PDF tool. It is an online converter used to compress and merge any kind of PDF file. Soda PDF can be used on the internet and can be downloaded as software.
This online converter provides many options such as merging, converting, editing, etc., PDF files.
It has a very easy interface, and be can be used easily. You have options to upload your file via dropbox or google drive.
If you want to merge your PDF file, you simply have to upload it and click on the merge option.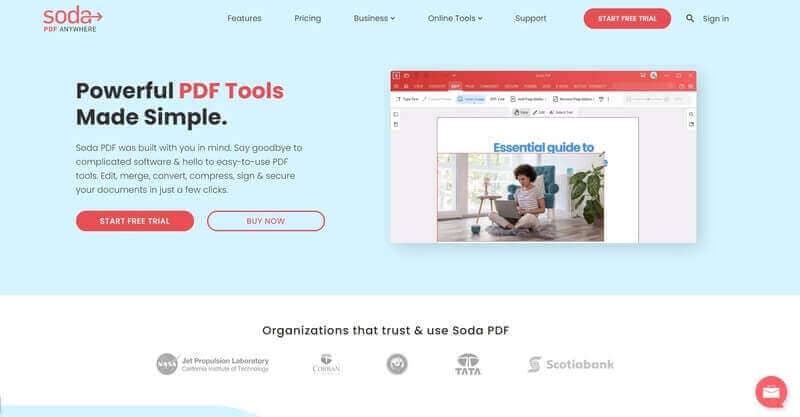 This will automatically merge your files, and you can directly send them via email or download them on the device you are using.
Soda PDF is free, but it also provides a paid version that can be bought from their website.
Small PDF
Small PDF is also a very popular online converter for PDF files. This is an online converter that is made in Switzerland.
It is highly reliable and very easy to use. You can easily merge many PDF files into a single file using this converter.
Small PDF has made editing very easy. developers have provided options in this converter to delete and rearrange pages in the PDF file.
It works the same way, you need to drag or upload your file, and then this PDF converter will show you options to merge, edit and convert your files safely.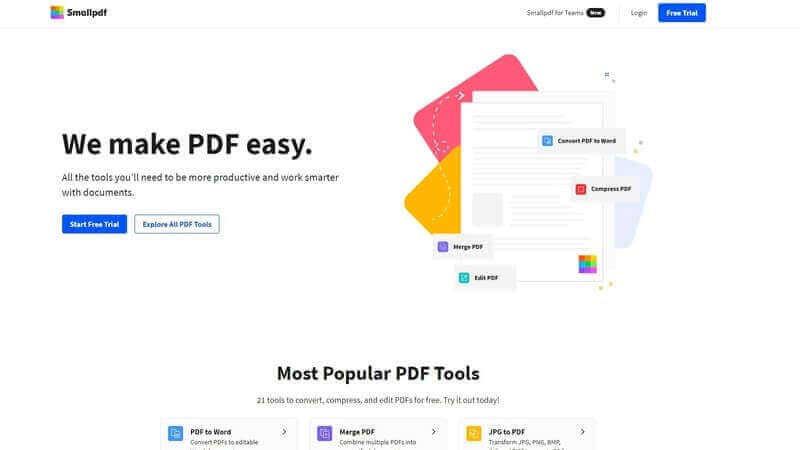 A small PDF is a team of big goals. They have created this amazing online converter for people to safely convert their pdf files.
This online converter is one of the top 500 most visited websites. Small PDF solves a lot of PDF problems. They provide a good user experience.
FreePDFConvert
FreePDFConvert.com is one of the most user-friendly sites that provide this service. It offers several useful characteristics, the most important of which is convenience. Users are not needed to register to begin using this convert PDF solution.
There aren't any such criteria. All you have to do is go to their website and search for the option to "Select File." Select the file you wish to convert to your preferred format by clicking the select button after you've found it.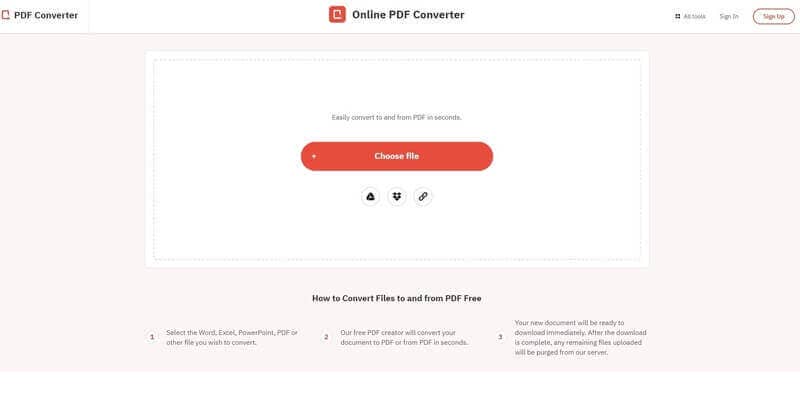 After you've uploaded the file, you'll only need to make two more clicks: one to convert the file and another to download it. It's one of the greatest free online converters, with a subscription option for frequent users.
You'll be able to take control of all the files you've converted in the past utilizing this website once you become a member.
It also has the advantage of being compatible with all software kinds and allowing you to use all of its capabilities on both your laptop screen and your mobile phone.
Docupub
Docupub.com is another free PDF converter that lets you convert documents from any format to the one you desire.
It mostly operates in the PDF domain and allows you to create PDF copies of your documents with only a few mouse clicks.
It also allows you to convert an image-based file to PDF and replace PowerPoint slides with their PDF counterparts.
There are no major compatibility concerns, and the website may be accessed from any device with ease.
The customer may choose the resolution that best suits his demands, and all of these services are completely free.
PDF2doc
It's a free PDF converter that works in both directions, just like all the main services. PDF2doc.com transforms your documents to PDF formats and then allows you to revert to the original format if necessary.
It includes the most basic drag and drop function that can be done in seconds, and you won't have to wait for extended periods of time to upload your document.
Everything moves quickly on this online PDF converter, and as soon as the website has finished converting your file to the selected platform, it provides consumers with a download link.
Conclusion: Best Online PDF Converter
Many of us may not like to pay for a PDF converter especially if it's for personal use. That is why the demand for free PDF tools is really great.
out of all the free PDF tools that we mentioned here, 2PDF.com has the most features. In fact, some of the paid tools also do not offer that many features. So my pick will be 2pdf.com as the best online PDF converter.