Premium Managed WordPress Hosting is getting very popular nowadays. Earlier, bloggers used to start their journey with shared hosting and then slowly migrate to premium hosting.
Now, Bloggers do not want to take a chance and want to choose the best hosting from the start. That's why we see so many managed WordPress hosts in the market.
Out of all those web hosts, if there is one web host that could really outshine is WPX Hosting.
I saw many bloggers moved to WPX hosting recently. Now the big question is why they moved? SPEED. Yes, that's the thing that WPX knows how to excel.
Let's have a comprehensive WPX Hosting Review and find out if it's the right choice for you.
One question that may strike your mind always why we are so bothered about speed when it is not really a ranking factor.
Well, speed is not a direct ranking factor but indirectly it affects your ranking. If your blog speed is slow, the bounce rate will be high and if the bounce rate is high, your ranking will be down.
The latest update is that Google is going to consider " Speed" as core web vitals from June 2021. So the faster we prepare for that, the better it will be for our blogging career.
WPX Hosting Overview
We might have heard that " Necessity is the best driver for innovation" That's how WPX was born.
Terry Kyle was fed up with the slow speed of his website and the lack of security took his frustration to a different level. So he decided to start Traffic Planet Hosting back in 2013.

In 2016, Traffic Planet Hosting was rebranded to WPX hosting to get an edge in the business. As of 2020, Terry Kyle is the founder and Owner of WPX hosting. WPX hosting is based in Sofia, Bulgaria.
WPX has a data center that is in the USA, the UK, and Australia. However, the real game-changer is the WPX cloud CDN that took WPX hosting to a new height.
WPX Hosting
WPX Hosting is one of the best Managed WordPress Hosting providers in 2020. They offer exclusive WordPress hosting with in-house WPX Cloud CDN, Lite Speed Server, and outstanding technical support. It is assured that your website will get an excellent speed if you choose WPX Hosting
Price: 20.83
Price Currency: USD
Operating System: Linux
Application Category: Web Hosting
WPX Hosting Business Portfolio
Like other premium hosts, WPX also offers only WordPress hosting. In one way that's good. When you have one product to sell, you can concentrate more on improving it and supporting it at its best.
You can also buy domains or transfer domains to WPX through their domain registration service. As of 2020, there is no dedicated server hosting or any enterprise hosting in the WPX portfolio.
WPX Hosting Features
Here are a couple of key features that made WPX Hosting one of the best-managed WordPress hosts. No, I am not going to talk about unlimited websites, unlimited bandwidth, or anything that is unlimited.
WPX offers nothing unlimited. Because unlimited is a wrong concept and an old concept of doing business. Practically, nothing is unlimited in this world, especially in the hosting business.
#1. SSD only Cloud
You may know that SSDs are 10 times faster than traditional hard disks. WPX uses SSD as the storage medium. But nowadays every company offers SSD hosting. What's the big deal.
Well, all companies say that they use SSD, but they never reveal which type of SSD. There are some SATA interface-based SSD that does not offer much speed and are cheap too.
Most web hosts use that kind of cheap SSD. With WPX, they use NVMe SSD which is very fast and costly too.
To take your website speed to the next level, WPX hosting hosts your website in a cloud infrastructure.
What does that mean that your website files will be stored at different cloud locations. In case of any physical equipment failure, your website can be served from a different cloud location in no time. So no downtime at all.
#2. Lite Speed Server
Lite Speed Servers are known for speed. There are very few hosts that offer lite speed server options.
The reason is simple. Lite Speed Server is not a free server software like Apache. Every host needs to pay a hefty amount to get a Lite speed server license.
With WPX, all plans are powered by the LiteSpeed server. On top of that, they have their own custom-built CDN. This is a very deadly combination to enhance your website speed.
#3. Enterprise-Grade WPX Cloud CDN
This is the game-changer. WPX has developed this in-house CDN called WPX cloud CDN that can further improve your website speed. Usually, no hosting company offers such a custom-built CDN. But WPX is not like others.
Currently, WPX cloud CDN has 26 endpoints ( And Growing) with one endpoint in Pune, India as well. So even if your target audience is India then you don't need to worry.
Now the big question may come, why WPX cloud CDN is so special. The reason is that WPX cloud CDN is developed and managed by WPX itself.
So they can tweak and improve the way they want. In the case of other CDNs, you need to depend on them when they fix bugs and tweak them to give optimum speed.
#4. Unlimited Site Migration
Usually, other web hosts only migrate 3-5 websites per account but WPX migrates all your websites from other hosts if your plans allow sufficient space.
All you need to do is to raise a ticket with your WordPress admin details and FTP information.
They also assure that your website will be transferred within 24 hours which is simply great as most of the other hosts take a couple of days to transfer websites.
#5. Enterprise-Grade Security
Security is one of the prime concerns of every website owner. Unfortunately, most web hosts overlook this main issue.
So in case of any malware attack, you lose all the hard work and effort that you spend to build your blog or website.
WPX offers daily malware scanning so that it can clean all known malware. In case your website is attacked by unknown malware, that would be cleaned by the WPX team free of cost. So you would be saving thousands of dollars in security plugins.
Apart from malware removal they also offer advanced DDoS protection that can protect your website from any virus attack or automated bot attacks.
#6. Dedicated Staging Area
Nowadays you may notice that WordPress themes and plugins get updated very frequently. So there is a high chance that your website may break due to any issue with your themes or plugin.
A dedicated Staging area helps you to test those changes before you make it live. This is a great feature I would say that WPX hosting offers.
#7. Highly intuitive easy to use Custom Dashboard
No more boring C Panel interface. With WPX, you will be presented with a highly intuitive easy-to-use custom Dashboard.
Very smooth navigation and all options are in place that you need for your day-to-day website management. Although I still believe that the SiteGround interface is the best to date.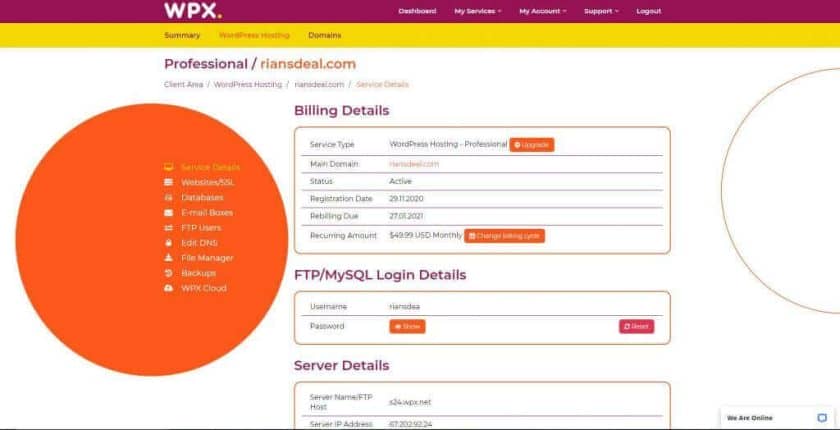 #8. 30 Seconds support response time
WPX promises that all your support issues will be addressed in merely 30 Seconds through live chat.
I tried to test their support and surprisingly they responded within 30 days. However, during peak hours you may see some delays.
#9. No Excess Renewal Charge
This is a common business tactic by web hosting companies to offer an 80-90% discount when you are a new customer.
But at the time of renewal, they charge a bomb. With WPX, you will pay the same amount even during renewal also. So no more unpleasant surprises.
#10. Spam Free Email Hosting
Thank God, WPX offers email hosting as well. Otherwise, nowadays it's a common practice for a web host to ditch email hosting and force you to use Gsuite.
WPX uses a special spam protection mechanism with full SPF and DKIM support so that all your website emails go to your inbox and not to your spam folder.
WPX Hosting Plans And Pricing
WPX offers three hosting plans under Managed WordPress Hosting. Like other hosts, nothing is unlimited in any of the plans except the Elite plan where the bandwidth is unlimited.
Here are the features that are common across all plans.
Free Let's Encrypt SSL
Free access to WPX Cloud CDN
Free unlimited Site Migration service
Free malware scanning and malware removal
Advanced DDoS protection
Spam-free email hosting
Dedicated staging area
30 days money-back guarantee
WPX Business Plan
This is the most basic plan that WPX hosting offers. You can install up to 5 websites, you will be getting 10 GB of SSD space and the bandwidth is limited to 100 GB.
Although you can install up to 5 websites I would suggest you install only 1-2 websites. The reason is bandwidth limitation.
WPX Business Plan
Sample content
WPX Professional Plan
This plan comes with 20 GB of SSD space where you can install up to 15 websites. However, the bandwidth is limited to 200 GB.
With a little over forty dollars per month, this is a great value-for-money plan for medium to large-sized blogs.
WPX Professional Plan
Sample content
WPX Elite Plan
This is the topmost plan in the WPX portfolio. Comes with a massive 40 GB SSD space where you can install up to 25 websites. The bandwidth is unlimited in this plan.
WPX Elite Plan
Sample content
WPX Hosting Review [ Performance And Test Results ]
I got a chance to test WPX hosting for over a month and the results are really impressive. I tested the speed with one of my test websites that are NOT properly optimized for speed. Still, we got a far better result than any other hosts.
But before we get into the test result, Let's have a summary of what are the mechanism set in place to boost up your website speed.
Lite Speed Server in all plans
WPX Cloud CDN
Server level cache
Dynamic Cache
Advanced DDoS protection
Less account per server
All SSD Cloud
1. Speed Test
We tested our test website on GTMetrix, Pingdom Tools, and Google Page Insights. On all three platforms, the website is loaded in under 1 second and the score is close to 100.
We also tested how fast it is loading from different locations and seems like it is taking the same amount of time to load the website from different locations.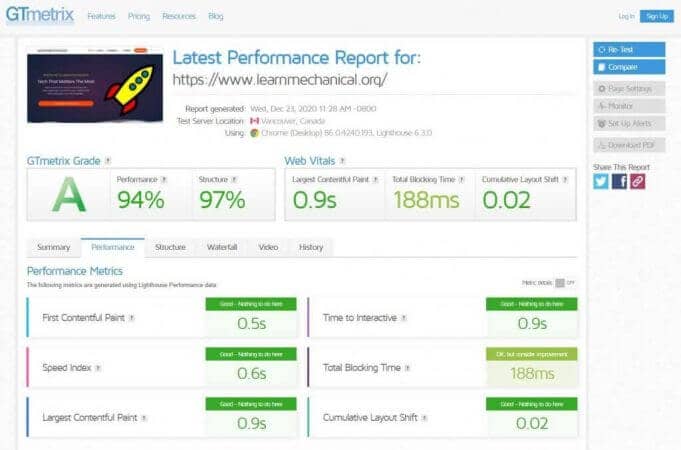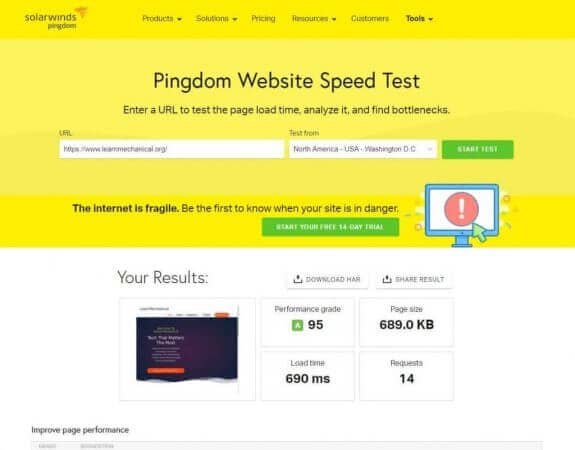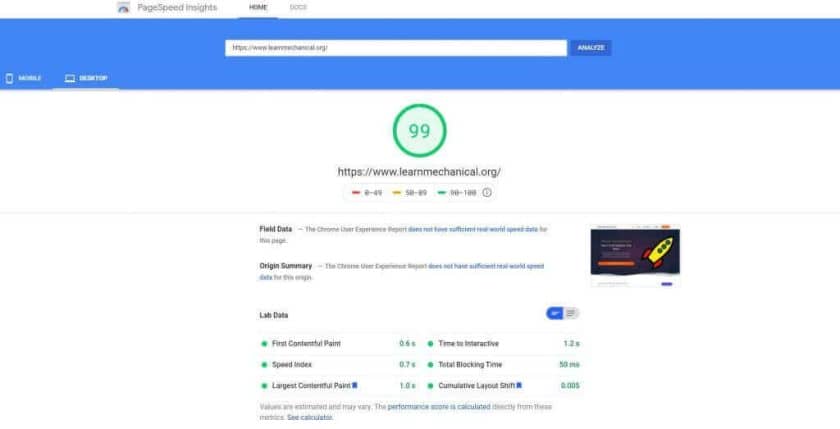 2. Uptime Test
We tested the uptime data of the test website and looks like there is no downtime. However, long-term data is still pending. Will update this page when I have that data.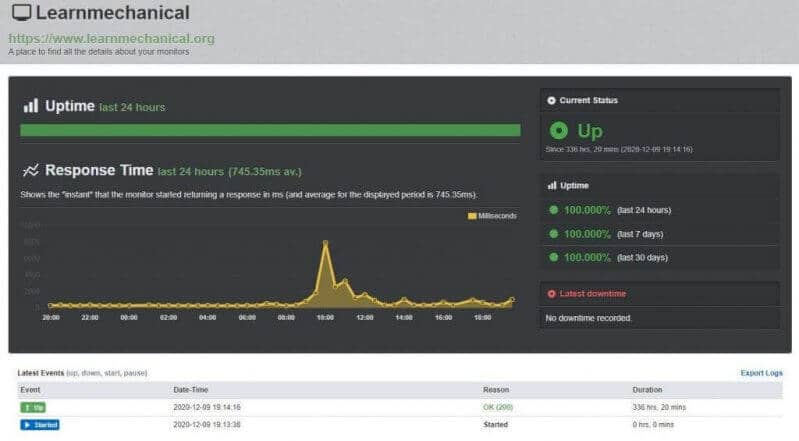 3. Server Speed Test
We tested the website on Bitcacha to check how fast the server responds. To our surprise, the server responded very quickly and got an A+ score.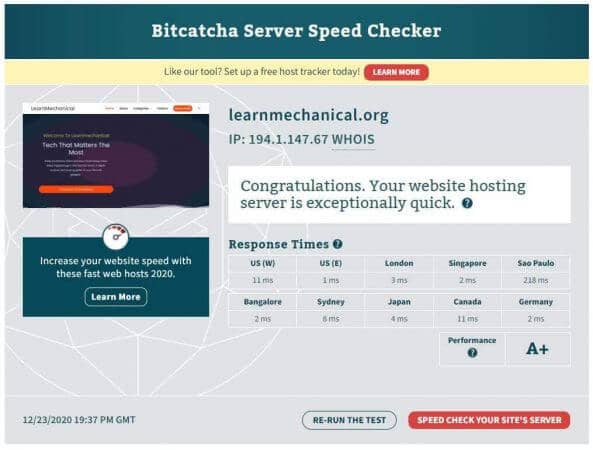 4. Load Impact Test
A really impressive result that we got from the load impact test. The server responded in just 11ms for around 5K traffic with 20 traffic/ second. Very good hosting for high traffic websites.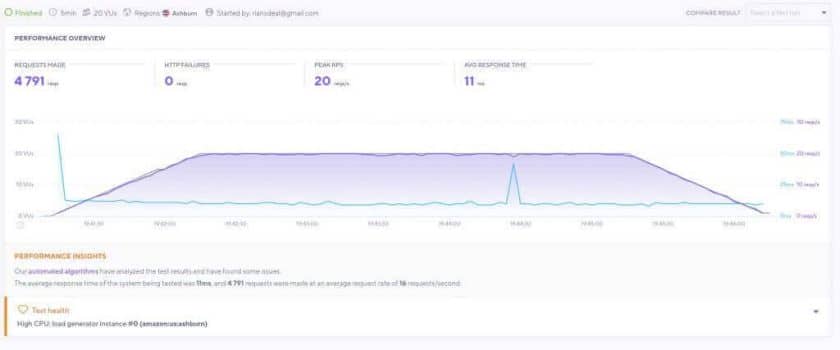 5. Time To First Byte ( TTFB) Test
We tested the TTFB in KeyCDN and from all locations, the TTFB data is very impressive.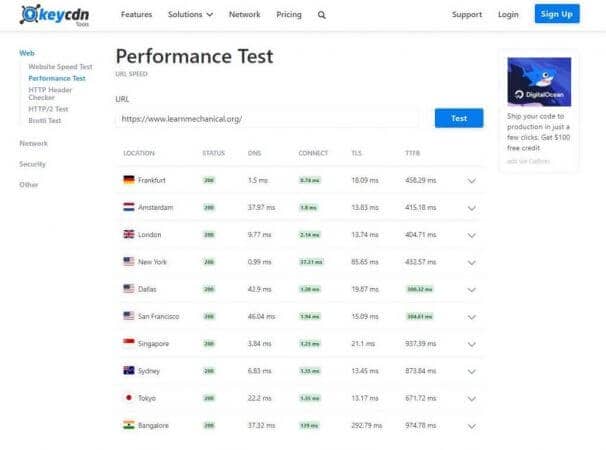 How To Host A Blog On WPX Hosting
Hosting a website on WPX is a straightforward task. First of all, you need to buy a plan by clicking on the exclusive link shown below.

After that, if you want to host a brand new website then follow the step-by-step approach as detailed below.

If you want to transfer a website, you can either do it with a duplicator plugin or raise a support request in the WPX portal and they will do that for you.
First of all, you have to choose a hosting plan. To do that, you can click on " Get Started" under any of the plans as per your requirement.
Choose the data center that is closest to you. Currently, there are only three options. The USA, UK, or Australia.
Choose or buy a domain name
Choose whether you want to buy only hosting or you want to buy a domain name also. If it's an existing domain, then enter the domain name in the blank field.
Choose the billing cycle and enter any promo code if it's available. I would suggest choosing a yearly billing cycle to save more.
After that, make the payment and check out. Within a couple of minutes, you will get an email with login details and nameserver information along with FTP details.
Login To Dashboard And Access Services
Once you log in to the dashboard, go to
Services -> Select the service
. Once you have selected the service, the service details will be shown. Click on
Manage Service
to go to the control panel area.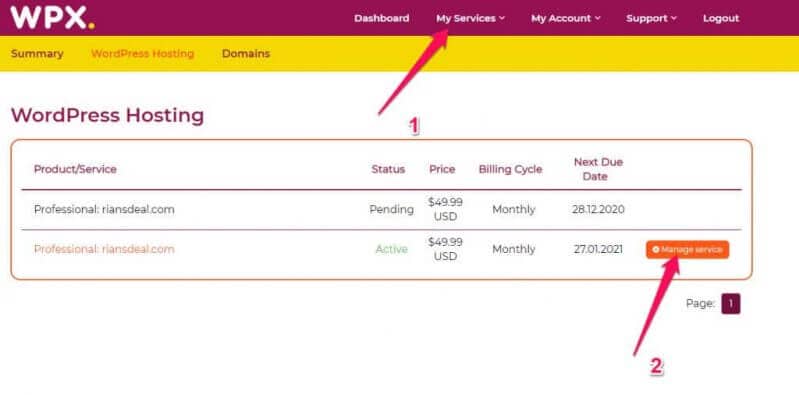 In the control panel, you will get all the information about your account. Please make a note of the
Nameserver
and update that in your domain registrar.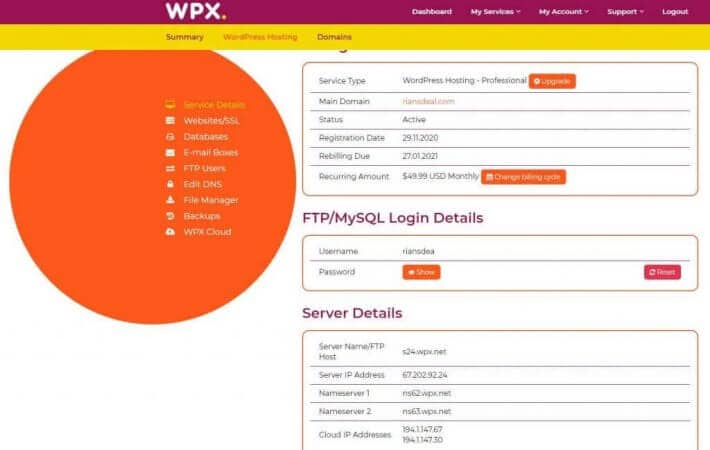 Before you install a website, first of all, click on the "
Website/ SSL
" and click on "
Add website
"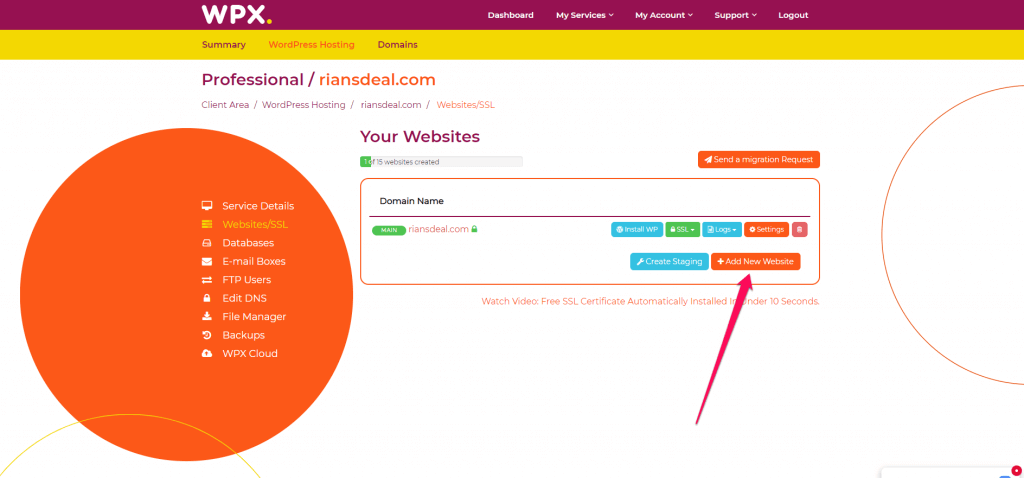 You can click on the setting for " Multisite Install" or change the PHP version
Enter the URL of the website and click add website. It will take about a minute to install the website.
Once the website is added, you can click on "
Install WordPress
" to install a fresh copy of WordPress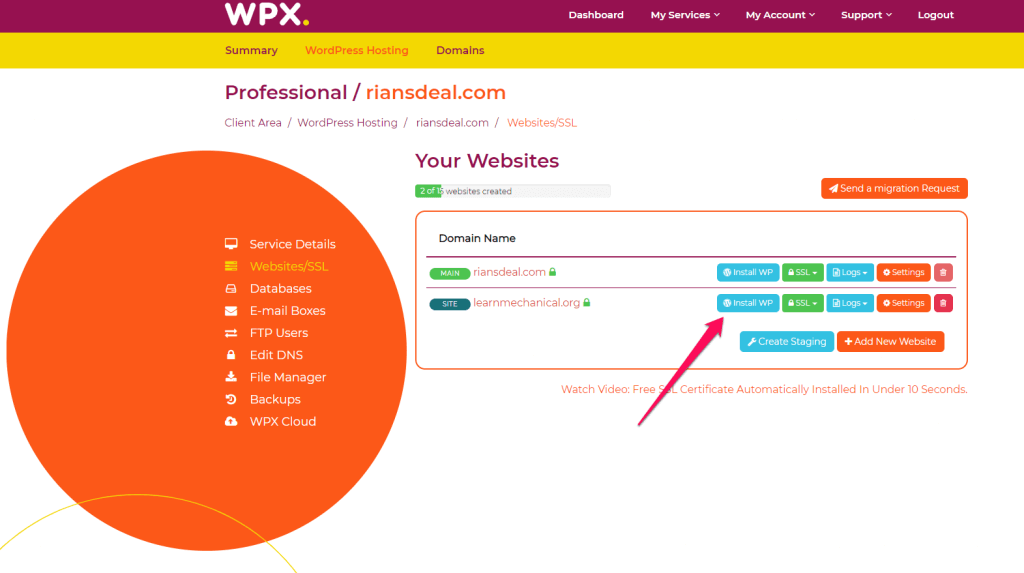 After that, you need to install an
SSL certificate
. It can be either paid or free as per your requirement.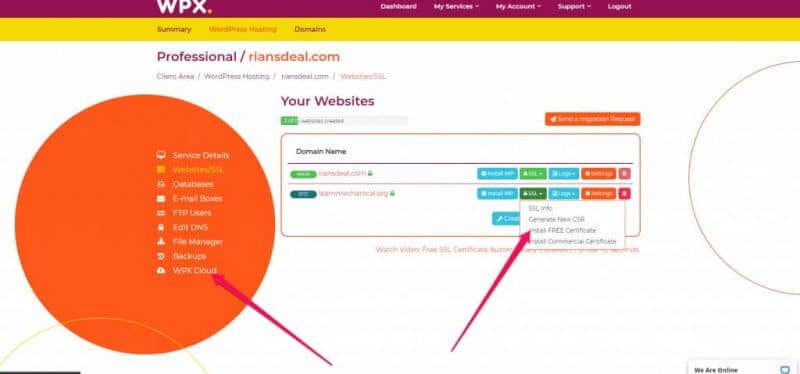 Once SSL is installed, click on "
WPX Cloud
" and make sure it is turned on. If not active, then "
Activate
" it. For new websites, it takes about an hour to copy website content and serve from the CDN.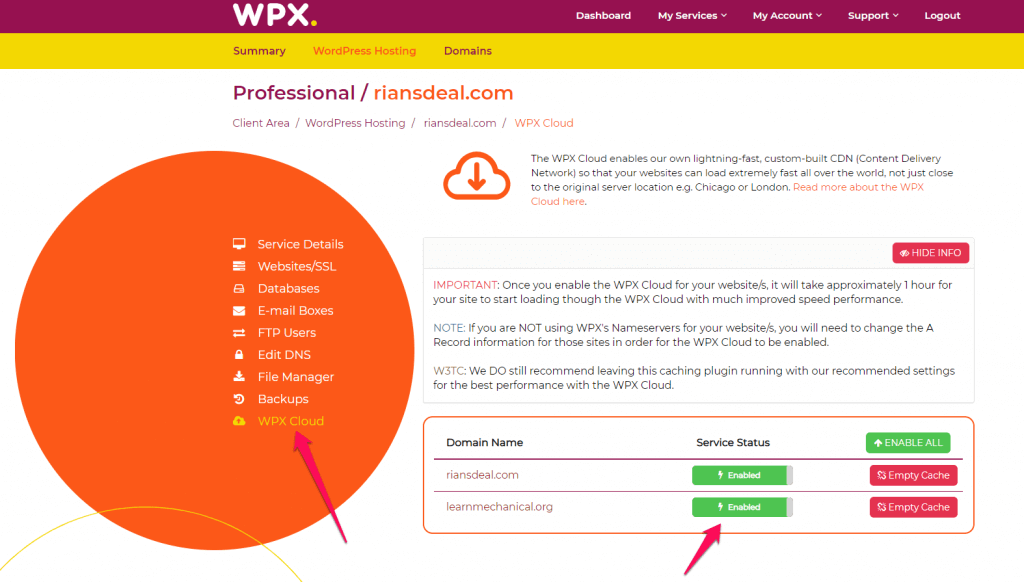 Now we are done with the basic steps. If you want to transfer a website, you can simply go to the file manager and upload your website files.
I would recommend using the Duplicator plugin to do the transfer process. Here is a video to explain the process.
In case you are not comfortable, you can always raise a ticket for the WPX support team to do the transfer.
Please make a note that the file manager in the WPX control panel is a bit different from the traditional C panel.
For example, you can see all files of your root domain under
Public_Html
. But if you want to access a file for any other domains, you need to go to the
domains
and select the specific domain.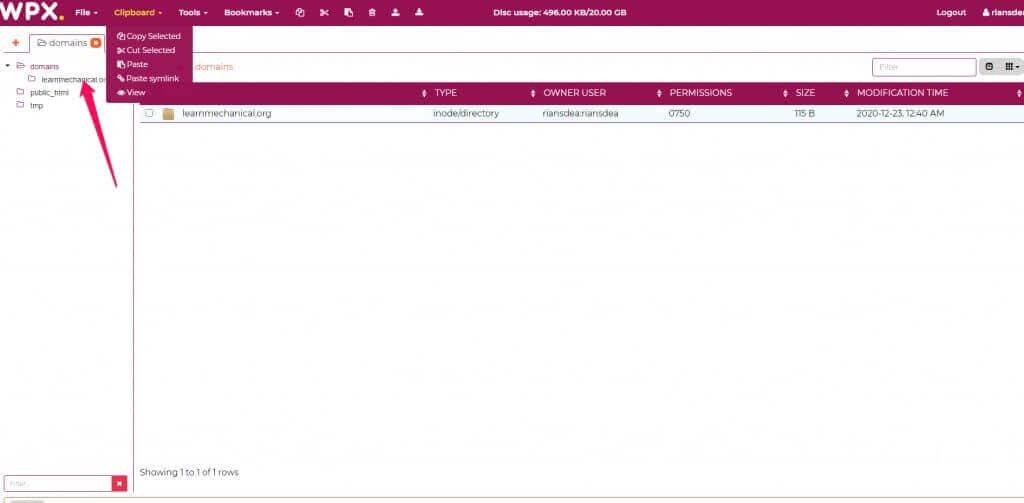 WPX Hosting Positives And Negatives
Lite Speed Web Server [ Best for speed and performance]

Excellent customer support

30 days money-back guarantee

28 days data backup

Datacenter in the USA, UK, and Australia

Free Lets Encrypt SSL for all websites

Multiple layers of security to protect your website

Spam-free email hosting [ Ensures that emails reach to inbox and not Spam]

Free website migration [ No hassle of moving your website]

Fully managed intuitive user control panel [ May feel pleasing to your eyes ]

SSD Storage in all plans [ Better speed than HDD]

User account isolation [ Ensures better safety]

Less number of client per server [ That ensure faster load time]

Dynamic caching in all plans

Server level caching [ Complements the fast speed]

WPX Cloud CDN with 26 endpoints
A bit expensive for a beginner

Only 10 GB SSD in the business plan
Bandwidth limitations in the first two plans

WPX CDN is not that effective for dynamic websites like eCommerce stores
Excellent Customer Reviews
We checked the customer reviews about WPX hosting on Trustpilot, G2, and Facebook, and everywhere they got almost 5-star ratings.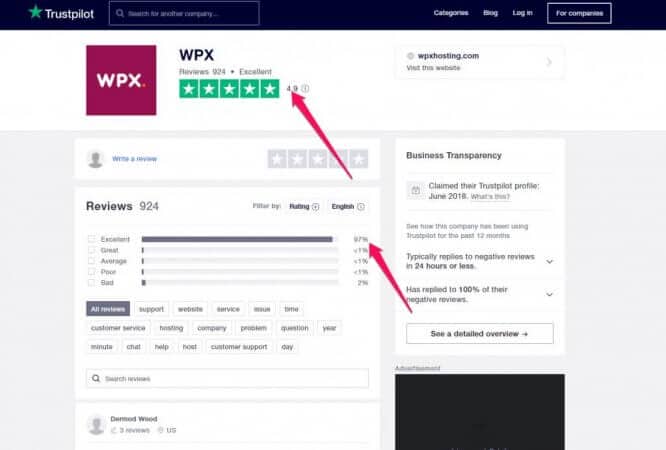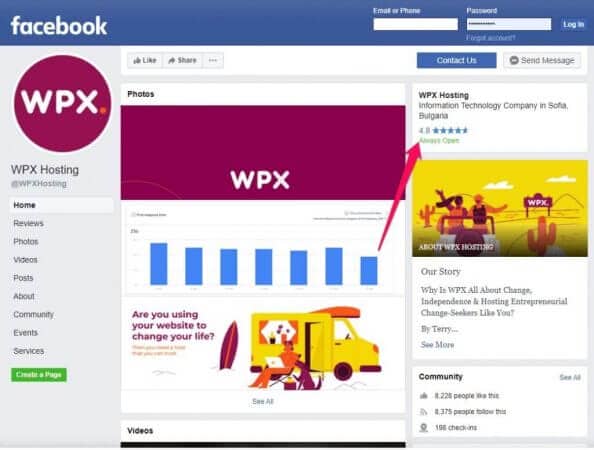 Conclusion: WPX Hosting Review
Although a bit expensive for newbie bloggers, if you want to start your blogging with the best web hosting company, then you should go for WPX hosting.
If you want to get a good deal on WPX hosting then you should look for WPX hosting Black Friday deals or WPX hosting cyber Monday deals when you will get exclusive offers.
They are the best in terms of Speed and customer support which is very critical for running any website. Right?
I had a very good experience with WPX hosting and I hope you will have the same.
WPX Hosting Alternatives
We never review any web host without discussing the alternatives. As per my experience and reviews, I believe Stromonic, and Rocket.net services are very good and can be a good alternative.
Stromonic Hosting
Stromonic is a new entrant in the Web Hosting business but within a short time, they could able to establish themselves as a key player.
The server infrastructure and pricing are almost the same as WPX hosting. They also use the Lite speed server and their own custom-built CDN.
They use the Litespeed enterprise plan. So you will get so many premium features free of extra cost.
Stromonic Hosting
Managed WordPress hosting is the demand of the market especially when the web hosting market is flooded with shared …
Rocket.Net
Rocket.net is fairly a new company established in 2020. But they have some excellent plans that can even beat Kinsta. Like Kinsta, Rocket.net also uses the NGNIX web server, but the real trump card is the Cloudflare Enterprise Plan.
All rocket.net customer gets the Cloudflare Enterprise plan for free. On top of that, you will get Sectigo Premium SSL for free which will save almost $700 per year.
Apart from that, Rocket.net uses an edge cloud that is much faster than the traditional cloud.
I recently reviewed Rocket.net and I am simply blown away by the speed. The support of the Rocket.net team is also awesome. Here is the link to the rocket.net review.
The pricing is almost similar to WPX and Kinsta. Even the topmost plan for $200 is a great deal for high-traffic blogs. You can try any of the rocket.net plans by paying just $1 for the first month.
Rocket Hosting
Managed WordPress Hosting is an ADDICTION! Trust me, you just can't go away from Managed WordPress Hosting once you …

WPX Hosting Review [June 2022][ Best Premium Hosting]