WordPress is not an out-of-box eCommerce platform. But you can make it one with a single plugin 'WooCommerce'. WooCommerce transforms the CMS software into a platform with the functionalities of a normal online storefront.
Note that the WooCommerce plugin will not be able to single-handedly help you achieve your required store configurations. However, you can achieve this with other plugins that are custom-designed to extend the functionality of your store.
The WooCommerce plugins help to improve the quality of your store and make the shopping experience smoother for your customers. Take a look at the list of Best WooCommerce plugins that can help you create a wonderful store experience. 
Best WooCommerce Plugins [ At A Glance ]
WooCommerce PDF Invoices, And Packing Slips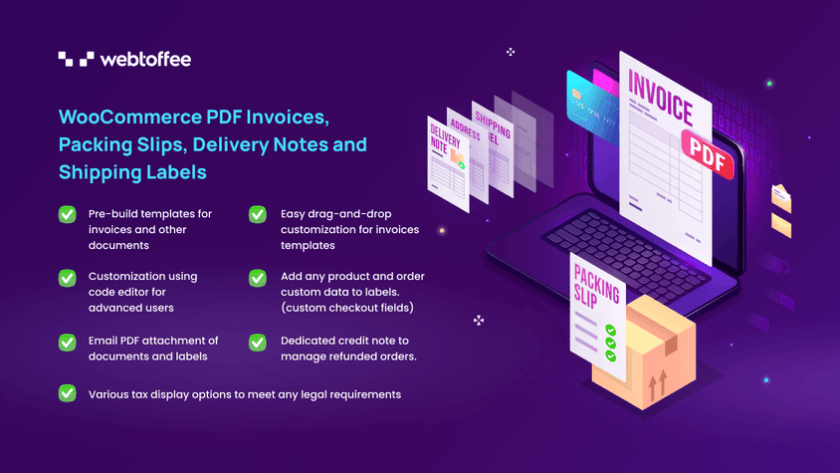 The WooCommerce PDF Invoices and Packing Slips is a WordPress plugin that focuses on generating and printing documents that are essential for you to fulfill an order.
This tool is compatible with several essential WooCommerce plugins, including the multilingual plugin WPML. It also lets you comply with the invoice regulations of your country or region. It even generates documents that are compatible with multiple papers and printers.
The plugin is available in two versions, a free and a premium version. The free version of the PDF Invoices plugin addresses some essential document requirements such as invoices as PDFs, delivery notes, dispatch labels, packing slips, and shipping labels.
You can download or print all the mentioned documents from the orders page using the free version of this plugin.
The Pro version of the WooCommerce Invoices plugin offers many additional features that would help you create more professional-looking documents that suit your brand.
Key Features Of WooCommerce PDF Invoices, And Packing Slip Plugin
Multiple template availability
Options to customize templates
Dynamic block customizer
Option to add 'Pay Now' link to the invoice
Multiple packing options
Bulk printing
Send documents via email
Customize return policy, footer, and even invoice number
Direct Checkout For WooCommerce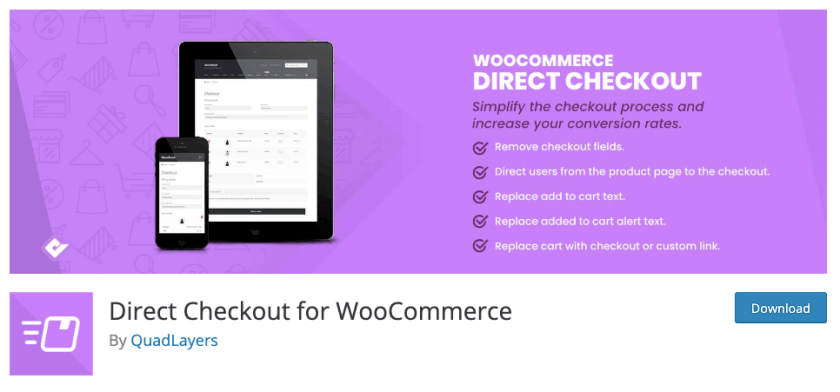 The Direct Checkout for WooCommerce plugin enables you to slash down the number of unnecessary steps on your Checkout page. Optimizing this would encourage more customers to carry forward with the purchase and would reduce customer fallout.
With this plugin, you can even skip the navigation to the cart page during the purchase process. That is when a customer is purchasing an item, instead of asking them to go to the cart page you can directly take them to the checkout page. This helps with faster purchases and reduces the chances of cart abandonment.
Optimizing checkout enables customers to easily reach the payment process. This would help to acquire more conversions. The plugin uses Ajax add-to-cart functionality.
This enables you to add products such as simple, variable, grouped, and virtual products to the cart without reloading the entire site every time.
In addition to skipping the cart page, you can skip other fields on your checkout page that you feel are unnecessary. The plugin even allows you to speed up the checkout process with a quick purchase button for single products.
The button takes the user directly to the checkout page, circumventing the requirement for adding the product to the cart first. You can even edit the items from the checkout page with this plugin.
Key Features Of Direct Checkout Plugin
Remove checkout fields
Remove cart page
Edit from the checkout page
Avoid checkout page reload
YITH WooCommerce Wishlist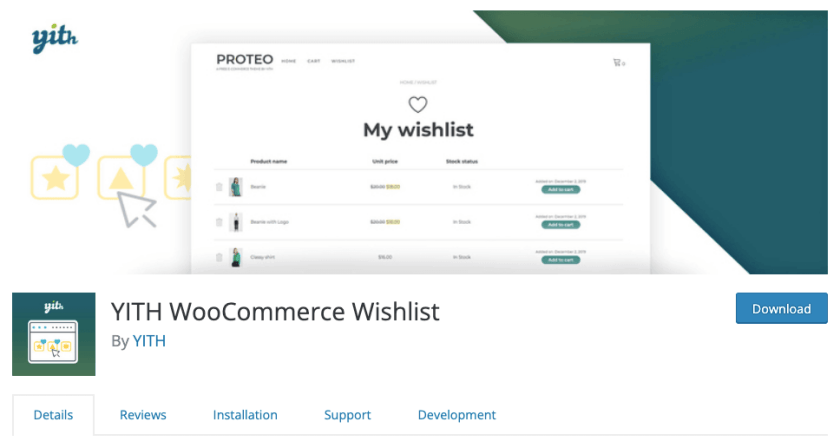 Give your customers an option to save products for later with the YITH WooCommerce Wishlist plugin. The plugin creates a space for your customers to store the items they are interested in.
This is a potential sales tool that first helps to build a relationship with your customers. Customers can come back and purchase the products that they add to their carts at any later point in time.
Reminding customers of past interests often helps them to make faster decisions. It also helps with improving customer satisfaction.
The wishlist created with the plugin can be shared with friends & family or on social media. A customer can create multiple lists with custom names with the WooCommerce Wishlist plugin.
The plugin facilitates an 'Add to Wishlist shortcode that can be used to show the wishlist button anywhere on your website.
Additional customizations such as changing the number of columns and products showing on a page can also be done with the plugin.
Key Features Of YITH WooCommerce Wishlist
Place the 'Add to wishlist button anywhere with the shortcode
Customize columns on the wish table
View wishlists created by the logged-in customers
View the most popular products on the wishlist
Sent emails to customers who added specific products to their wishlist
Smart Coupons For WooCommerce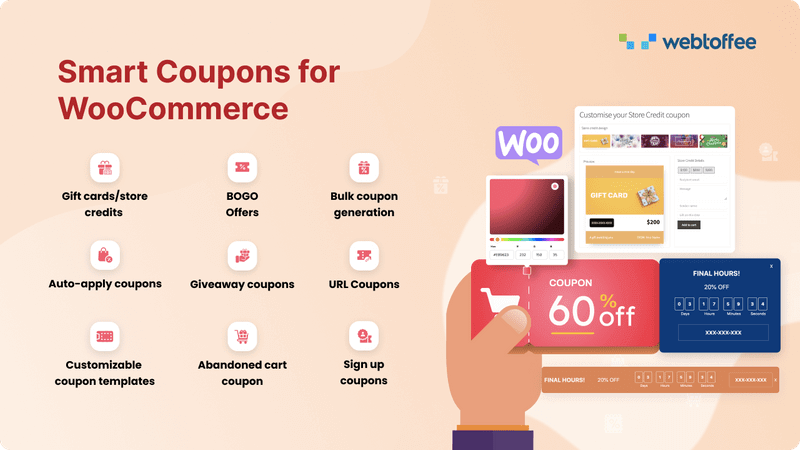 The WooCommerce advanced coupon plugin helps you generate various coupons of all complexities with ease. With this coupon plugin, you can create different types of coupons such as gift cards, store credits, BOGO offers, giveaway coupons, and more.
The plugin helps with creating different types of WooCommerce coupons suitable for businesses across all niches. The plugin comes with several coupon restriction options to create coupons of varied complexity.
You can create coupons with different discount types such as a fixed cart, fixed product, percentage, and BOGO. In addition to these, you can bulk generate coupons, create cart recovery coupons, customize coupon templates, and create coupon URLs with this plugin.
The plugin is available in two versions, free and premium. The free version of the WooCommerce coupon plugin gives access to some of the basic features associated with coupons.
To avail of the full functionality of the WooCommerce coupons plugin, you will need the premium version of the Smart Coupons for the WooCommerce plugin.
Key Features Of Smart Coupons For WooCommerce
Volume/quantity-based coupons
Coupons based on min or max spend
Nth order coupons
Category based coupons
Specific product coupons
User and user role-specific coupons
Coupons based on shipping methods, payment methods, and country
Google Analytics (GA4) For WooCommerce
The Google Analytics plugin for WooCommerce enables you to set up Google Analytics 4 for your WooCommerce store. The plugin helps you measure the success of your store with the analysis and reports that it offers.
You can also use this plugin to manage your products in the Google Merchant Center (GMC). The dashboard and reporting sections of the plugin let you deduce how your customers are behaving on your online store. The plugin is also essential in finding out the sales channel that performs the best.
You can also identify the most profitable products or pages of the site, the one that is acquiring losses, and more with this plugin. The integration and frequency synchronization between the plugin and the GMC help you maintain an updated product feed.
Key Features Of Google Analytics (GA4) For WooCommerce
Dynamic remarketing tags for eCommerce events
Ability to manage Google Ads
Automatic product sync across your stores on WooCommerce and GMC
Compatible with several prominent third-party plugins.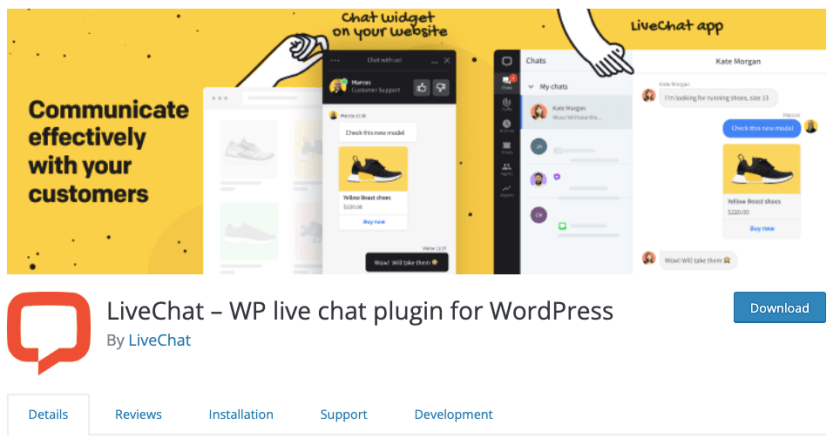 LiveChat is a communication plugin for WooCommerce that enables you to connect with your customers while they are browsing through your store.
In addition to normal chat, you can use this tool to build users to your email mailing list, send out personalized messages, and more.
The plugin also enables you to set up targeted messages. You can use these to keep your customers engaged or draw their attention to something that you want them to engage with.
LiveChat offers several customization options that enable you to set up a chat box that matches the theme and style of your store. Moreover, you can set up quick replies to address frequently asked questions and use chat tags to make communication smoother.
The plugin enables you to maintain multiple chat windows across different pages to let you cater to your customers as fast as you could.
Key Features Of Live Chat
Compatibility with popular WordPress site builders
Compatibility with email marketing and social media plugins
Automated messaging
Subscriptions For WooCommerce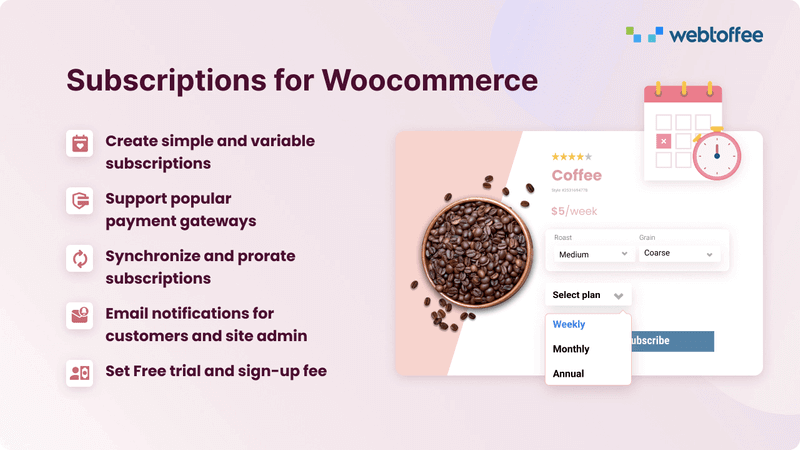 This WooCommerce subscription plugin from WebToffee enables you to offer subscriptions as products to your customers. With the plugin, you can create simple and variable subscriptions with ease.
The plugin is compatible with popular payment gateways such as PayPal and Stripe. This makes automatic and manual payment renewal easy for subscription products. You can also manage multilingual websites using this plugin as it has built-in translation compatibility for 10 languages.
In addition to the subscription product creation, the plugin also helps with notifying customers of their order statuses. You can configure automatically sending email alerts to your customers upon canceling, expiring, suspending, and completing your WooCommerce subscription orders. You can also trigger alerts to remind customers of the subscription renewal.
Moreover, you can customize the texts related to your WooCommerce subscriptions; allow purchasing normal and subscription products together; allow downloadable product dripping, and synchronize subscriptions with the plugin.
The plugin adds convenience in subscription management to both you and your customers. 
Key Features Of Subscriptions For WooCommerce
Free trial for limited periods for subscription products
Charge sign-up fees
Adjust the subscription expiry
Customize the renewal duration
Payment proration
Subscription synchronization
Recurring subscription discounts with WooCommerce coupons
The WooFunnels plugin lets you set up the most intuitive and conversion-optimized conversion funnel. The prime focus of the plugin is to improve the customer experience, thereby boosting the acceptability and sales of the online store.
The plugin enables you to build an ecosystem with opt-in pages, flexible checkouts, thank you pages, and more with minimal time and effort. You can also set up upsells or cross-sells on the respective pages to create maximum interactions.
WooFunnels can be a critical tool employed to lower distractions, generate high-valued orders, and improve conversion rates. The plugin offers conversion-optimized templates that let create conversions or gather leads.
Key Features Of WooFunnels
Opt-in and landing pages
Global checkout pages
One-page checkouts for quick conversions
Order bumps that are highly targeted
Customized thank you pages
YITH WooCommerce Quick View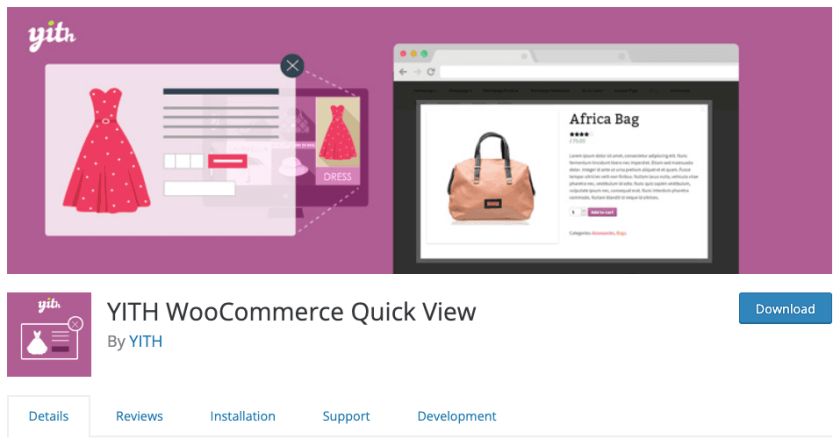 Customers are always interested in what they can see. So if your product image is a little too small or has a high loading time will have a negative impact on its sales.
The YITH WooCommerce Quick View plugin from YITH enables you to add a quick view widget to your store that lets your customers view the product along with a short description. This helps to keep the attention of your customers on the things that they want.
The plugin adds a modal window to your store which will be opened upon clicking a Quick View button. You can customize the style of the window using this plugin.

Key Features Of YITH WooCommerce Quick View
Modal window style customization
Supports enabling Lightbox
Edit the name of the quick view window
Shows a description of the product with the most important features and qualities
Product Addons For Woocommerce
Product Addons for WooCommerce plugin lets you add custom fields to your WooCommerce products page. The plugin lets you add any kind of product fields or options to your store, be that may input fields, checkboxes, drop-downs, or something else.
This enables you to provide customized quality products to your customers. For example, say your customer wants to purchase a custom ring with a text engaged from your store and wants it gift-wrapped.
They cannot do this on the generic product page. However, this plugin provides you with options to ask your customers for special instructions and gift wrapping.
You can even allow full customization of the product and ask customers to name the price using this plugin. This improves the customer experience and therefore can help improve sales.
The key features of the plugin are its ability to add custom product options to the product page with a drag-and-drop builder. The following are some of the key elements that you can add to the product page this way.
Text field
Number field
Radio field
Checkbox field
Select field
Text area field
Data field
Color field
Hidden field
Password field
Email field
Sequential Order Numbers for WooCommerce
Sequential Order Numbers for WooCommerce is an order sequencing plugin that allows you to re-arrange the numbers of your WooCommerce orders. The plugin also lets you set up custom numbering systems for your orders.
By default, WooCommerce uses that same numbering sequence that it uses to number orders for all its files and media.
This includes orders, posts, pages, images, and other media files. So, if you add an order followed by an image to your store, the image will get a custom ID which would be one more than that of the order. That is, the next order can only have an ID that is two more than that of the previous order.
The irregularity in numbering can cause serious problems in managing the orders in the store. This is where the sequential order numbers plugin can help. The plugin lets you set up an independent numbering system for your orders.
You can decide the starting number, the number length (a constant difference between 2 consecutive order numbers), number prefixes, and more with this plugin.
In addition to the free version this WooCommerce order management plugin also has a premium version with more sophisticated features.
Some of the key features of the free version of the Sequential Order Numbers for WooCommerce are,
Set custom starting number for the orders
Set custom prefix and order date prefix
Choose the order number template
Disable changing the existing order numbers
Order number preview
Allow admin to search for specific order numbers
The WooCommerce Multilingual & Multicurrency with WPML is a multilingual plugin that provides language translation services. In addition to translating, the plugin also offers multicurrency features that are essential to selling products across countries.
The plugin automatically identifies the currency of the customer's location and dynamically displays it to the customers.
You can also configure currency switchers in your store with WPML. WPML also helps with formatting currencies, setting custom exchange rates, or connecting with automatic exchange rate services.
WPML also helps to set up custom rates and shipping charges in different currencies. In addition to currency features, WPML will translate the entire store for you based on your language requirements.
Some of the key WPML translation features include,
Translates all WooCommerce products including simple, grouped, variable and external
Translate product reviews, product categories, and attributes
Maintain the same language throughout your store
Translate emails to clients and admins in their language
Show options to use the local currency based on the website language
Wholesale For WooCommerce
Wholesale for WooCommerce is a plugin for WooCommerce that you can add to your store to
show products at wholesale prices and sell them.
With just one plugin, you can make your WooCommerce store ten times more profitable by adding modern wholesale features.
You can make a wholesale section for your WooCommerce store that works perfectly in just a few minutes.
This is the ultimate WooCommerce wholesale plugin that help you in managing your ordering
process, product prices, and various wholesale user profiles. All in all, it offers you complete
control over everything you need to sell to your wholesale clients.
Key Features Of Wholesale For WooCommerce
Wholesale coupons
Requisition list
Manually add wholesale products
Custom payment methods
Make pricing rule that are tiered
Notification for specific user roles
Translation using the WPML plugin
Option to change pricing labels
Add wholesale pricing for WooCommerce products
Restrict product visibility
Set the minimum order quantity
Define and manage wholesale user roles
Order Delivery Date For WooCommerce
The Order Delivery Date for WooCommerce is a plugin that lets your customers pick a date and time of delivery. The delivery experience is a crucial thing that shapes the minds of customers. Allowing customers to select a time of their convenience for delivery will help you deliver a personalized shopping experience to your customers. 
The plugin also makes order management easier for the store admin. You can avail about 20+ features using the free version of the Order Delivery Date plugin.
The plugin is even compatible with renewal orders. For automatic renewals, the renewal date and time will be automatically selected based on the previous data. In the case of manual renewals, the renewal date is selected based on the renewal period at checkout.
The plugin offers multiple delivery date selection options, condition-based delivery date selection options, and some admin controls. Listed below are a few of the plugin features,
Enable customers to select the delivery date at checkout
Disable delivery on weekdays that you would not deliver
Disable delivery for virtual and featured images
Set maximum delivery limit per day
Limit the number of orders to be placed on a day
Allows admin to edit the delivery date and notify the customer
YITH WooCommerce Compare plugin by YITH is a WooCommerce extension that enables your customers to compare the products in your store. Quick product comparisons help customers reach a conclusion faster, this can positively impact your sales figures.
YITH offers a comparison table where all the products to be compared are added. The tabular format lets customers easily identify the differences between the products.
The entries in the table are decided by the attributes of the product. You can add new attributes during the product configuration.
The key features of the YITH WooCommerce Compare plugin include,
Add a compare button to the individual product pages
Displays a comparison in a tabular format
You can choose which attributes to be compared
Translations to a few languages are available
Adds the comparison module as a pop-up. This way users are not forced out of the page they are shopping from
15. Orders, Coupons, Subscriptions Import Export
This WooCommerce order import export plugin lets you export data regarding orders in your WooCommerce store as CSV files.
This plugin lets you selectively export the required data from your store with the help of several filters and advanced configurations. You can also export the whole data in just a few clicks with this plugin.
The premium version of the WooCommerce import export plugin lets you import and export coupons and subscriptions in addition to orders.
This version of the plugin supports CSV, XML, XLS, and XLSX file formats. You can schedule exports and imports using this plugin. This WooCommerce tool also stores the history of transfers and the import-export logs.
The key features of the plugin include:
Supports ​​FTP, URL, and Scheduled Import or Export
Compatibility with several third-party WooCommerce plugins
Multiple filter options for selective import and export
Lets you bulk update the data during or after export and import
Conclusion: Best WooCommerce Plugins
One of the biggest advantages of selecting WordPress to run your store is plugins. It helps you extend the functionalities of your store with zero coding requirements.
Listed above are some of the best WooCommerce plugins in the respective niches. Some of these are paid plugins and some are available in free versions also. So be mindful of that while selecting the plugin.
I hope you have found this article helpful. Comment your thoughts below!
You may also like to read: 10 Essential WordPress Plugins For A Blog
Looking for Invoicing software for your business? Here is a nice infographic showing " How To Choose Invoicing Software?"