Are you in search of the Best web Hosting Free Trial without providing Credit card information?
Then, you are at the right place because I have curated a list of the best web hosting services that offer a free trial without asking for your credit card details.
Without a reliable web host, it's difficult for your blogs, websites, and online business to gain huge traffic.
I know things are not easy when it comes to deciding on a web host. It's a sad truth! When you are around with so many options in the market offering reliable and fast web hosting services, it is a tough deal to decide.
Being a blogger, I know the importance of your time and money. No Doubt, all the web hosting companies today offer a secured money-back guarantee, but you have to buy their plans to use it.
If you are starting things, investing money in something you don't know of its services can be a great concern.
Therefore, I come up with this article and have talked about the best web hosting free trials so that you can test their services without providing your credit card Info.
I tried to cover the following key points in this article about the best web hosting free trial
What Is Free Web Hosting Trial?
What are the Benefits of a Free Web Hosting Trial?
Who Should Grab The Benefits of Free Web Hosting Trial?
List Of Recommended Free Web Hosting Trail?
What are the Notable Features of Each Web Host?
Free Trial Period of each web host
What Is Free Web Hosting Trial?
A Free web hosting trial is nothing but enjoying any web host company's services for a specific duration without paying a single penny.
Free doesn't mean that its services are only limited to Shared Hosting. It includes managed WordPress Hosting, Cloud Hosting, and even VPS hosting. So, if you are thinking that way, I would say No need to worry.
It is true, all the leading web host providers offer a great 30-days money-back guarantee, which you can claim to get a full refund if in some cases you don't find its services as per the benchmark you expected.
But always there are some terms and conditions that may bother you when asking for refunds.
The most obvious point of discussion here is, that you are paying for something that you never experienced; you are not really sure if you will stick to them or not in the future.
Other than that, you can't claim to get a refund of the domain expenses; that is not going to be worth your decision when you have the option of getting a free host trial.
That's why I always suggest, that getting a free website trial is a fruitful option for you. It prevents you from hassles of money back and gives a clear picture of all the useful services associated with it.
How can a Web Hosting Free Trial benefits you?
Here, I have pointed out some benefits that you will get if you use a free website hosting trial.
The first benefit I found in the website Hosting free trial is that you won't have to pay a single penny for any web host company's hands-on services.
You can be assured of all the services like uptime, page loading times, response time, citation flow, trust flow, optimization, disk space, bandwidth, etc., are sufficient for you or not.
When it comes to having a good web host, The support system is quite a concern for most of you. So, in a free web hosting trial, you can double-check whether the customer and live chat support system is highly engineered or not.
On top of that, you can experience different hosting types such as Cloud Hosting, Managed WordPress Hosting, VPS, and many others.
Besides, to enjoy free services for a specific period, a Website hosting free trial also allows you to use unique features offered by different web host companies.
By using its free services over some time, you will easily opt for the best web host that can fulfill all your hosting needs.
Who Should Go With The Web Hosting Free Trials?
Beginners
If You just started things and you are facing which web host company I should go for?. Then, it's nothing better than engaging with the web hosting free trial.
Please note that shared hosting is the best for beginners to go with, and in terms of hosting, A2 Hosting can be a useful companion.
A person to take your business online
Today, everybody is shifting their business online, and if in case you too, then it is always better to get accustomed to the website hosting free trial once before buying any hosting plans.
Existing Users
Suppose you are the existing user of any web host company and charge a lot of money with the limited services.
So, I would suggest no other option than using a website hosting free trial once; you will be clear with your mind about which web host offers the best services with decent rates.
Looking for More Features
Suppose your current web hosting company does not give you some extra features like a staging area, and regular automatic backups.
You should consider the website hosting free trial; this can be a great option, letting you know which web host provides more features at the same price.
For VPS and Cloud Hosting Users
If you are done with the shared hosting and want to switch to VPS and Cloud Hosting, then a website hosting free trial with no credit card is a great option for you.
Downtime Issues
If downtime is a big concern for your websites, you should go for a web hosting free trial for a specific period of time to get to know which web host provider provides decent uptime with free website migrations.
Site Speed
For the website to load faster, Server speed is one of the vital aspects that need to be addressed.
If you are using any hosting that faces low site speed more often, it's time to switch to the web hosting free trial. It helps you find a web host provider that loads your site page faster.
10 Best Web Hosting Free Trial Providers [At A Glance]
Here is the list of the top 10 Best web hosting free trial providers. Although many other web hosts offer free trials, these are best in terms of speed, features, and customer support.
1. Cloudways
Of the best web host providers in the market, I have found Cloud ways is at the top position. The reason is simple, it is the best-managed Cloud Hosting Provider. As you can see from this Cloudways review, they are truly the best at what they do.
If you are looking to focus more on building great websites rather than complexities, I suggest you go with the Cloud ways hosting provider.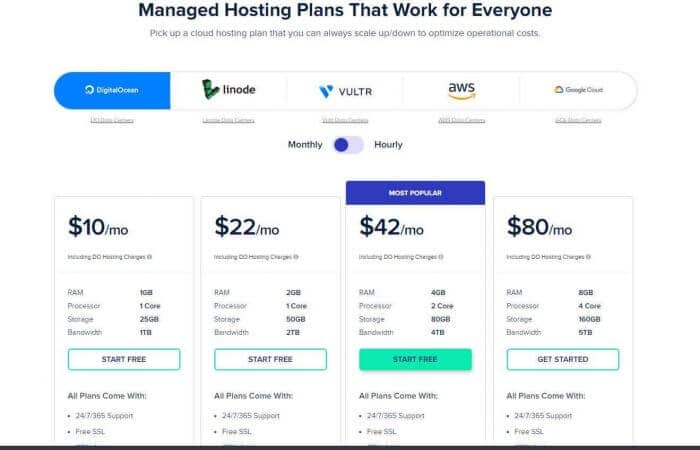 It is the best and most managed cloud server platform, ensuring great security to your website by preventing it from intruders.
Whether you talk about its customer support system and the services like free SSL Certificates, Free Website migrations, Free CDN, Blazing fast speed, etc. it offers are impressive.
On top of that, It supports major cloud providers including:
Digital Ocean
Linode
AWS
Google Cloud
So, If you are looking for the Best free cloud hosting with no credit card then Cloudways is indeed a go-to option for you.
Cloudways Hosting Key Features
Free SSL Certificates
Comes with Free CDN
Regular automatic backup
24×7 customer support system
Enhanced security
Equipped with a great user-friendly interface
Free website migration
Blazing fast website speed
Compatible for high-traffic sites.
Provides unlimited Installation of Applications.
Grants SSH and SFTP Access
Gives a staging environment
Have Dedicated Firewalls
Comes with HTTP/2 Enabled Servers
Cloudways Hosting Free Trial Period
Cloud ways offer a 3 days web hosting free trial to its users.
2. Liquid Web Hosting
Liquid Web is a fully managed hosting services platform we currently have in the market today. If uptime is your concern, then no need to worry too much, as this web host provides an unrivaled hosting experience with the optimum uptime for your websites.
Other than that, you will have great customer support to resolve your queries 24×7.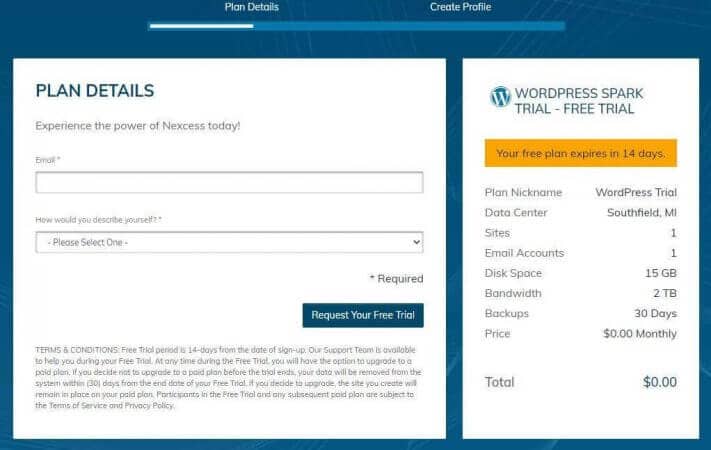 And the best thing that I have found in this web host is, that you can enjoy its Spark Plan for free for up to 14 days, with no credit card required.
Please note that Liquid web is a great option for people if your current web host can not increase traffic demand.
Liquid Web hosting Key Features
Comes with Unlimited Traffic Limit
Regular Updates and Automatic 30-day Backups
Free SSL certificates
Compatible with Managed WordPress hosting
Gives you Free CDN
Equipped with Managed WooCommerce hosting
Enhanced 24×7 customer support
Free website migration
Staging site
Provides Unlimited Email Accounts
Regular Nightly Plugin backups
Has iThemes Security Pro and iThemes Sync
Grant Access To Beaver Builder Lite
Liquid web hosting Free Trial Period
The Trial Period, you will get in this web host is 14 days for free.
3. Interserver hosting
If you are tired of excessive pricing and limited features of other web hosting services, then you can try Interserver web hosting. They offer excellent web hosting services at a relatively lesser cost.
It was seeded in 1999 with a primary focus to provide quality, service, and support to its users. And, since then it's now 22 years of their journey, technology has evolved but their strategy remains the same.
From Providing Quality uptime, free SSL certificates, a Virtual server, a dedicated server, and weekly backups, Interserver is the best choice available to go for.
You can try inverter server VPS plans for free for 30 days. The only thing is that while checking out you need to enter the code "tryinterserver". This is a great option as you can try their service before buying.
Interserver hosting Key Features
Comes with Unlimited Storage
Offers Free Migration
Get Weekly Backup
Provides 99.99% uptime guarantee
Compact with Fast website speed
With 450+ cloud apps
Ensures 30 days Money Back guarantee
Get an Unlimited FTP account
Powerful 24/7 customer support
Have Unlimited email accounts
Possess Website builder
Easy to use control panel (cPanel)
Designed with Global Content Caching
Interserver hosting Free Trial Period
The free trial period is for 30 days. While checking out you need to $0.01 to make sure that you are not a spammer.
4. Namecheap WordPress hosting
Namecheap is one of the most reputed names for buying domains as well as for hosting. It is one of the best low-cost web hosting service providers where you can buy shared hosting for less than a dollar per month, although that is suitable only for beginners.
Namecheap also has dedicated WordPress hosting services where you can get shared hosting optimized for WordPress.
So if your blog is on WordPress, then you can try their WordPress service for free for the first 30 days. If you like the service, you can opt for any of the plans. The pricing is excellent if you compare it with other web hosts.
NameCheap WordPress Hosting Features
Optimized for WordPress
Intuitive Dashboard
Up to 100 GB SSD storage
500K visitors capability
Free CDN and SSL
Namecheap WordPress Hosting free trial period
You can enjoy the free trial for up to 30 days with no credit card required
5. Cloudsigma
CloudSigma is a totally unique platform in the web host industry. It is known for offering Cloud servers and hosting services in SWISS, EUROPEAN, US, and APAC regions
Their hybrid cloud hosting platform is impressive. It allows its customers to optimize the balance of their workloads between private and public cloud infrastructure options.
With 50+ highly engineered employees, they are providing cloud and VPS hosting services in every corner of both Europe and the USA.
Though Cloudsigma is not as popular as other reputed cloud web hosts, you can try their service for free, and then if you feel that they are worth opting for, you can go with them
Cloudsigma hosting Key Features
Have all 10GigE networking
Comes with instant provisioning
Wide Resource Ranges
KVM virtualization cloud
Keeps your Data Safe from Prying Eyes
Profissional incident managment
It is the ISO Security Certified Cloud
Cloudsigma hosting Free Trial Period
Cloud Sigma offers 7-days web hosting free trial in its plans.
6. Hostgator Web Hosting
It won't be wrong to say that many of us have started our blogging journey with HostGator. Though there is so much concern with HostGator hosting but it still it is one of the best web hosting choices for beginners.
HostGator portfolio spread across shared hosting, cloud hosting, VPS hosting, etc. Out of that shared hosting plans are quite affordable.
Due to speed and security issues, many prefer not to go for HostGator. But in case, if you are interested, you can try their hosting free of cost for up to 30 days, and then if you feel that they met your expectation, you can continue the service.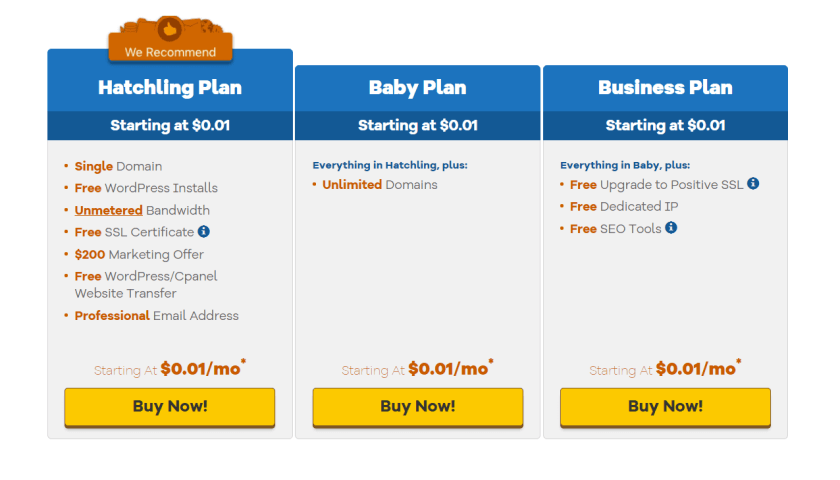 To enjoy the trial service you need to click on the below link and head over to make a payment of $0.01. HostGator charges this amount to avoid spammers. Please note that this trial offer is not available in all countries.
HostGator Hosting Features
Free domain
Unlimited website installation
Free migration
24X7 customer support
Free advertising credit
Unlimited bandwidth and disk space
45 days money-back guarantee
HostGator Hosting Trial Period
You can enjoy the trial hosting for a period of 30 days.
7. Accuweb Windows VPS hosting
Accuweb is one of the leading web host providers in the market. It is known for its extraordinary hosting services, for the last 14 years.
They have both Linux and Windows hosting options. Pricing is also competitive similar to other web hosts in the market. Accuweb offers the following hosting types.
Shared Hosting
Cloud Hosting
VPS Hosting
Out of all these hosting types, the price of VPS hosting is really good. With a starting price tag of $12 per month, it is really an awesome deal.
One of the other benefits is that all their servers are lite speed servers powered with lite speed cache. So definitely you will get a far better speed than other similar web hosts available in the market.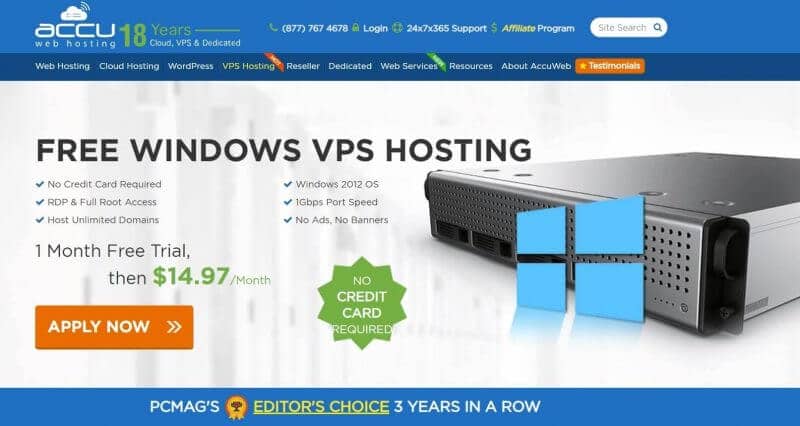 The free trial offer is only available in the Windows VPS hosting. You can enjoy the free service for up to 30 without using any credit card information
Accuweb Hosting Key Features
Host unlimited websites
Multiple data center location
Have lightning 1 GBPS port speed
Comes with a Remote desktop and full root access
Has Enterprise-Class Nimble SAN Storage
Equipped with a Web-based management panel
Latest PHP version
Having MySQL database
Daily Backup
Easy to use Control Panel
Server Firewalls
Dual Xeon E5 and E7 series servers
24/7 customer support
Accuweb Hosting Free Trial Period
Coming to the free trial period, Accuweb provides a 30-day free trial without asking you to share your credit card credentials.
8. Flywheel Hosting
Flywheel is another key player in the web hosting industry, famous for its managed WordPress hosting. If you are a designer or running an agency, Flywheel web host is something you should consider first.
Flywheel hosting is also famous among freelancers and creative team experts. The flywheel dashboard is intuitively designed to make everything easy to manage, and also saves time so that you can focus more on enhancing your business.
The plans are offering are similar to other premium web hosts like Kinsta and WP Engine. However, the pricing is not at all beginner-friendly. But when you are getting one month of free hosting without any credit then it is definitely worth trying.
Flywheel Hosting Features
Recommended by WordPress.org
Free SSL certificates
Offers Free CDN
Gives your website Daily automatic nightly backups
Equipped with a One-click staging site (i.e. site cloning)
Packed with a High level of security
Custom caching Is impressive (FlyCache)
No overage charges
24/7 enhanced live chat support
Blazing Fast speed Web host
Offers 14-day free demo sites
Grants Easy SFTP access
Equipped with Powerful dev tools
Flywheel Hosting Free Trial Period
Free Trial Period that Flywheel offers you is for 30 days.
9. Rocket.net hosting
Rocket.net is a real asset when it comes to delivering fast loading speeds to the pages of your sites. It is one of the best-managed WordPress hosting companies we have to make our website fast& secure. It is founded by two web hosting veterans who worked for two decades in the industry.
The major highlight of this web host provider is, that they used to bundle the Cloudflare enterprise plans with every WordPress site.
They offer a cloud edge location to host your website and offer premium SSL for free. The intuitive dashboard is a pleasure to navigate. The security is also top-notch in rocket.net hosting.
Although the pricing is not high compared to other web hosts in the same category, definitely for newbie bloggers it's a bit high. However, you can experience the hosting service for free for the first 30 days.
Must Read: Rocket.Net hosting review
Rocket.net hosting features
Comes With Cloudflare Enterprise plan for free
Free Website Migration
Clod edge locations (PoP)
Intuitively Designed dashboard
Enhanced Security System
24×7 live chat customer support
Sectigo SSL for free
Blazing fast Speed
Rocket.net hosting Free Trial Period
You can enjoy any of the Rocket.net web hosting plans by paying just $1. They charge this $1 so that they can avoid spammers. No credit card is required if you pay through PayPal.
Rocket Hosting
Do you know that if your website is taking more than 3 seconds to load, you might be losing more than 50% of your …
10. Exclusive web hosting
Exclusive Web Host Provider is one of the most useful web hosts in terms of handing huge traffic to your sites.
It does offer a great uptime of 99.9% to your site. Free Website migration, Free CDN, and Free SSL Certificates are also included in its hosting plans.
Apart from that, if you are a lover of themes. It offers 150 free site themes in its plans.
So, if you are looking to use a cloud hosting free trial, you should consider an Exclusive web host, as you won't need to provide any credit card details.
Exclusive web hosting features
Provide Unlimited monthly traffic
Daily automatic backup
Provide Unlimited disk space
Get access to the free domain name
Offers 99.99% uptime guarantee
Packed with 1-click WordPress, Drupal, Joomla, and other web app installations.
150+ free site theme access.
24×7 enhanced customer support
Exclusive web hosting Free Trial Period
The free hosting trial is available for 30 days with no credit card required.
Conclusion: Free Trial Hosting
It's time to wrap this review of Best Web Hosting Free Trial 2021. I have talked about almost every popular web host in a detailed manner.
Whether you talked about shared hosting, VPS, Managed WordPress, and cloud hosting. A free website trial is available for all. I don't know whether you are clear with your choices or not. I hope so. If you are still not clear, No Problem !. I am telling you.
If you are using shared hosting, then HostGator is the best possible choice for you. However, if you love cloud hosting, Cloudways is the best web host provider to go for.
I would suggest, based on your liking make a choice. However, If you still have some queries. Share with us in the comment section below. I hope you like this review.