Do you really feel that a domain name is really important for a blog? Well, many people may argue on this but domain name plays a big role in your blogging success. We know that the content is king but you can't ignore the importance of a domain name.
So in this article, we will list out 10 key points that you choose to consider while you choose a domain name. I must say that if you follow these best practices you will get the initial advantages in your blogging journey.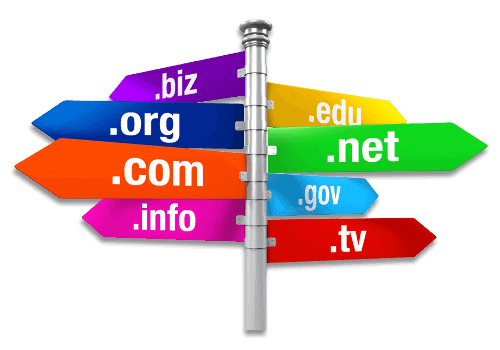 Importance Of Domain Name
It defines your brand: Yes, a domain name defines your brand. A right domain name can improve your brand recongnization. For example, RiansTech is a brand and the domain name is also RiansTech.
Improves SEO: If you add keywords in your domain name then it definately improves the SEO of your blog. For example if I plan to create a blog on SEO, I will go ahead with RiansSEO.
Adds Marketing Value: There are many people who buys attractive and branded domain and sell it for a premium price. So if you plan to do the same, then getting a good domain name will fectch more market value.
How To Choose A Domain Name ( A Good Domain Name)
Here are a few of the best practices that you should follow while choosing a domain name so that you should not regret it later.
1. Go for .com extension
Yes, almost 37% of all domains are .com domain extensions. Why .com is so popular? It's because .com attracts visitors from all around the world. Consider if this blog domain name was rianstech.in. This clearly shows that this domain name is targeting Indian visitors. So you will lose the chunk of worldwide visitors just because of the domain name.
In case you don't get the .com extension, then you can look for .org or .net. Although .org or .net does not carry the value like .com, at least those are better than others.
2. Use a short domain name
The short is better. Try to get a domain name with up to 6-14 letters. The more lengthy the domain name you choose, the more chances your visitors make a mistake while typing the domain name in the browser.
Although there is no SEO advantage if you choose a short domain name, visitors love to type a short domain name and that improves the bounce rate of your blog.
3. Avoid special characters or numbers
It is advisable not to use any numbers or special characters in the domain name unless it is really required. Consider if Facebook was face-book.com, do you feel that Facebook would have got the same success? May not be.
See, In terms of SEO perspective, there is nothing wrong with adding a hyphen or number in the domain name. But visitors do not like special characters or numbers and that's why we should avoid those if possible.
So the bottom line is that, stick with only letters.
4. Avoid generic domain name
Your domain name should reflect your brand and not any generic word. For example, if your blog deals in SEO and WordPress stuff, you may opt for a domain like WordPress SEO. But that won't give any advantage to you.
Both WordPress and SEO are generic words and there are tons of domain names already registered with these two words. You will soon lose in the crowd. That is why better to choose a domain name that is brandable like RiansTech.com.
5. Don't use copyrighted words
Be very careful in this regard. Blogging is not a short-term business. so you should be very careful in choosing a domain name and make sure that you don't use any copyrighted words in it.
For example, if in your domain name you have words like amazon or Flipkart ( for example), you will soon get a copyright violation notice for using these reputed brand names.
6. Choose a domain name that is easy to spell
If your domain name is not easy to spell, there are chances that visitors may type wrongly in the browser. So make sure your domain name is short, crisp, and easy to spell.
7. Choose a domain name that is easy to pronounce
Well, word of mouth is very important in the blogging business. If you choose a domain name that is not easy to pronounce, you will lose a chunk of visitors and you don't want that. Right? So choose accordingly.
8. Use the main keyword in the domain name
This is very much essential for SEO benefits. For example, this blog is all about technology and that is why this domain name ( RiansTech) has the word "Tech" in it.
This will help Google to understand what sort of content the blog may have. To get the most out of your domain name, it is preferable to use the keyword at the very beginning of the domain name.
9. Think long term and choose a domain name
As I always say, blogging is a long-term business and your domain name is the brand identity. If a choose the wrong domain name and later decides to change it, it is very difficult to do that.
On top of that, you will lose the brand, you will lose SEO benefits and you will lose visitors. So those wisely for long-term goals and choose a domain name.
10. Don't copy other domain names
This is one of the biggest mistakes that new bloggers do. For example, I own this blog ( Rianstech.com). Now if someone buys the domain rianstech.in thinking that he can grab my visitors then he is completely wrong.
As I said earlier the domain name is the brand identity. So even if you choose a copied domain name, you can't build the brand overnight. So never ever copy other domain names. Be unique, be special. That's the only way you can gain success in blogging.
Conclusion: How to choose a domain name?
Well, I understand, it is not always possible to follow all the best practices that I mentioned above to figure out A Perfect Domain Name For A Blog. But if it is feasible, you should follow a few of the rules and definitely you will get a good domain name. If required you can use domain name generators for the same.
That's all I have in this article. Hopefully, you got some useful information from this article. If you have any questions, then do write in the comment section and I will be happy to answer you.
You may also like to read: 10 best web hosting for bloggers