Are You struggling with your blog not ranking high in SERP? Are you in a mess? Did you figure out what's wrong going on with your blog post SEO?
Hold on!
You are not the only one facing this heat. I have faced it and you are likely to face it until you focus on a key aspect of SEO.
The Blog Description, In SEO terms we call it Meta Description. I had my fair chance of exploring this and I am going to share my tricks to write a perfect Blog Description with some Blog Description Examples.
Table of content
What Is Blog Description?
Let's dig into the above image. Did you see what is written next to the post title? It's a sneak peek of what the blog post is all about.
This is what we call the Blog Description or Blog Post description. It gives your intended reader an opportunity to explore what they might encounter if they click on the link.
Are you missing this useful trick in your blog post? If yes, Move on to the rest of the article
You will miss a great share of traffic just because you don't have a good blog post description in place.
Think in a different way, Would you click on a clink without a short description of that link. I Won't, Would you?
The same goes for your readers as well. Google is smart enough to understand this and de-rank your blog post.
So make sure you have a good blog description so that your reader and Google know what is your blog all about.
Types of Blog Description
If we talk in the context of a blog, there are mainly two types of Blog Descriptions. But you can add Meta Descriptions in every aspect of your website.
For example, Pages, Products, Services, etc.
Blog Description (Home Page)
This is the little piece of information that you plan to show against your blog home page link when it appears in Google SERP. Below is an example of Blogbyts Blog description.
Blog Post Description
A sneak peek of your post or article content that shows next to your blog post link when it appears on Google Search result pages.
Have a look at one of the blog post descriptions of Blogbyts
Why do we need to have a Blog Description?
Do Blog post description only helps in SEO?
Not At All! Let's list out what else can be achieved with a perfect blog description.
Promotes your business branding
Promotion of services you offer
Showcase the brand authority and loyalty
Build a brand reputation
Increase reader/customer trust
As we move on to this blog post, I will touch upon every point with examples so that you can relate to these terms with some actual scenarios.
Recommended Read: 10 Best Web Hosting For WordPress
What elements a Blog Description should contain?
Main keywords of your blog
A short summary of your services/range of products
Social proof/brand authority
Business mission and vision statement
The uniqueness of your business and expertise
How To Write A Blog Description
We need to have an SEO plugin to write a blog description. Most of you might be using Yoast, if not then you might be using Rank Math.
Let me show you both the cases of how to write a blog description. This is the place where you can share every possible information about your blog using your blog's main keywords. But remember, always write a description under 160 characters ( Including spaces).
Using Rank Math SEO Plugin
Using Yoast SEO Plugin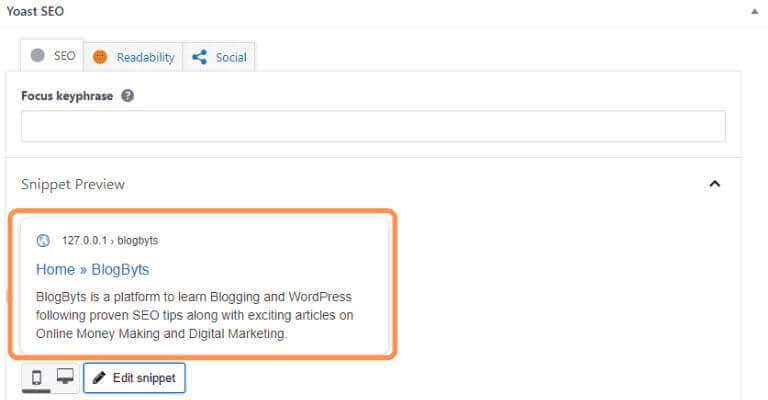 Recommended Read: 10 Best WordPress Themes for Bloggers
Best Practices to follow while writing Blog Descriptions
You will be delighted by the growing traffic to your blog if you can write a perfect blog description following a couple of best practices.
Here are some of those best practices with Blog Description examples.
Use no more than 160 characters
Make a note that you should not write a blog description having more than 160 words. Don't assume that if you write more, you will get more traffic.
Google only shows 160 characters of blog description in SERP. So better to stay away from writing a long blog description and concentrate on writing a crisp and on-the-point blog description.
In this example, you can see that the blog description is under 160 characters but still could able to explain what the website is all about.
Use Focus keywords
It's a best practice to include all the main keywords of your blog in the blog description. But don't include a keyword twice.
If you do so, it will be treated as keyword stuffing. Also, the blog description should look crisp and natural. For the sake of keywords, don't write a blog description that does not make sense against your post content.
In this example, you can see I have included focus keywords without repeating any keywords twice.
Also, the sentence looks natural and complements my blog offerings. Here are the keywords in my blog description.
Blogging
WordPress
SEO
Digital Marketing
Online Money Making
Show off your brand authority
Here you can see the phrase " Award Winning Blog". This is the brand authority of ShoutMeLoud.
Visitors tend to click on those types of links which shows the brand authority. This helps in gaining readers' confidence in your blog.
Express your Social Proof and Vision statement
If you see this example of The Verge carefully, you will notice that it covers most of the checkpoints that we wrote at the beginning of this article.
First of all, it shows the inception date to secure readers' confidence as people love blogs that are quite old and experienced.
Then it shows their partnership with Vox media to show off their social authority and then finally it shows the vision statement. It's a perfect example of how your blog description should be.
Build Curiosity among readers
This blog description of Root contains a question mark that creates curiosity among readers. After the question mark, it shows a glimpse of what you expect if you click on the link. This is enough for readers to click on that link.
Question mark brings curiosity and curiosity needs clarification. How can a reader clarify the curiosity? By clicking on the link that created the curiosity. Make sense?
Expose your expertise
People love to follow experts. In this example, you have noticed that the blog description clearly shows the "expertise" and that helps them to drive more traffic to their website.
Expertise also shows the authority and command in certain areas that readers love.
Show the USP of your blog
In this example of WP Crafter, you can notice that the blog description shows the USP of the blog by the phrase " Easy To understand" & " Completely explained videos".
That's something that attracts people to click on the link. This type of statement can make a website stands tall even with high competition.
Uniqueness of service
Backlinko Blog Description shows the uniqueness of their service by the phrase " Next Level SEO Training".
Why this phrase is unique is because every website claim to offer SEO training but when we talk about " Next Level", it is something that attracts readers.
Showcase Portfolio
If you look at this example, you will get a fair amount of idea of what kind of products BestBuy sells. On top of that they the tempting customers to click on the link with the phrase " Free Shipping".
A perfect example of a Blog Description is if you are selling any product through eCommerce websites.
Connect the emotional string
The below example shows how WeWork is trying to connect the emotional string of readers by the phrase " Revolutionizing the way people and companies work". This type of blog description works great when your website is providing any service.
Blog Post description
Writing a Blog Description is a one-time job for a website But for Blog Post every time you have to write a blog post description before publishing any article.
Writing a proper blog post description is a must if you want to rank that blog post. It shows a quick overview of your post content and helps readers to get an idea of what the post content will be if they click on the link. This helps in achieving targeted traffics and reduces bounce rate.
Having said that, you have to write a good blog post description, you should not write any wrong or misleading information.
If you do so, readers may click on your links but soon they will go back leading to a high bounce rate. You are in a tough race with so many articles trying to rank on the same keyword. So your blog post description should be attractive enough for your readers to get tempted to click.
How to write a blog post description
Every SEO plugin has the option to add meta descriptions for posts. Usually in the setup wizard plugin asks to enable blog post description. If not, you can change the setting on the plugin settings page.
Using Rank Math Plugin
Using Yoast SEO Plugin
Best Practices to Follow for Blog Post Description
The blog post description should follow some best practices so it helps the article to rank high on search engine result pages.
The Blog Post description should not be more than 160 characters long.
Should hint at a solution to a problem. People hate to see a problem, but love solutions
Offer countable results. People like numbers, so get their attention
Do not use the commanding word. People you don't like you dominate them.
Use strong and catchy words to grab the attention
Filter out unnecessary words. For example instead of writing " I have decided", you may write "let's Decide"
Stay away from negative words
Should have words to build curiosity for the intended reader
Don't use a single keyword twice in your blog post description
Use
LSI
or Long tail keywords in the second line.
Use the focus keyword in the first line of the blog post description
Should have about two to three lines max.
How to optimize blog post description for keyword
This is a very basic search algorithm of Google that, searches for keywords in the meta description after the title.
So first Google will check for keywords in the title, then the description, then the headers, and then followed by the rest of the contents. So if you place your article's main keywords in the blog post description, you have a higher chance of getting it ranked.
Buy Hey, Wait! I said to place keywords in blog post descriptions but that does not mean that you add a lot of keywords.
Google is smarter than me and you. Preference should be to use three to four keywords and make sure you don't repeat the keyword.
Always prefer to use the main keyword in the first line followed by LSI and Long tail keywords in the second line.
For the sake of ranking do not stuff keywords in such a way that the whole blog post description looks pathetic. Try to be more natural and add keywords in the flow.
Here is one video if you would like to see how to write a perfect blog description
Final Words
Crafting a perfect blog description or blog post description is an art. You should know how to write a complex thing in a few words but at the same time connect the strings of your reader. You have to make sure, you have enough words to provoke intended readers to click on your link
All best practices shown in this article are generic and may differ based on your type of blog and niche.
You may apply any or a couple of these tricks in your blog description or blog post description and hopefully, you will get a good outcome.
That's all I have in this article. Did I miss anything? Please do write in the comment section and I will be happy to reply to you back.