Are You fed up with bugs in Yoast? Looking for a switch? Here you go! The best alternative to Yoast, The Rank math SEO Plugin. Let's Figure out the battle between Rank Math Vs Yoast SEO
SEO plays an important role in blogging. Without proper SEO it's impossible to rank in search engine result pages.
One of the most popular SEO plugins for WordPress is Yoast. Recently I moved from Yoast to Rank Math for all my WordPress blogs.
Why did I move? Is that logical to move from an established player like Yoast to a new entry like Rank Math?
Let's find out in this article, the detailed comparison of Rank math vs Yoast SEO plugin. Along with that, we will also carry out the Rank Math review.
Why do we need an SEO Plugin
WordPress does not ship with an SEO module. So if you want to have SEO functionality in your WordPress blog, you have to have an SEO plugin.
Gone are those days when you can rank even without proper SEO. The reason being the competition was very low at that time. It's more than magic if you can rank without doing proper SEO
All WordPress SEO plugins come with an intuitive checklist to show you how your posts are SEO optimized. Those plugins check SEO based on numerous parameters.
Anything that shows wrong in the checklist can be worked upon and fixed before you publish the article.
Apart from on-page SEO optimizations, those plugins are also responsible for submitting sitemaps to search engines along with other off-page SEO activities.
Evolution of Rank Math: Rank Math review
I think the timing of the Rank Math launch was great. Early in 2019 when Yoast was struggling with numerous bugs, Mythemeshop came up with the Rank Math plugin.
People were looking for an alternative SEO plugin and Rank Math was bang on target.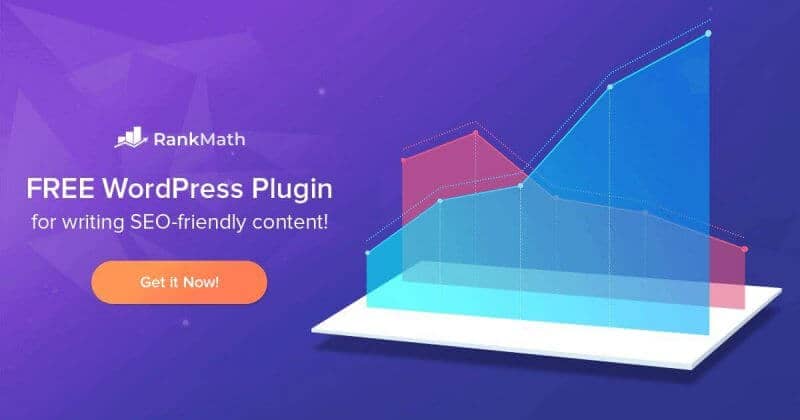 That's incredible because it is hard for people to dump the market leader ( Yoast) and go for a newbie like Rank Math. Not only did people switch to Rank Math but they actually loved it.
Rank Math Pro
Rank Math is one of the best SEO plugins for WordPress. The free version itself comes with many premium features that other competitors are dared to offer. The pro version has gone one step further and is offering some industry-first features that you won't get in any other SEO plugins.
Price: 59
Price Currency: USD
Operating System: Linux
Application Category: WordPress Plugin
Rank Math Features: Yoast Vs Rank Math
I was always fascinated by a couple of premium features that Yoast offers. I always wanted those features in my blog.
But the price for Yoast Premium was way too high for my budget. So I had to settle for Yoast Free.
With Rank Math, I had a chance to explore those premium features without any cost. Rank Math is so powerful and feature-packed that I could delete a couple of plugins as those features were integrated into Rank Math itself.
Having said that Rank Math is one of the best SEO plugins for WordPress, let's see how it stands against the market leader, Yoast. We will compare both plugins based on different parameters.
The Interface
The interface plays a big role in the overall customer experience. Rank math shows up in a setting wizard as soon as you activate the plugin.
The easy-to-use navigation will take you through smoothly without any hassles.
Although the initial wizard covers the basic setup, you can dig into detailed settings if you want to control Rank Math the way you want.
There are many settings options to control different Rank Math functionality
If you used Yoast or any other SEO plugins before, Rank Math has the option to import all metadata of all those plugins.
So you will no longer feel the pain of moving to a new SEO plugin. You can also connect to Google Search Console and other search engines on the go in the setting wizard.
If we talk about Yoast, I won't see much of a difference compared to Rank Math. It also has easy to use interface and smooth navigation. The problem is that most of the features are locked for the upgraded version.
Use Up To 5 Focus keywords
This is one of the features that I always wanted in Yoast Free Version. It is not always a smooth ride to play around with a single keyword and rank it high. Rank Math offers up to five focus keywords that can be used in a blog post.
The cherry on the cake is that while typing those focus keywords, Rank Math also auto-suggests common keywords from Google Search Console.
So you end up with keywords that are actually getting searched in Google. You can write your article based on those five focus keywords and you will have a higher chance of getting ranked in search engines.
Detail Content Analysis
Well, Content Analysis is available in all SEO plugins. How Rank Math outperforms is that it offers a detailed content analysis. Even minor checkpoints are also captured in Rank Math.
Detail analysis may not be required for an experienced blogger but for a newbie, it's a very good feature.
The content analysis checkpoint changes colors based on the focus keyword selected and how good the optimization has been done.
Below is one example of what the interface of content analysis looks like.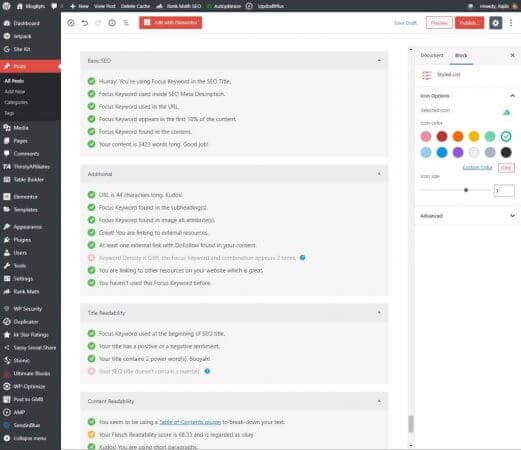 Ideally, we should target a score of 100 but it's not always possible. I personally target a score of 80 and that always worked.
One more good part of content analysis is that it provides ratings in numeric value unlike Yoast that only shows values as "Good" or " Bad".
404 Page Monitor
A 404 page shows up when a page was not found in your server but the user is trying to access it. This happens when you submit your blog post URL to google and then delete the post itself.
404 errors have a severe effect on SEO and gradually Google may de-rank your website if you don't fix it.
The best solution for the 404 error is to redirect the deleted URL to an URL that is currently present on your website.
Fortunately, Rank Math has this premium option out of the box. The moment you delete a post, Rant Math will ask you to add a redirect URL.
You can also set a global value for the 404 redirect URL. For example, I want all my deleted URLs to be redirected to the home page.
Yoast also has this feature but at the cost of a hefty premium for their paid plan. I wonder why Yoast is offering such important features only in paid plans.
Well, now we don't have any complaints as we have Rank Math to get rid of 404 pages.
Redirection Manager
You get a 404 error when you delete a post but a user tries to access it. Right? What if you don't delete the post but change the URL. In that case, we will get an error which is called the Redirection error.
However redirection error is not as severe as 404 but still, it has an impact. There are two types of re-direction. Error 301 is for permanent redirection and Error 302 is for temporary redirection.
Rank Math has a well-set mechanism to handle redirection. The moment you change the URL you will be presented with an option to add a redirection URL.
Now that can be your home page or any other page you want. Yoast also has the feature but only in the paid plan.
Inbuilt Schema Markup
Well, this is one feature that blew me away and I became a die-hard fan of Rank Math. I can't believe that an SEO plugin can offer schema markup also.
Those who are not aware of schema markup should look at the below image.
In this image, you can see the star rating, image, and voting details for search result links. This is called Rich Snippet and can be achieved only through schema markup.
Schema markup or structured data tells search engines what your post is all about in a structured way.
In this image, the first arrow shows a search result with stars. For sure, visitors will be attracted to those links. That is the reason Rich Snippet helps in high CTR.
Typically if you want to implement schema in your blog, then you have to buy premium plugins like WP schema pro.
There are free plugins available but those are not up to the mark. I used a couple of free plugins before I explore Rank math. Rank Math comes with essential schema markup out of the box.
The reason I said " Essential " is because the premium plugin still offers more features. But as a normal user, you may not need any premium plugin if you have Rank Math. Yoast does not offer schema features even in the paid version.
You can choose between many schema types like Article, Blog Post, Review, Recipe, Products, and many more.
You can set your type of schema at the initial wizard or you can set it one by one in every blog post. Rank Math also supports KK Star Rating which is one of the best plugins to show star rating in Google Search results.
Advanced Image SEO
Images contribute a major chunk of your WordPress blog speed. Image SEO has grown up to be a major factor for your blog SEO.
Many of us do not give importance to Image SEO. While writing a post we simply keep on adding images without even bothering about the SEO.
It's a best practice to add the ALT attribute to all images that we upload. That tells the search engine what the image is all about.
The best practice is to have the major keyword in the image ALT attribute and image title. Sometimes we miss adding image ALT attribute and that contributes to the de-ranking of that particular post
Rank Math has a very unique feature that automatically adds an image ALT attribute based on what you set in the setting.
By default, it adds the post title as an ALT attribute but you can set anything you want. This is a very useful feature for newbies who usually miss adding image Alt attributes. Personally, I prefer to add manually as I want to have more control over images.
Open Graph Meta Data Support
Do you know how Facebook and other media platform pulls images when you share a post in those social media platforms?
It is because of the Open Graph ( OG) meta-tag data. Open graph meta tags were originally developed by Facebook so that users can post on Facebook with ease and with the required information
Gradually open graph metadata is accepted by other social media platforms and now it's a must if you want to share your post on Facebook and Twitter.
You can control what is getting shared and how it is getting shared using open graph metadata information.
Rank Math comes with support for Open Graph metadata and it can be set in the setting wizard or in the settings menu.
You can also change open graph metadata for the individual post if you need to. On the other hand, Yoast also supports Open graphs but options are limited and you will hardly have control over those metadata.
Integrated Google Search Console
I wonder why this essential feature is not offered by Yoast. When you first set up Rank Math, it asks for Google Search console information and if that is correct Rank Math connects with the Google search console
In fact, Yoast also connects to the google search console. But Wait ! the game is not yet over! Every SEO plugins connect with Google Search Console. What is the big deal with Rank Math?
Rank Math not only connects with Google Search Console but Integrates with Google Search Console.
What I mean to say by "Integrates" is that Rank Math shows most of the search console data in the Rank Math dashboard itself. Don't you feel that it's a deal-breaker?
So next time you don't need to browse Google Search Console to check your website search data. Just head on to Rank Math settings and Voila. It has almost everything that Google search Console shows.
The overview page shows the number of clicks against impressions, total keywords on which your blog is ranked, average CTR, and many more data.
On the search analysis page, you will get a detailed analysis of each and every keyword that has a ranking in google search.
One of the key features that might come your way shortly is that Rank Math is trying to integrate the Google Keyword Planner.
If they can do so that will be the nail in the coffin for many premium SEO plugins like Yoast. If they implement a keyword planner, then you don't need to go for other premium keyword planners like SEMRush or Aherfs
Although beating SEMRush or Aherfs is not an easy job and we can never compare Rank Math with those plugins but at least for beginners, rank math keyword planner might be a good bet if they launch it quickly.
Advanced Meta & Titles
Well, offering metadata options is a basic feature that every SEO plugin offers. How Rank Math offers more is that it offers micro-level control of your metadata. You can change metadata for each and every aspect of your blog.
You can change metadata for posts, pages, cloud templates, authors, tags, and categories and the list is just growing.
You won't find that many options even in the premium version of Yoast. Every aspect can be globally controlled or can be controlled in individual posts or pages.
You can also No Index certain irritating pages like Paginated Page, Search Pages, and password-protected pages.
Sometimes it comes in handy as you may not like to index everything from your blog. Especially I hate to index Paginated pages as it unnecessarily clutters my google search console.
Rank Math helped me to No-Index such pages. Here is one video which shows how you can no-index paginated pages.
Local SEO
Local SEO is something that was always ignored by most SEO plugins. Those who are not aware of Local SEO should know that local SEO became an important factor recently for your business growth.
For example, if you run an SEO agency or a shop, or an e-commerce business, you may target local SEO to get more audience.
People prefer to search with the phrase "Near By" If I need an SEO expert to help me out, how do I search? Best SEO agency in Hyderabad?, that's how I will search. Right?
Rank Math has a Local SEO feature that helps you rank high in your Geography even though your website has low domain authority.
This is a very useful feature for new business owners as they can quickly grow in their city or state. Unfortunately, neither Yoast nor other SEO plugins offer this feature.
Customized Sitemap
No other SEO plugin offers that level of customization in sitemap like how Rank Math offers. I wonder how it can offer so many features free of cost.
You can control how many links are in your sitemap and if you would like to include images in the sitemap or not.
You can also exclude certain posts or terms in the sitemap. You can create a sitemap for multiple categories like blog posts, images, products, pages, archives, and many more.
In fact, you can create a sitemap based on your website content. You can also ping the search engine whenever there is a change in the sitemap.
SEO Analysis Tool
One of the main pain areas of bloggers is that, even after doing proper SEO, their blogs do not rank.
They get confused about what they are doing wrong. Rank Math can save those bloggers with their inbuilt SEO analysis tool.
Did you see any SEO plugins offering an inbuilt SEO analysis tool? I don't feel so. At least I can say that Yoast does not offer.
So if you head on to the Rank Math SEO analysis tool, it will show you how your website stands on SEO optimization.
Rank Math runs about 36 tests and based on that it shows the score. It also shows in which test your blog passed and in which test your blog failed.
You can work on the failed test and improve your blog SEO score. Even if you don't have rank math installed, you can use the below link to check the SEO score of your website.Rank Math SEO Analyser
Here is the snapshot of BlogByts.com SEO insights. As you can see, Rank Math evaluates websites on Basic SEO, Advanced SEO, Performance, Security, and Social SEO. Any score above 80 is considered a reasonable score.
AMP Compatibility
AMP is the latest trend in Google searches. No doubt if your blog is not AMP compatible, you are losing a great chunk of traffic.
All SEO plugins might be good for normal blogs but when we talk about AMP, none offers compatibility. However, Yoast offers an AMP-friendly plugin name? Glue? but it suffers from its own set of problems
That's not the case with Rank Math. It has a dedicated option for AMP and that works brilliantly. I never had an issue with the ranking of AMP pages and Rank Math is the reason for it. So if your blog has AMP, go for Rank Math with your eye closed.
Support
I had a bitter experience with Yoast support and due to the large user base, they don't even bother about normal users.
I did not see them replying within a day to my queries. After a long wait, I usually get a generic reply which does not make any sense.
Coming to Rank Math, I had an altogether different experience. I had a chance to write to them a couple of times and to my surprise, I see Mr. Bhanu Aluwalia is replying to those queries. For those who do not know who is Bhanu, He is the Co-Founder of Rank Math.
Many times I see they are sending videos to explain the solution to my problems. Wow !!! Is that something that makes sense to you to move to Rank Math?
If Not let's move on to this table so that you can get a clear picture of how Rank Math stands against Yoast.
Rank Math Vs Yoast SEO
Rank Math Free Vs Rank Math Pro: Rank Math Review
Rank Math also has a pro version that offers some more exciting features. Although the free version is well featured the pro version goes one step further and added more features at relatively less costly compared to Yoast.
How to score 100 in Rank Math SEO: Rank Math Review
Although I never run for scoring 100, I try to write for humans and not Google. If anyone wants to try to achieve 100, they may follow the below best practices but there is no guarantee that you will achieve 100.
Focus keyword in title and content
Focus keyword in meta description and URL
Focus keyword in Headers ( In H2 its a must)
Keyword density is up to 10%
Article having more than 3000 words
Enough external and internal links
Image ALT attribute
Positive sentiment in the title
Power words in the title.
Use a table of the content plugin
Use short paragraphs ( 2-3 sentences)
Use YouTube Videos in Post
Conclusion: Rank Math Review
Rank Math is a new entrant in the SEO plugin list for WordPress. But it is more powerful and feature-packed than any other plugin available out there in the WordPress repository.
Although Yoast is the leader for SEO plugins, lately it is bringing so many bugs and that is it's the right time to try out Rank Math.
As per my knowledge Rank, Math is currently used by many pro bloggers and you may find numerous positive reviews.
So if you feel that the feature list in Yoast free version is locking the ultimate potential of your blog, then try Rank Math and I am sure you gonna love it.
My final recommendation between Yoast Vs Rank Math would be Rank Math. For any questions or queries on Rank Math, please do write to me in the comment section and I will be happy to assist you.
---
Frequently Asked Questions On Rank Math review

Rank Math Review: Rank Math Vs Yoast SEO Plugin