Affiliate marketing is one of the main sources of income for many bloggers. Showcasing deals is one of the key elements of affiliate marketing.
So in this article, we will talk about a great plugin called WP Coupons and Deals which is great for showcasing deals.
What is WP Coupons and Deals plugin?
When you write a review of a product or a plugin, you always want your key elements to be highlighted. Those key elements get the audience's attention and may go for conversion.
Unfortunately, WordPress does not have any such feature to highlight deals or coupons in a blog post.
There are only a few plugins that can able do that and WP Coupons and Deals is one of those great plugins. This plugin will show all your deals and coupons in blog posts very professionally.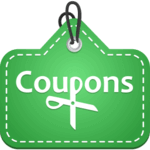 If you want, you can also show those deals in the sidebar or anywhere you want with shortcodes. In fact, you can create an archive page with all your deals and coupons.
All deals and coupons can be divided into multiple categories and multiple vendors. So when you insert any deals in your blog post, you don't get messed up.
This plugin has a free version with limited features and a paid version with pro features. The free version does its job but the pro version feature is very tempting.
WP Coupons And Deals
WP Coupons and Deals plugin is a great way to showcase different coupons and deal in posts, pages, and sidebar. This helps in getting good conversion for affiliate sales. With numerous trending features and clean coding, WP Coupons And Deals is a must-have plugin for affiliate marketers
Price: 29.99
Price Currency: USD
Operating System: Linux
Application Category: WordPress Plugin
Features of WP Coupons And Deals
These are the list of features available in the Pro version. However, in the list, there are a few features that are available in the free version as well.
Lightweight and fast
This plugin won't add unnecessary codes and it's very lightweight. I don't see any extra HTTP calls when I used this plugin.
Since they followed good coding practice so it won't hamper the speed of your website.
Multiple templates
WP Coupons and deals free version has one template. But the pro version has seven beautiful and professional templates to choose from. Below is a snapshot of those templates.
Image coupons
You can have image coupons in this plugin that can be easily printed. This is useful if you are running websites like Groupon. You can download and print the coupon as well.
Coupon expiry countdown
You can set a professional countdown timer in coupons to that visitors know when the coupon is going to expire.
Remove expired coupons
For example, you have inserted a coupon in some blog posts. After some days the coupons got expired. You might be feeling that you need to go to every post to delete that coupon.
No, not at all. just go to the WP coupon and deal dashboard and delete the expired coupons. Once done, it will be removed from all blog posts. Very simple. Right?
Advanced Customization
The pro version has an advanced customization feature enabled. The free version has very basic customization but in the pro version, you can change everything you want.
Dedicated Archive page
You can create a dedicated deal page in the menu which will show all deals on a single page. This is useful as the audience will get a chance to see all deals on a single page. This feature is only available in the pro version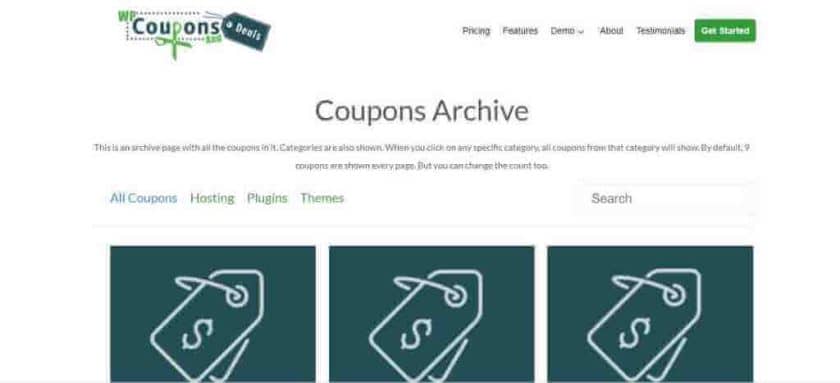 Social share button
You can have social buttons on your deal page so that visitors can share those on social media profiles. This helps to gain more conversion
Hide coupon code
Sometimes visitors simply copy the coupon code and make the purchase. But they don't click on your affiliate link.
But in this plugin, you can hide the coupon code so that visitors are forced to click on an affiliate link to get the coupon code
Live preview of coupons
You can see the live preview of coupons when you are customizing that. This saves your time by going back and forth to see the preview in a separate window.
Use voting buttons
You can add an intuitive voting button in the deals or coupons window so that users can vote whether the coupons have worked for them or not.
AMP Compatible
This is a lifesaver for me. This plugin worked great in AMP. Although this does not look as intuitive as the non-AMP version, it is expected as the AMP version removes all customization.
Use shortcodes
You can use shortcodes to insert deals and coupons anywhere in your content, be it in your post content or in your sidebar, or anywhere you want.
Show coupons based on category and vendor
This plugin allows you to show coupons based on different categories and based on different vendors. So you won't be in a mess when you try to insert the deals and coupons
WP Coupons And Deals Free Vs WP Coupons And Deals Pro
Here is the list of features that are only available in the pro version.
WP Coupons And Deals Pro Version Features
6 eye-catching templates (The free version has only one template)
Option for creating an archive page.
Option for creating an archive page filtering the category, template, vendor, etc.
Front end coupon submission
You can show the coupon expiry countdown. Great for showing Black Friday deals
WP Coupons And Deals Pricing
WP Coupons and Deals plugin pricing is very competitive. You either choose for yearly payment or go for a one-time payment for a lifetime.
You can also choose the pricing for either one website, five websites, or for unlimited websites.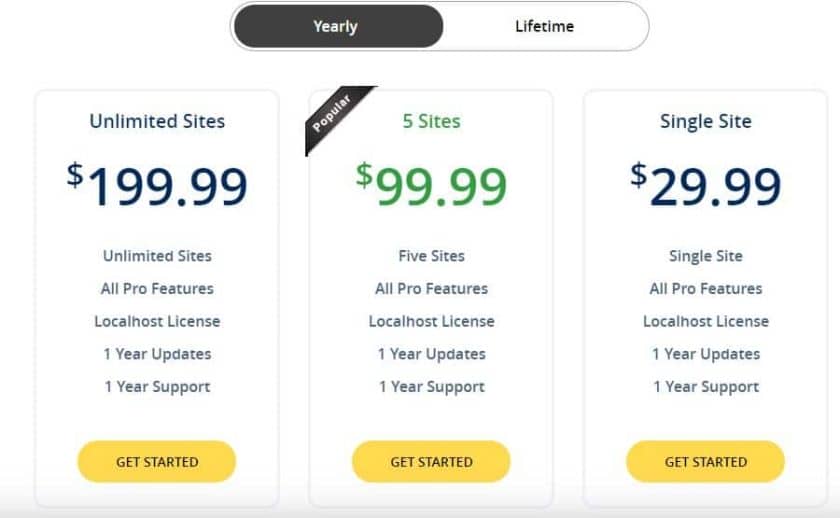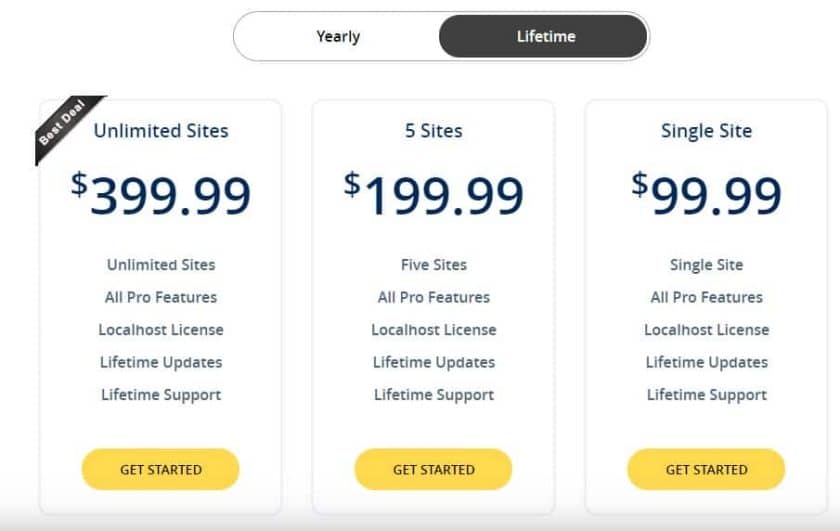 How To Buy WP Coupons and Deals plugin
How to buy wp coupons and deals
You can follow the below steps to buy this WP coupons and deals plugin.
Click on "GET STARTED" to go to the plan details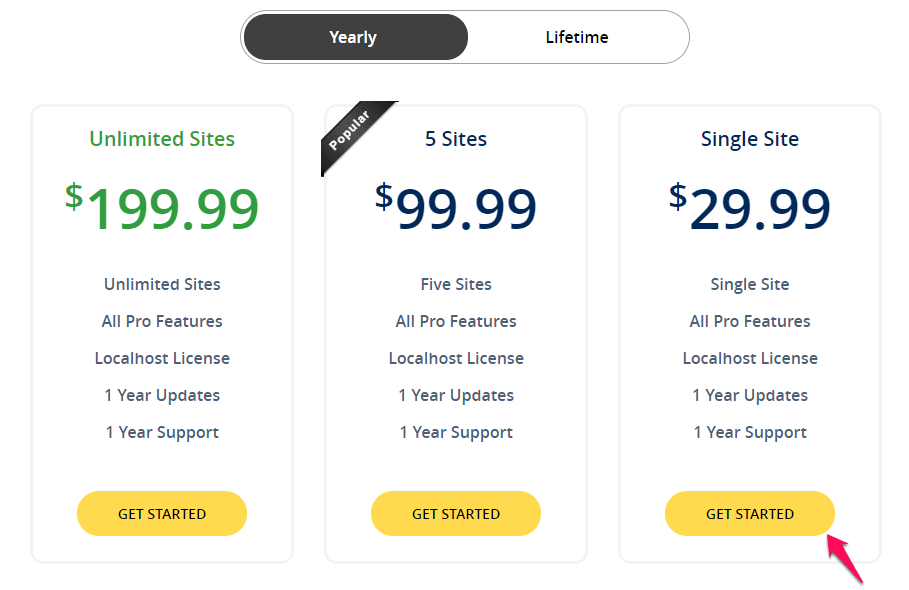 Choose a plan and click on " Get Started" to go to the payment page. Make payment and you are done.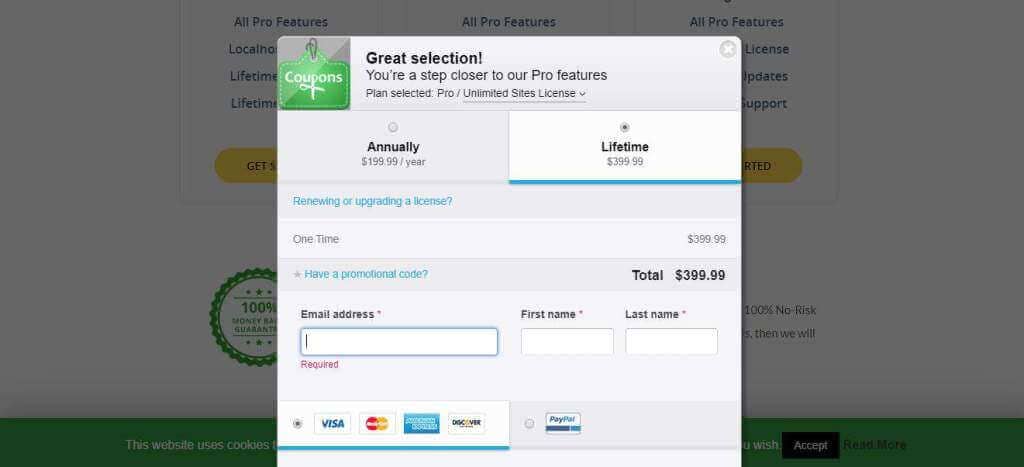 Upload The Plugin And Install It.
Once purchased, you can upload the plugin and install it. Enter the purchase code to register the product. Below is a snapshot of what a " Create new coupon" interface looks like.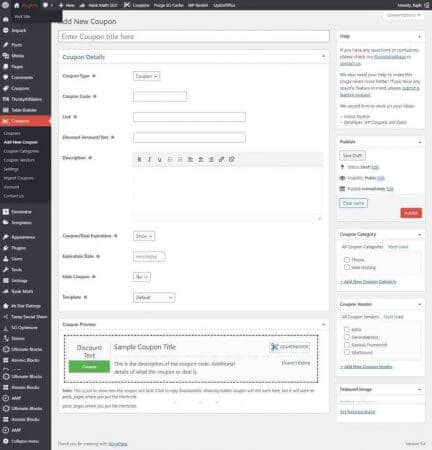 WP Coupons And Deal Positives And Negatives
Six premium templates

Deal archive page

Option to hide coupon code

Coupon expiry option

Image coupons

Social share

Voting buttons

Shortcodes support
Not the best intuitive coupons plugin

AMP version needs a lot of improvements

The free version has only template

Pricing for unlimited website version is high

Almost no support for the free version
Update & Support
The support is just excellent. I never faced any issue with them to date in terms of support. You can either get 1 year of updates and support in the basic plan or lifetime support and updates for the topmost plan.
Unfortunately, the free version has almost no support at all. This is something that may bother a lot of people. Also, they are not very keen to support minor CSS fixes which can be an issue.
Conclusion
This is the best plugin for highlighting WordPress coupons and deals in your blog. I am using this plugin and I can notice that I am getting a good conversion rate.
Please make a note that this plugin alone cannot bring you sales. You have to have SEO-friendly articles to get organic sales. So don't expect magic.
That's all I have in this article. Hope you got a fair amount of ideas about WP Coupons and deals plugins. If you have any questions, please do write in the comment section and I will be happy to assist you.
Frequently asked questions ( FAQ) On WP Coupons And Deals
Who should use this WP Coupons and Deals plugin?
Any blogger can use this plugin. But if you are an affiliate marketer then this plugin is a must.
Will this plugin slow down my blog?
No, The developer followed good coding practice, so no lag in speed.
Do I need to pay every year for a subscription?
Yes, If you choose a yearly plan, then you have to pay every year to get updates and support.
And lifetime plan available?
Can I use the plugin without renewal?
Yes, But you won't get updates and support
Do I need to know the coding to use this plugin?
Can I use it for unlimited websites?
Yes, If you buy the topmost unlimited plan you can use it for unlimited websites

WP Coupons And Deals Plugin Review [ The Best WordPress Coupons Plugin]