I know you are fed up with building contact forms with dilated and buggy WordPress plugins.
I know you want to secure your website from spammers, and also want to add a simple contact form to your website's contact page. Right? Let me tell you that creating a contact form gonna be easy for you.
WP forms Review
WPForms is a simple drag and drop form builder for WordPress. It is one of the most intuitive and easy to use form builder.
Price: 49
Price Currency: USD
Operating System: Linux
Application Category: Web Software
Okay!. Let's talk about how it gonna easy for you. As I said earlier, you'll be able to easily create the contact forms for your website, But, With what?.
The answer is with WPForms WordPress Plugins. It is the best and beginner-friendly form plugin.

And, if you are a WordPress user then you may be aware of so many form-builder plugins. And, WPForms is one of those. It's a Truth!. It is the most well-rated form plugin out there with a great rating and user reviews.
With this deep-diving WPForms review, I gonna take you to its features, and add-ons, and help you understand why it is considered the most responsive and intuitive Form-Builder Plugin in the market today.
WPForms Overview
Forms are a real asset for a website owner when it comes to making the website up to a standard level.
No matter you are a beginner blogger who wants to build your email list or a professional freelancer who wants to pitch more clients, and more projects, Online Forms are a must-have.
Building the online forms were used to be so complicated in the past years with the outdated and hard-to-use plugins.
However, Since WPForms launched in 2016, things have been reshaped. Now, it is easier to create online forms. The man behind the WPForms is Syed Balkhi who is also the founder of WPbeginner.
WPForms has when it comes to creating forms in WordPress. You can create all types of forms starting from Contact forms to Order forms and Multi-page forms to Offline forms.
Also, this plugin comes with pre-built templates that can help create forms quickly. On top of that, WPForms is super easy to use and built to make the form creation process easier for beginners
It has two versions, one is the Lite version which is totally free of cost, and the other is premium (WPForms Pro Version). Both are loaded with excellent features.
We will explore the feature sets of both versions in the later part of this comprehensive WPForms Review. The below image shows the capabilities of WPForms.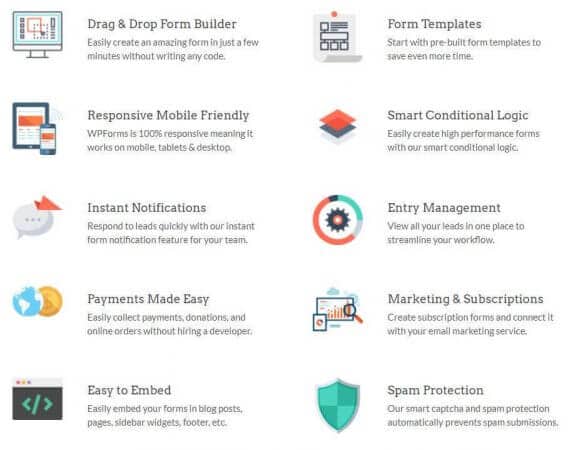 Why contact form is required
It doesn't matter what's the niche of your website or how many visitors reach out to it. A contact form is a must to interact with your visitors and get leads.
With the use of it, you are free from spammers, intruders, or any other unauthorized access to your website.
Today, when data is everything to us, then its security of it is a must. Directly displaying your email address on the website can be a problem for you.
It can be misused by cybercriminals and your useful information can get unauthorized access.
Then the contact forms plugin comes into the picture, you won't need to display your email address anymore as it enhances the security of your website.
This way, you are securing your email from the cybercriminals and hackers who send unwanted fancy offers and phish your emails.
Apart from that, the contact form plugin saves a lot of your time. You can specify the things which you'll necessarily need to know when the visitors and potential customers reach out to your website.
Additionally, it helps you in a lot of ways from an increase in sales to getting feedback, creating surveys, building marketing campaigns, and many more
Contact form builder plugin is a one-stop solution to grow your business and nonprofit. If you are a beginner, the WPForms lite version can be a good option to start with.
However, The pro version's contact form-builder plugins integrate a lot more features like an email newsletter subscription check box in the form.
With this, you can maintain a long-lasting relationship with your users. So, if you want to maximize your business, the pro version gonna worth you.
WPForms Lite Features
Does the Free version is only a "Nice Try" or enough for the ones who just started things?. We have to look at its feature to know if it offers enough functionalities or not.
Drag and drop Builder
You won't need to write any code for making your contact forms. WPForms is equipped with Drag and Drop builder functionality that allows you to create any type of form including contact forms, order forms, donation forms, online surveys, and several other WordPress forms in a matter of minutes.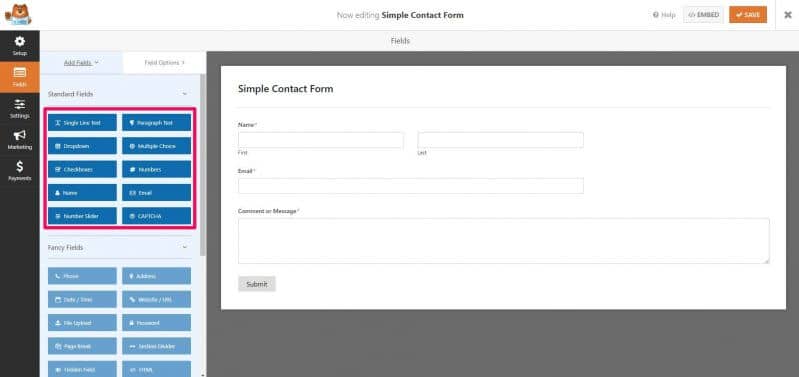 Drag & Drop also ensures easy add, remove, and rearrangement of the form fields in a few clicks. Since drag and drop is a visual builder, so you will be able to see what you are creating in the WordPress dashboard itself.
Newsletter form
I know you don't want to put your email address on your site which is visible to everyone, and that may cause data theft or any misuse of your email address.
Even, I know you are looking to build your email list and boost your email marketing campaigns. Right?. If So, you'll need an intuitive newsletter sign-up form for your website.
WPForms gonna help you to get that. It ensures an easy and effective way of creating a newsletter sign-up form. Yes, with no need for technical knowledge.
WPForms provides you a list of templates for a newsletter sign-up form, gives you all possible form fields, this way you can analyze the information you need to collect from the visitors reaching out to your site, and thereby you can send them email campaigns for an increase in sales.
Other than that, You can easily target potential customers at the right time with reasonable content to boost engagement and build long-lasting relationships with them.
To create a newsletter form, you need to login to WordPress Dashboard -> WPForms -> Add New -> Select Newsletter Sign Up Form
Suggestion Form
Are you looking for the best way to ask for suggestions from your site visitors?. If yes, I'll tell you that WPForms gonna make your job easier.
The suggestion form that WPForms offers you is great and easy to use. With it, you can easily compile the suggestions of your site users into one convenient location so that you can make better use of it to make decisions and grow your business.
You can get the names and emails of the visitors who are reaching out to your website and can ask them to select the department of suggestions with a subject, describing the suggestions.
To create a newsletter form, you need to login to WordPress Dashboard -> WPForms -> Add New -> Select Suggestion Form
Spam Prevention
Online forms are great. But those are also easy targets for cybercriminals and spammers. Personally, I am scared of adding a contact form just because of spammers until I discovered WPforms.
WPForms comes with industry-leading anti-spam features. You can use the custom-built captcha by the WPForms or you can use Google Recaptcha to protect your form from spammers.
To enable basic spam protection in the lite version, you need to go to WordPress Dashboard -> WPForms -> Settings -> Captcha and then add necessary pieces of information

Mobile Responsive
Every form you made with the WPForms plugin is 100% responsive and mobile-friendly. No matter if your visitors are accessing your website on laptops, desktops, or mobile, your online forms will always look eye-catching and responsive.
Prebuilt Templates
Both the lite version and the pro version come with prebuilt templates that you use and edit as per your requirements. This is a very helpful feature of this WPForms as newbies will find it very easy to create a form.
The lite version comes with only four templates, however, the pro version comes with additional three templates.
WPForms Pro Features
Here are the additional features that we will get in the Pro version. Please make a note that, we are only going to explain some of the key features only.
Payment Mode integration
Payment Mode integration is one of the major highlights of the WPForms Pro version. Many times, you may need a payment form integration to your blog to collect payments. For example, sponsored guest posts.
WPForms comes with the PayPal and Stripe add-on. with the use of it, you will be able to create a customizable payment form and accept payments to your PayPal or Stripe account easily.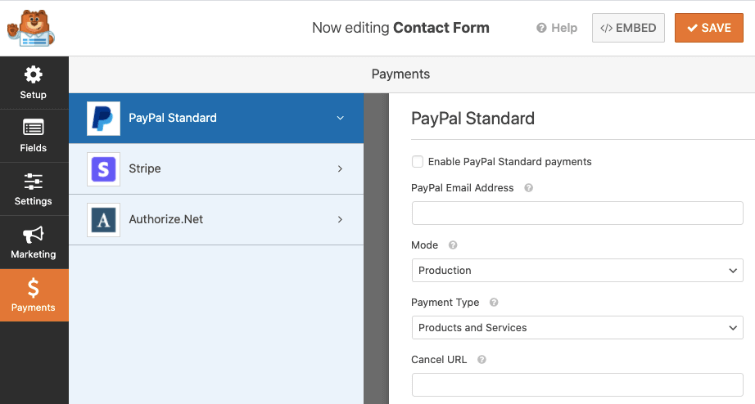 As I said earlier, you won't need to write any code or hire a developer, the payment configuration is simple and easy for anyone to use and accept payments.
WPForms follows good coding standards. So it is assured that your payment form is safe and secure.
Email Marketing Tool Integration
Email Marketing is one of the most effective ways to grow your business online. And if you want to grow your email list, then the most effective way to get that is to integrate email marketing service with WordPress Forms.
WPForms pro can easily be integrated with leading email targeting tools like MailChimp, Convert Kit, Mail poet, mailer lite, etc. In fact, almost all email marketing tools can be integrated with WPForms.
And the best part is that you won't need to write any single line of code for this integration. You only need to have an API key and that's it.
Create surveys and Polls
Another feature that I found interesting in the WPForms Pro version is its capability to create polls and surveys.
Surveys and polls help in analyzing the interests and preferences of the users. WPForms allows you to create interactive Surveys and Polls on your WordPress website by using the Drag & Drop form-builder plugin.
Unlike other Plugins that lack proper analysis, with WPForms you can analyze the data and then you can take action.
Custom registration forms
If you are running a membership website and want to create custom registration forms, it's not a big deal to do such things using WPForms. You can simply create registration forms and allow users to register on your site.
The process is very simple, you'll need to have membership plugins to create user registration pages. You just need to have a premium version plan of WPForms and your job will be done.
Multi-page forms
No one likes big forms to read, like your job application forms. The same is true for WordPress forms.
That is why WPFoms allows you to break your forms into multiple pages so that the user experience is not hampered.
You are allowed to add an unlimited number of page breaks if your form demands that, there are no restrictions. You can also rearrange pages using the drag and drop builder.
Set conditional logic
Set a conditional logic simply means you are able to change what visitors see in your forms, what notification email gets sent out, and many more.
For example, If you are feeding your animals bread, you can give the next bread only if its quota is higher than a certain amount of bread.
The conditional logic in WPForms is of two types. The first is Basic conditional logic whereas the other one is complex conditional logic.
To use conditional logic, you must follow these steps:
Firstly, You need to click the field.
Then, you have to go to the Field Options.
As you go to field options, you will see the Conditionals dropdown, you have to click it
After that, Click Enable conditional logic and proceed further to set the conditions for the field.
File Upload Option
Suppose, you are running a WordPress maintenance service then sometimes its gets complicated for your clients to narrate the actual issue using simple forms.
In such a case, sharing a screenshot can lessen the efforts of your client. That is the reason the WPForms pro version comes with a file upload option.
Through the WPforms settings, you can manage the file sizes, can choose the accepted file type and the related settings.
Custom Post Submission Form
If you plan to accept sponsored guest post but does not want your writer to access your admin panel, then you make use of a custom post submission form.
With this form, writers can submit their articles from the front of their blog instead of logging into the admin dashboard.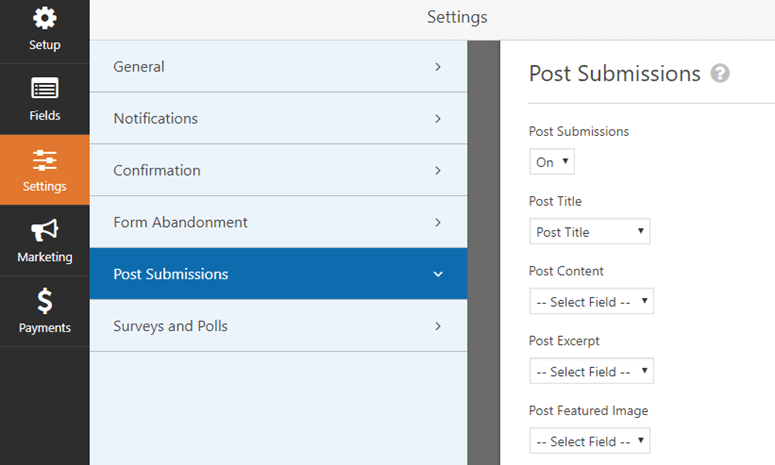 How to create a form using WPForms
Creating a form in WPForm is super easy. You can either use any of the default templates that come with WPForms or you can build it from scratch.
Don't worry, you don't need to do any coding. You can make use of the drag and drop builder to create an intuitive form very easily.
To create a new form you need to login to WordPress dashboard -> WPForms -> Add new -> Select a template / Blank form.
In this example, we decided to go with the " Simple Contact Form template". Make sure you enter a name before selecting a template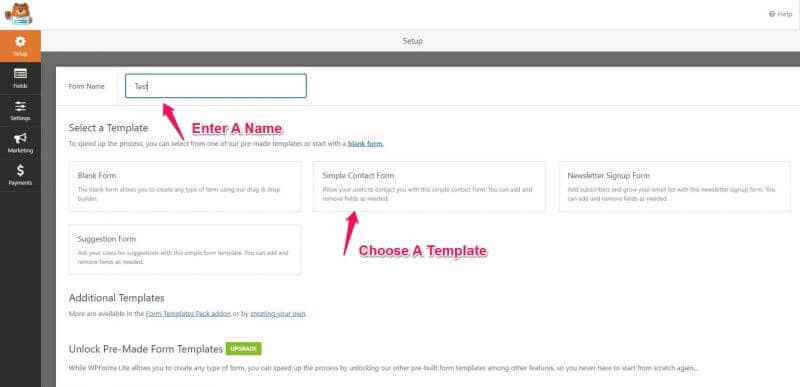 Once you select the " Simple Contact Form " the window will appear. You can add elements that are there on the left-hand side and then you have to save them using the " Save" button.
Once you saved the form, click on the "Embed" button to embed it to any existing or you can also create a new page.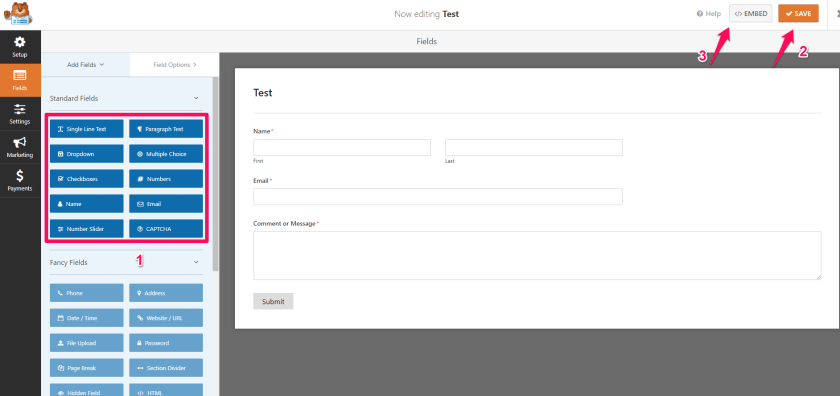 Now go to the page where you want to add this form. Go to the Block Section -> Search for WPForms Block -> Select the form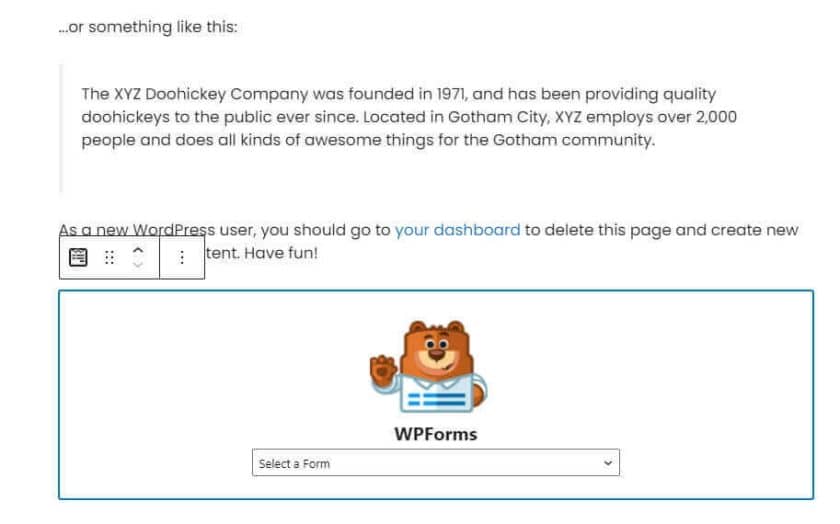 Once you select the form, the form will appear on the page as shown. That's it. You are done with creating a form using the WPForms plugin.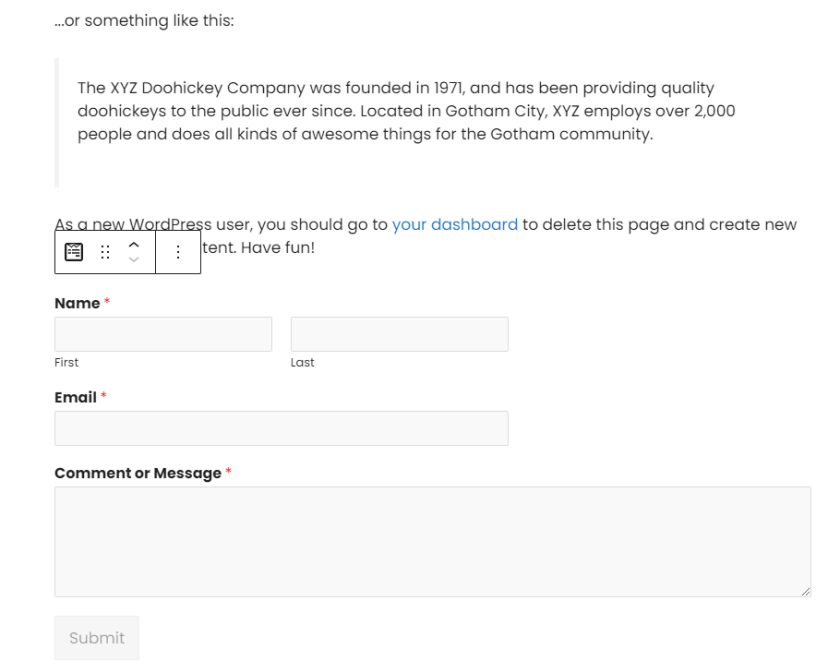 WPForms Lite vs WPForms Pro
WPForms lite version is good if you want to create a bare basic form. The lite version is missing many useful features that you need to create a professional-looking contact form. On top of that, the lite version only comes with four basic templates. So your design options are very limited.
However, The WPForms pro version is ahead of every aspect if we compare it with the free version. It has lot more additional features than what you have in the Lite version.
The image shows the list of features that you will get in the Pro Version on top of the lite version.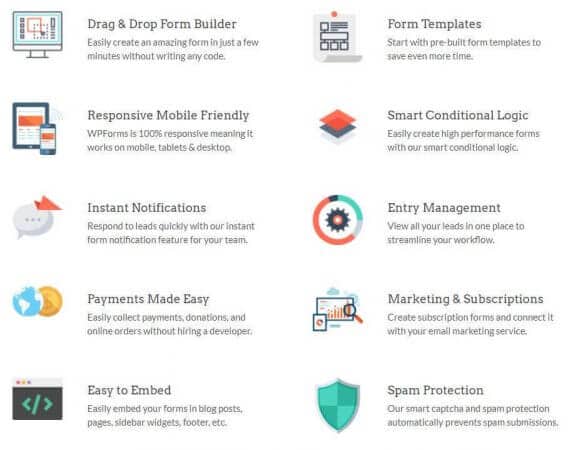 WPForms Addons
Here are a couple of integration/add-on options that WPForms offers. We will take you through how to integrate WPForms with Zapier and Paypal as explaining every add-on is out of the scope of this article.
Authorize. Net Addon
AWeber Addon
MailChimp Addon
GetResponse Addon
PayPal Addon
Stripe Addon
Campaign Monitor Addon
ActiveCampaign Addon
Salesforce Addon
Drip Addon
SendinBlue Addon
Zapier Addon
Surveys and Polls Addon
Signature Addon
Post Submissions Addon
Form Pages Addon
Offline Form Pages Addon
Form Abandonment Addon
Form Locker Addon
Conversational Forms Addon
User Journey Addon
Form Templates pack Addon
WPForms and Mailchimp Integration
Mailchimp is one of the best and most reputed email marketing tools out there. WPForms Pro version allows you to connect WPFomrs with the Mailchimp tool without writing a single line of code and the whole integration can be done in just five minutes. Let's explore how to integrate WPForms with Mailchimp.
Integration of Mailchimp with WPForms is no longer a big deal. No technical expertise is required as such!.
Any of you can integrate simply by just activating the Mailchimp addon available in the WPForms dashboard. Please make a note that you need the Pro Verison of the WPForms to access the Mailchimp addon.
You need to follow below three different steps to integrate WPForms with Mailchimp
Install Mailchimp Add-on
Create and Copy the Mailchimp API Key
Add Mailchimp to WPForms
1. Install Mailchimp Add-on
To access the Mailchimp add-on you will need to go to your WordPress Dashboard -> WPForms -> Addons -> Search for Mailchimp.
You need to install the add-on and then you need to click on Add New Account button. Once you do that, you will be presented with the following window.
You will need the Mailchimp API key ( From the Mailchimp account dashboard) and the Mailchimp account nickname ( Any name should be fine)
2. Create and copy Mailchimp API key
To get the Mailchimp API key, you will need to follow below steps.
Login to Mailchimp dashboard
Go to the Account Section
Go to Extra
Select API Keys
Create A Key
Copy the API key code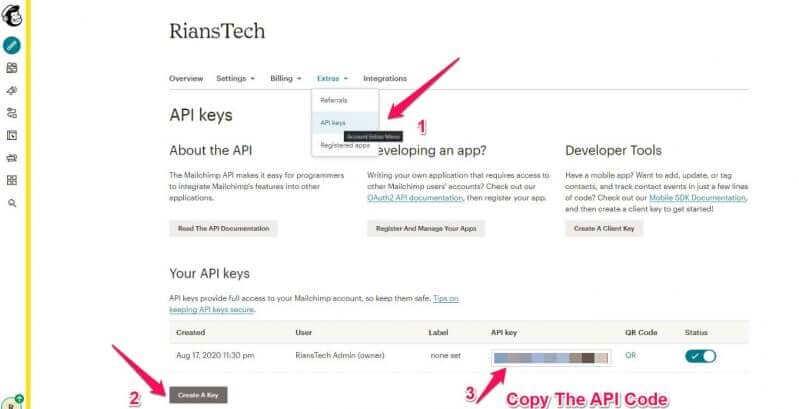 Once you copy the API key, the same key you need paste in the WPForms Mailchimp integration window.
Once integrated, you will see the " Connected" green box as shown below.
3. Add mailchimp to WPForms
Once integrated, you will see a new menu option named " Marketing" You need to go to WordPress Dashboard -> WPForms -> Marketing -> Mailchimp -> Add New Connection to connect Mailchimp with WPForms.

If you click on the " Add New Connection", the following overlay screen will appear where you need to enter a nickname for the connection. It can be any name as per your choice.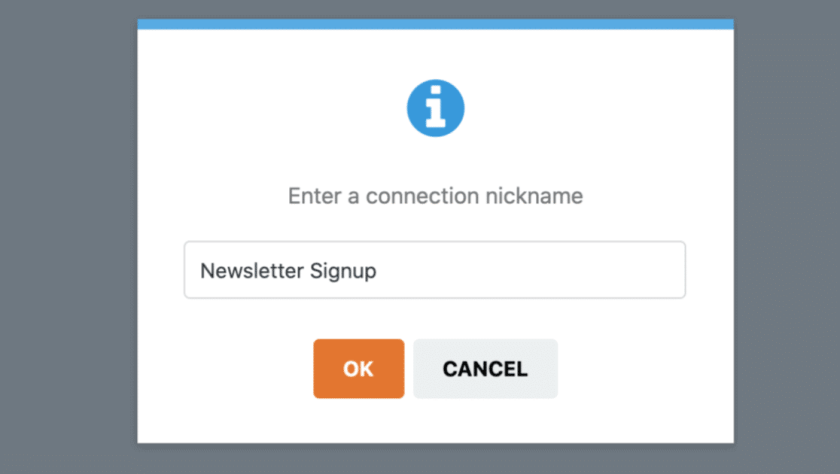 Once you click Ok, you will be taken to an window where you need to select the mailchimp account that you want to connect, the audience list you want to target and the action that you want to perform.
Following actions you can perform under " Action To Perform". If you don't know how to create an Audience list then you can refer to this article for details.
Subscribe: To add a user to the Mailchimp audience list
Unsubscribe: To remove a user from the Mailchimp audience list
Archive: To archive a user from the Mailchimp audience list
Permanently Delete: Permanently delete a user
Record an event: Record an event of a specific contact after the form submission.
Based on what action you are going to perform, there will be different setting will populate. For example, if you decide to perform the " Subscribe " action, the following option will appear.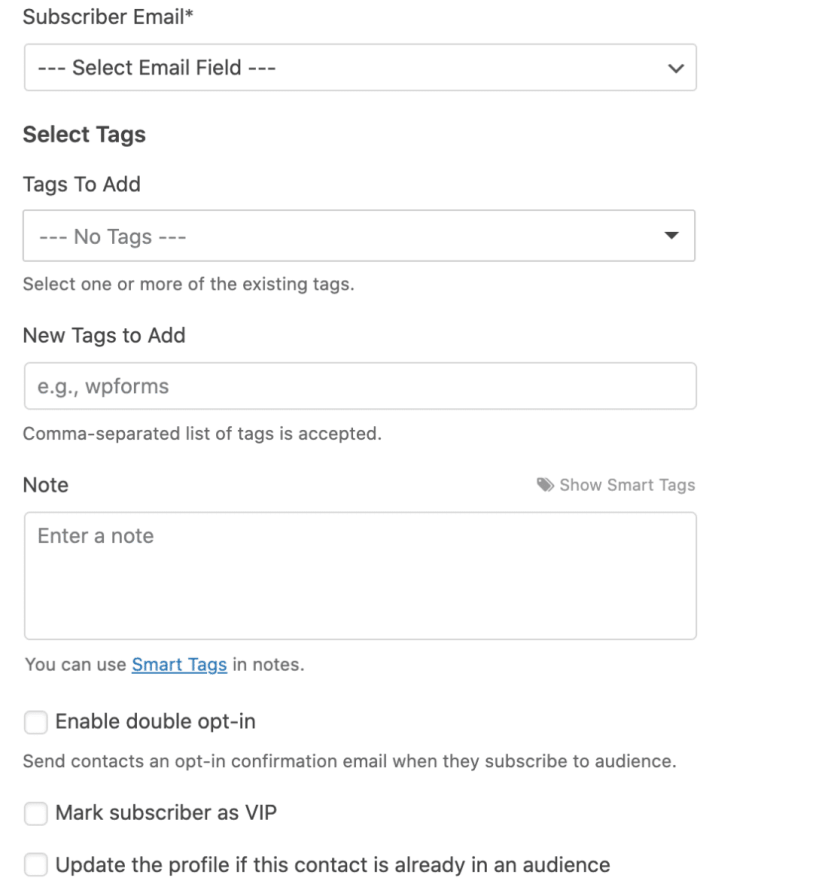 Here are the options that you will get.
Subscriber Email: This field is required to capture the email id of the user
Tags to add: If you want to add a tag to the subscriber, you can add it here
New tags to add: If you want to add a tag to all subscribers, then you add it here
Note: If you add a specific note to a subscriber, then this note section is useful
Enable double opt-in: Double opt-in is useful if you want to restrict users to subscribe accidentally.
Mark subscriber as VIP: This option will use to Mailchimp VIP list
Update the profile: If the user is already there in the list, this option will update the profile information
Apart from this, you can also add advanced field option and conditional logic in the forms as these are the core features of the WPForms plugin
That's it. Now you capture subscribes to your Mailchimp lists using WPForms.
WPForms Pro Pricing
WPForms plugin is used by over 4 million users, capable of creating smart and interactive online WordPress forms. Like I said earlier in this WPForms Review, there are two versions of the WPForms plugin.
One is a Free or Lite version and the other is Pro Version. If you think, your project needs more advanced features, you can upgrade to its premium version.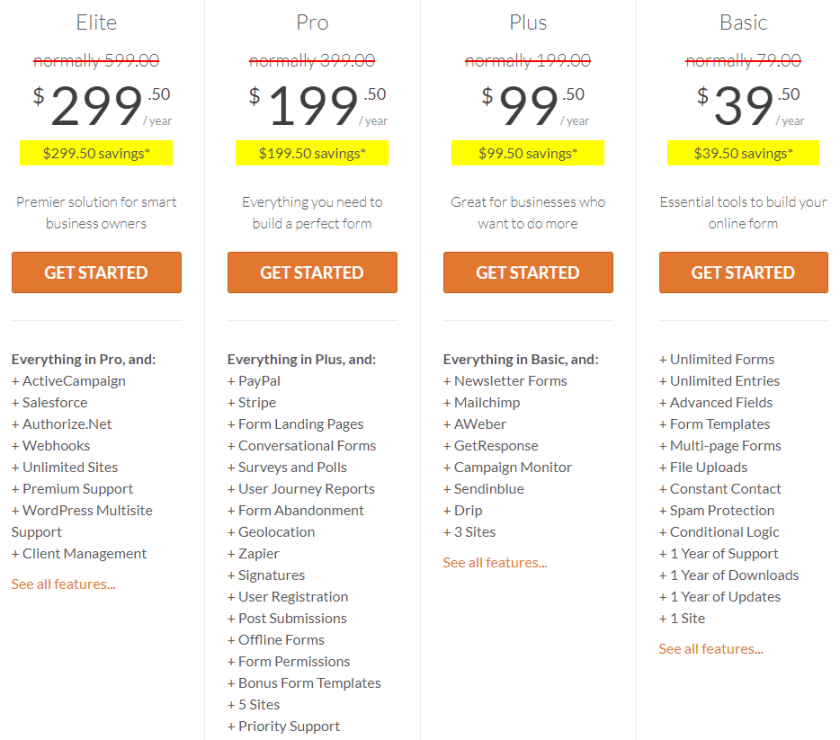 Basic
The cheapest one is the Basic plan. This plan allows you to create unlimited forms. loaded with basic integrations such as Constant Contact and conditional logic. The price you need to pay for this plan is $39.50/per year.
You can use this plugin only on one website and you will miss the priority support.
Plus
The Plus plan is good for those who want to enhance their online business. Have everything that is included in the Basic plan.
Other than that, you will get more email newsletter plugin integrations including MailChimp, Aweber, and Drip.
You can use the plugin on three websites under the plus plan. The plan costs you $99.50/year.
Pro
For everyone who wants to build a perfect form, The Pro plan of WPForms is great to go for. you will get everything that is included in the plus version.
Additionally, the Pro plan offers you PayPal and Stripe addons, form abandonment, Zapier integration, surveys, polls, and more. It will be supported by over 5 websites and will ask you to pay $199.50/year.
Elite
Elite version is the most expensive plan among WPForms Pro Plans. This includes all the features that you have got in the Pro plan.
In addition to Pro plan features, you will get ActiveCampaign integration, CRM Capabilities, enhanced support for WordPress multisite installations, and more.
You are free to use it on unlimited sites. and, the money you need to pay for this is $299.50/year.
Important Note: All plans allow a 14 days money-back guarantee if you are not satisfied with the plugin
Few Things I don't like about WPForms
There is no option available for users to upload multiple files.
There could have been a few add-ons in the lite version
Your permalinks need to be structured first because the form pages and conversational forms won't work if the permalink is set to plain.
Pricing is quite high and there is no lifetime plan
Many free alternatives are available.
Conclusion: WPForms Review
So, in this comprehensive WPForms Review, we have looked at its amazing features and understood how good this WPForms Plugin is to create any kind of online WordPress form in just a few minutes.
The best part I found in WPForms is that it is very intuitive and easy to use. Compared to other form builder plugins, WPForms is simply the best available in the market with no need for coding knowledge and no complex settings.
However, it has some limitations too. Like, it has some issues with the entry notifications and lack of built-in instructions. Otherwise, it is an amazing form-builder plugin out there.
Depending on your choices and resources that you think will meet your goals, choose from the Lite and Pro versions.
However, I personally recommend you go with its pro plan. It's amazing and packed with a load of features and add-ons.
If you have some questions regarding the WPForms plugin and its features, pricing, or anything. Feel free to write us in the comment section below. We will be glad to hear your thoughts and valuable feedback.
You may also like to read:
1. WP rocket Review
2. 10 best plugins for WordPress
WPForms Alternative
Nothing is perfect in this world. The same implies to the WPForms plugins as well. No doubt, WPForms is the best form builder plugin we are having today.
But that doesn't mean this is the only one. There are many other efficient and easy-to-use form builder plugins out there too, that may not be the best than WPForms in every aspect but not the worst too.
That's why it's always better to look for alternatives alongside using WPForms. Like, As I said earlier, there are plenty of WPForms alternatives present in the market.
However, I picked out the two best plugins among them. They are Ninja Forms and Gravity Forms. See how they claim to be the best WPForms alternatives.
Ninja Forms
Ninja Forms are epic in terms of usability and effectiveness, that is the reason why I picked it as the best WPForms alternative.
No technical expertise is required to create interactive online forms. It is packed with a load of amazing features.
The Drag and drop fields are easy to use. You will be able to break down long online forms into Multi-page forms in a few minutes.
You can also create conditional forms. The best part is that you don't have to have any coding skills to design the form.
Gravity Forms
If you want to grow your online business and want a professional and perfect form, then Gravity forms are the best for you.
The major highlight of Gravity forms is it is packed with tons of useful and effective features that will meet your goals of creating online forms.